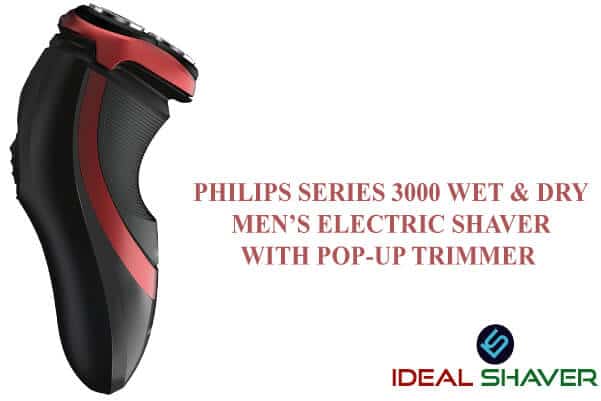 PHILIPS NORELCO SERIES 3000 REVIEW
Philips Shaver Series 3000 is one of the best products to the customers for its smooth and comfortable shaving opportunities. The blade system and the multi-directional heads ensure to reach every part of your face and find even the most delicates of hair. Be your barber, and be at the best of the looks.
The comfort-cut Blade System gives you a smooth and comfortable shave. You can protect and reduce the chances of nicks and cuts on your skin using this product. It provides a great shave reaching every curve and corner of your face and neck; the multi-directional flex head enables this feature. It has four directional heads as well. You get the benefit of shaving for 50 minutes cordless with just a one-hour charge. And adding to that shave both wet or dry, and since this is 100% waterproof, you can use them in the showers.
If you are having the thought of styling your mustache and sideburns, then you can use this electric shaver, which gives you a pop-up trimmer as an extra. It has a warranty for two years, which is one of the good things the customers liked. To get a comfortable glide and ensure a shave with likely zero nicks and cuts, you can use this product. One mentionable thing about this product is that you need to unplug the shaver while using it.
KEY FEATURES PHILIPS SERIES 3000
1. An Easy, Comfortable Shave
You can get a comfortable, smooth, and close shave with this electric shaver. The comfort cut Blade System gives you a smooth and excellent glide along your face ensuring a decent shave. You can protect and reduce the chances of nicks and cuts on your skin. The multi-directional flex head enables you to have a proper shave, reaching every part of your skin. Because of having a unique technology like Aquatec, the electric shaver of the series 3000 is 100% waterproof. Shave as you enjoy, have a comfortable dry or wet shave.
2. ComfortCut- an elegant Blade System
You have the luxury to glide smoothly on your skin because of this feature. The rounded profile heads protect your skin and reduce the possibility of nicks and cuts. You can enjoy a smooth and close shave.
3. Multi-Directional DynamicFlex Heads
Four-directional Flex Heads reach every corner of your face giving you a perfect glide where it is hard to get.
4. Use both wet and dry
It does not matter whether you are at the showers or not; you have the benefit of shaving with it anywhere you like both dry and wet. Since this is 100% waterproof, you have the privilege to use it wet with some gels or lubricants; you can also try it dry sometimes.
5. Use it 50 Minutes Cordless with one charge
The lithium-ion battery gives you the happiness of using it cordless and for at least 50 minutes. It has a powerful, long-lasting battery. Just you need an hour of charge and take that anywhere; the cordless access makes it easier to transport and move with it. Use the five-minute quick charge facility and have a go with a full shave. This shaver will come with a UK 2 pin bathroom plug; you need an adapter to use a 3-pin mains plug.
6. Groom at your home: Be your barber
You have the pop-up trimmer, which will increase your shaving experience. Style and shape your mustache, trim your sideburns. Look smart and be at the best of your looks always. You are getting a protective cap as well to protect it.
7. Wash it, use it, repeat
You can wash it entirely under the tap. So clean it and rinse it regularly to have a fresh, comfortable, and long-lasting shave.
Summary & powerful features
If you have a hurry, you can use it for one shave, just giving 5 minutes of quick charge.
The built-in pop-up trimmer will provide you with the proper styling of your mustache.
The Multi-Directional DynamicFlex Heads give you a pleasant and comfortable cut all along the skin.
Why do you need philips shaver series 3000?
Philips Series 3000 has some key features. The comfort cut blade system gives you a luxury of a close shave reducing the razor burns and nicks and cuts. The four-directional flex heads reach every corner and curve of your face to enjoy a comfortable shave. You can avoid costly saloons and style yourself by the attachment it gives.
Cons
✘   Warranty issues
✘   Sometimes it takes a longer time than a standard razor
✘   Cordless operation only
Pros
✓   ComfortCut- an elegant Blade System
✓   Four-Directional DynamicFlex Heads
✓   Wet and dry shave
✓   100% waterproof
Conclusion
Philips Series 3000 Men's Electric Shaver is the product you are looking for and searching for. For the key features, it has caught the customer's attention. It has a blade system and Multi-Directional DynamicFlex Heads, which has brought something unique for the customers.
OTHER'S PHILIPS SHAVER REVIEW: