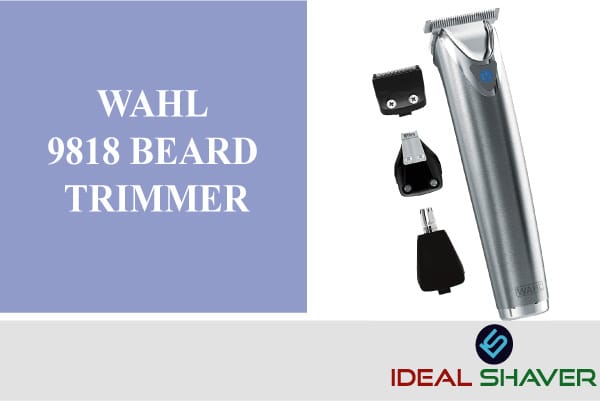 The WAHL 9818A Cordless Beard Trimmer is the perfect choice for any man looking to groom himself in style. With its patented technology, this trimmer offers superior cutting power that can handle all hair types and lengths. The self-sharpening precision blades are guaranteed to last long and offer a smooth trim each time.
In addition, it is equipped with a long-running lithium-ion rechargeable battery that lasts up to 3.5 hours on a full 1-hour charge, making it perfect for those on the go. The WAHL 9818A Cordless Beard Trimmer also comes with three multipurpose attachments that are perfect for all facial hair and beard styles: T-Blade, Rotary Personal Trimmer, and Detail Trimmer. Plus, nine individual guide combs offer a wide variety of cutting lengths to choose from.
Not only is WAHL 9818A Cordless Beard Trimmer ideal for personal use but it also makes an excellent gift idea. Whether you're looking to give a special someone the gift of quality grooming tools, or you need to upgrade your own trimmer, WAHL 9818A is sure to please. With its high-quality performance and sleek design, WAHL 9818A Cordless Beard Trimmer is sure to be a hit in any man's grooming arsenal. So why not give it a try today? You won't be disappointed. WAHL has been trusted by professionals since 1919 and now you can experience the same quality at home. Give WAHL 9818A Cordless Beard Trimmer a try, you won't be disappointed.
 BOX INCLUDES WAHL MODEL 9818
Unbox Wahl 9818 trimmer and see all the attachments. Yes, we know many of you will be surprised to watch all of these in the package. So let us know what you will be getting:
WAHL 9818 stainless steel beard clipper
Four attachment heads
Precision T-blade
Detail shaver
Detail trimmer
Ear, nose, and brow trimmer
AC adapter for universal use
Cleaning brush
Oil for blade
Instructions (English/Spanish)
Travel bag
12 T- blade guide
Combs
AT A GLANCE WAHL TRIMMER 9818
Wahl is the number 1 brand which has been used since 1919. Professional use and home usage make it unique.
Wahl 9818 clipper is manufactured in the USA.
The flexibility in the voltage system makes it enable to use both in 110v and also 220v.
Rechargeable battery with the luxury to be used for 4 hours continuously.
No comment for the excellent self-sharpening blades. The Long-lastingness of the blades is the added advantage.
There are mind-blowing 4 attachment heads-customize your looks with its assistance. One of the attachments is the blade, which is used for trimming beards and hairs, outlining, your grooming, and many more. As a second attachment, you get a detailed shaver for shaving, outlining your hairs. There is also a detail trimmer for beards and stuff as your third attachment. And the last attachment is for other places like the nose, ears, and brows.
 Key features of WAHL 9818 T BLADE
1. The ergonomics and the aesthetic look
The design of the Clipper Wahl 9818 is magnificent. In addition, you get a lightweight product that is so much more comfortable to handle. You get a sharp blade and a perfect motor to trim your beard.
2. Battery Life of Wahl 9818
Oh, the battery! It's excellent too. Now let me tell you something interesting. How about using this trimmer and not charging for 21 days? Yeah, it is possible with the newly built model of 9818 from Wahl. And one thing you must note is that you can use it at 100-220 volts. Another thing I forgot is that you can use the charger in any foreign country.
1 hour= 4 hours: Do not get too confused with the title. The title is true, and in fact, this is some of the key attractions of this Clipper. By charging 1 hour, you can get the advantage of 4 hours run time.
1 minute= 3 minutes: Yes, you are right. It's about the quick charging facility it provides. Charge it for 1 minute and get 3 minutes of run time.
3. Easy cleaning
Cleaning is not a tough job. It is even easy when it is a product from Wahl. You can remove the trimmer head and clean every part of the head easily.
Since Wahl clippers take a large amount of hair in each of the sections, you can open the head and clean the parts. Yes, among all the advantages, this is probably one of the things to worry about buying this trimmer. The question is, what will happen if you do not clean the hairs by unscrewing the heads?
The answer is simple, the hair will get stuck, resulting in the motors not moving freely. Heat can generate, and the lifecycle of the Clipper will be hampered.
4. The Portability of This Clipper
As I said earlier, the Clipper is so light to handle. You have no issue regarding the transit. Also, just because of its excellent battery facility, you do not need to carry your charger always, that's another advantage. Are you happy now?
5. No Stand
You won't get any stand with it. The seminal-looking, plastic stand is what you will get. The strong lithium ion 2.0 technology, quick charging facility, and all of these facts will be enticing to buy this Clipper. Well, let me make you more interested in purchasing this trimmer.
Why do you need it
You will buy this product just because of the four attachment heads. The battery life is also praiseworthy enough. The flexibility in the voltage system and easy setup of the attachments comes with a package, and it can be given a try.
Pros:
Analyzing the review of the people, you can conclude that this Clipper from Wahl is actually good.
Well, the pros prove that it must be a good product to use. Let us look at some of the pros.
The strong built-up of Wahl 9818 is praiseworthy
A plethora of attachments for your groom
The easy setup of the attachments and easy-to-use features
Lightweight, travel friendly
Trim your hard-to-reach areas with ease
Warranty- 5 years
Can retain charge for a long time, making that travel friendly again
Cons:
You cannot use it wet. While cleaning it's okay but using under showers is not okay
Wahl 9818 replacement head: minimum 100 words
Are you looking to give your WAHL 9818A Cordless Beard Trimmer a new lease on life? WAHL offers Replacement Trimmer Heads that are designed for use with the WAHL 9818A. Each head is manufactured according to WAHL's stringent quality standards, so you can rest assured that it will offer superior cutting performance.
The WAHL 9818A Trimmer Head includes a precision detail trimmer head for detailed trimming, clean up, and complex designs. Additionally, the rotary trimmer head is ideal for ear and nose hair trimming. WAHL also offers individual guide combs that allow you to choose from a wide variety of cutting lengths ranging from 1/16″ to 1/2″.
So don't let your WAHL 9818A Cordless Beard Trimmer become dull and outdated. Give it a new lease on life with WAHL's Replacement Trimmer Heads and Individual Guide Combs! With WAHL quality, you can be sure that your trimmer will perform just as well as the day you brought it home. WAHL has been trusted by professionals since 1919, so you can trust WAHL to get the job done right! Give WAHL 9818A a try today and experience the quality for yourself.
Conclusion
The WAHL 9818A Cordless Beard Trimmer is a must-have for any man looking for a reliable and quality trimmer. With self-sharpening precision blades, a long-running rechargeable battery, and multiple attachments for different styles of beards and hair, WAHL 9818A is perfect for those on the go or who are looking to upgrade their grooming tools.
WAHL has been trusted by professionals since 1919 so you can trust WAHL 9818A to get the job done right. Give WAHL 9818A a try today and experience the quality for yourself!