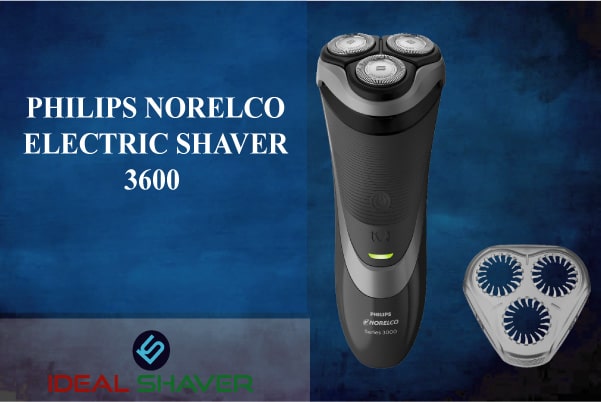 Philips has always invented splendid products and got love from the customers every time. Philips Norelco 3600, is a product made in the Netherlands. It's made for men only, though women can use it. It's the ideal first shaving kit for teenagers. This product gives a 3 days stubble look. Great isn't it? 4 heads flex is situated at the top of this shaver. It helps with comfortable shaving from different angles. So many benefits you can have, let's jump into the next part.
So the overview, it's a 3D dimension product, size of 3.47 x 5.00 x 9.65 inches. The product weight is around 0.85 lbs or 385.5 grams.
The body shape of this product gives a decent look. A special feature is the click-on stubble guard, it keeps a refreshed look on your face for 3 days.
Oh yes! It has 1 Lithium-ion battery, which takes one hour to get fully charged and it gives 50 minutes of continuous shaving.
It can consume up to 9W power, stand-by power is around 0.1 watts and the maximum voltage is 100-240 V
Looking at the head, it is curved for better shaving. Only by touch, it starts and gets ready for giving you one of the best shaving experience.
Box Included: Unboxing any product is mesmerizing. You get to see magnificent products with the main one.  Well, coming to the point, in the box you get the shaver, a power cord, a click-on stubble guard, and a protective cap.
Philips Norelco 3600 Key features
Click on the stubble guard, the most fascinating feature of this product. It gives you a 3-day stubble look. Also, it has a 4-direction contouring system.
Next is the comfort cut blade system. It allows you to shave rounded and it protects your skin from getting cut on the edges.
Afraid of using it with water?? Well, don't be. You can shave dry or wet, then you can rinse with a tap. Also, it doesn't show any problems with shaving foam or gel.
Want to trim your sideburns and mustaches with it? Yes, you can do it with the pop-up trimmer. It's an ordinary feature.
Lastly a strong lithium-ion battery with fast charging facility. Within 5 minutes, the fast charge facility gives you the perfect time for shaving. Also, a full charge gives you approximately 50 minutes to 1 hour time for usage.
With your one touch, the shaver opens up its head and then you're good to go.
Norelco shaver 3600 Pros and cons
Well, the advantage of this product is a lot. From design to use of the shaver, every part will impress you with its incredible features. Let's point out some benefits
It's designed to hold it in a very comfortable way. Also, the color of it looks stylish and you can feel it while shaving.
One of its key features of it is it's a cordless shaver. So you don't have to use it while it's plugged in. Once it's charged then you can use it. However, it's recommended not to use it while it's plugged in.
The head of the shaver can curve at any angle. So no room for leaving behind a single hair on your face.
The pop-up trimmer can give you a great facial look, even with sideburns and mustaches.
Also, you're getting a long-lasting battery life.
No skin irritation, proper protection is all you can get. Also, it has an AquaTec wet and dry system for your skin comfort.
Cleaning is much easier.
However, there are some disadvantages you might face.
The sound system is a bit noisy.
Cannot shave every edge. 
Price: It's a midrange product of around 62.47$.
Conclusion
One of the best products you can get at this price. Especially the features are remarkable. It can be a long-time shaver for you if you take good care of it. No problems with the device as Philips ensures safety first. Performance is on top, one-time shave, and the facial hairstyle or the beard will remain the same for 3 days. Highly recommend buying it if you wish for stylish grooming. You don't have to replace it with other products. You can easily use it for years after years. Overall, the best product of the best ones.