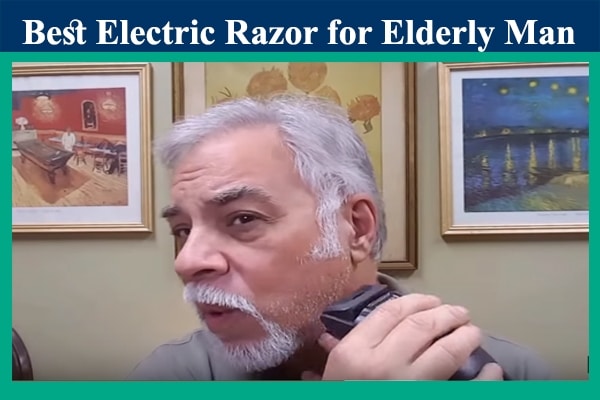 You can't deny the fact that you are, and will, grow old at some point. And that's probably the key component of this for the best electric razor for elderly man.
Let's just think for a moment here.
For the most part, the distinction between an old skin and a contemporary one is pretty self-explanatory. As with the newer skin, there's really no need to worry about facial hairs.
But as you grow old, you require a precise piece of machinery to take care of your blemished and wrinkled skin from the grasp of annoying facial hair. Sadly, in the past, the options were limited by pricing, usability, and other factors.
But, fortunately, in 2019, elderly shaving has come to a point where you can get your hands on some of the best electric shaver for elderly man is available. Of course, pricing is still a valid reason to avoid such options. But the benefits, nonetheless, far outweigh the issues with pricing.
Given these points, we are glad to have come up with some options for the best value electric shaver. As we mentioned earlier, usability does matter a lot. Keeping that in mind, we've managed to find a few suitable options which maintain a strict balance between pricing and overall experience.
But first, let's take a sneak peek at the products we have in store for you.
Comparison Table on The Top 7 Best Electric Shaver For Elderly Man
| Model | Charging Time | Price | Contour Flex Head |
| --- | --- | --- | --- |
| Braun Series 9 9290CC | 50 min | Check Price | 10D |
| Braun Series 7 790CC | 50 min | Check Price | 10D |
| Philips Norelco Shaver 8900 | 50-60 min | Check Price | 8D |
| Panasonic ES8243A ARC4 | 50-60 min | Check Price | Flexible |
| Philips Norelco Shaver 9700 | 60 min | Check Price | 8D |
| Panasonic ES LV95 S ARC5 | 40-min | Check Price | Multi-flex pivot |
| Panasonic ES LV65 S ARC5 | 45-60 min | Check Price | Multi-flex 3D |
Now that you've had a look at some of the features of each product, it's probably the time to dig a bit deeper and find out more about the offerings of each electric razor.
Top 7 Best Electric Shaver For Elderly Skin
 #1. Braun Series 9 9290cc Wet & Dry Electric Shaver
When it comes down to the best value electric shaver, then the 9290cc series 9 electric shaver from Braun does live up to the expectations. Although the pricing may seem a little steep, the features are well worth your money.
So, diving into the features, we find that the shaving array overall isn't just premium. As a matter of fact, elegance and precision are really worth mentioning here.
You are dealing with 5-shaving elements (4-cutting and 1-SkinGuard) offering seamless precision on a regular basis. Of course, you can't really forget about the titanium-coated trimmers, which are more than capable of handling the toughest and trickiest facial hairs in tight spots.
Moreover, you are getting a seamless integration of technology which features the Intelligent Sonic and AutoSense technology. The 10,000 precision micro vibrations alongside a quick-adapting motor offer clean shave with every movement. Also, the 10-D contoured design offers superior adaptation, a must-have feature for tough shaves.
All in all, you are not leaving out on much if you consider the price tag. In addition to the special features, you are getting a healthy dose of the regular features including proper functionality for wet and dry shaving, cleaning and shaving.
In short, do check it out if you are interested in getting the best electric razor for elderly man. You can put your faith in it with your eyes closed.
cons
✘  The pricing is a matter of concern.
✘  Speed control should have been a prominent feature.
✘  The trimmer could have been wider for better use.
Pros
✓  Features 5-shaving elements with two titanium-coated trimmers for precise shaves.
✓  Superior wet and dry shaving experience with a 5-meter waterproofing.
✓  A 5-action alcohol-based clean and charge station offers better lubrication and clean shaving.
✓  A proper indicator to let you know if your charge is running out.
✓  Shaving efficiency fits the price tag without a doubt.
✓  A smooth and clean overall shaving experience.
FOR MORE INFORMATION. Click Here
#2. Braun Series 7 790cc Electric Foil Shaver
As far you are fine with products having a premium price tag, you simply can't go wrong with Braun. In addition to their superior electric shaving product lineup, they make really good use of their resources thanks to their cutting edge design techniques and implementations.
To testify the above statement, we are here with the 790cc braun, series 7 electric foil shaver from Braun, which happens to be a strong contender for the best value electric shaver as well.
So, let's talk about its specialties.
First of all, unlike the 9 series, you are getting a 3+1 shaving array (3-shaving and 1-SkinGuard), which offers just as smooth of a shaving experience as the series 9. Of course, the ActiveLift trimmer is a handy feature for flat facial hair. Pair it with the OptiFoil synergized razor blades, and you get more than decent results.
One of the more compelling features of the series 7 is its 5-distinct shaving modes, which is something you don't find with the 9 series electric razors. And that's one of its key selling points, as you are getting 5-different modes of operation.
Other than that, you're pretty much getting all of the features of the 9 series razor blades from Braun. Now the price tag does seem a lot more competitive compared to the 9 series. But the efficiency and seamless nature of the 9-series does make it a compelling buy if you are not considering the price of course.
All in all, if we were to offer some advice on whether or not to buy it, then we will leave it up to you to make the decision. But we would recommend that you check it out for yourselves.
cons
✘  The charging port placement isn't convenient.
✘  It doesn't come with a travel lock.
Pros
✓  Precise shaving up to 0.05mm, offering a close shaving experience overall.
✓  The one-of-a-kind charging station offers a seamless cordless shaving experience, providing proper lubrication and charging.
✓  5-sensitive modes offer good user flexibility.
✓  The shaving motor alongside 8-D adaptability delivers close and precise shaves.
✓  The experience is seamless thanks to the precision 3+1 shaving blade array.
✓  Pricing is competitive.
#3. Philips Norelco Electric Shaver 8900 Wet & Dry Edition S8950/91
Philips, as many of you may know already, is one of the leading brands in consumer electronics. So, it probably shouldn't come as a surprise when Philips comes up with an electric shaver that can take care of all your basic shaving needs, with a touch of a few extra tweaks here and there.
So, what's so special about the philips norelco 8900 electric shaver?
At first, the design structure does feel a lot handier. While the design itself is pretty slick, the 8D contour design does hit the sweet spot when it comes to the overall adaptability and usability. Not only that, the V-track precision razor blades offer a more-than-decent shaving experience, which can get pretty close to the skin.
Now when it comes to the best type of electric shaver, then you'd probably want an electric razor that more or less makes the most from each pass. Well, thanks to the clever design execution behind the norelco 8900 shaver, you are getting 20% hair removal on a single pass, which acceptable considering the price point.
Then you have the SmartClick beard styler, which is a collection of 5 defined settings for shaving at different levels. In addition to that, the LED charging indicator also adds a nice touch to the overall experience, which does contribute to the overall shaving experience.
So, what can you take away from this review of the elderly shaving tool?
For the price, you can't really argue about the features you are getting. And with Philips, you can pretty much expect top-notch precision. So, if you are a man with delicate shaving needs, then the norelco 8900 razor is a safe bet.
cons
✘  Though it's a lightweight machine, the shaving speed isn't up to the mark.
✘  The charging stand is a bit bulky.
Pros
✓  8D moving capacity with 20% more hair removal, offering better usability.
✓  The 5-BeardStyler settings offer more freedom to use overall.
✓  Standby power is 0.15-watts, comparatively low than some of the existing brands.
✓  V-track design offers a seamless shaving experience, reaching 30% closer to the skin.
✓  The wet and dry shaving is commendable.
✓  The travel lock is a welcome addition.
FOR MORE INFORMATION. Click Here
#4. Panasonic ES8243A ARC4 Electric Shaver Review
Panasonic is, undoubtedly, one of the most effective brands in the industry for consumer electronics. The level of precision and quality that they maintain is unprecedented. Also, their pricing remains competitive until today.
And, for this reason, the ARC4 shaver and trimmer took our attention as a strong contender for the best electric razor for elderly man.
First of all, the blades and their orientation is something of utmost importance for an electric razor. And Panasonic probably maintains the best standards when it comes to quality.
The 30-degree super sharp nanotech blades combined with the super thin arc foil offers great precision and smoothness when it comes to shaving delicate skin. Also, the pop-up trimmer comes in handy if you are looking to size up your beard or mustache.
Like some of the more prominent brands, you are getting the wet and dry shaving capability. But the precision 13000 cuts per minute from the motor is an actual testament to cutting edge engineering, offering clean and precise shaving like never before.
So, how can you judge it?
Other than precision shaving and superior power control, you are pretty much getting a complete package at a very compelling rate. Of course, the argument can be made that the precision may not be up to the mark.
But, the truth is, it is as good as any other electric shaver out there. So, you may not want to skip this option.
cons
✘  The sound is a bit annoying.
Pros
✓  The ARC4 offers superior shaving performance thanks to its precisely sharpened SS blades.
✓  The motor performance is commendable, offering deep and clean shaving results.
✓  The pop-up trimmer does more than a good job of taking care of your mustache.
✓  The 10-stage power indicator LED screen is precise for handling charging notifications.
✓  A lightweight trimmer with adequate flexibility offers commendable results.
 #5. Philips Norelco Electric Shaver 9700 Review
The Philips Norelco electric shaver 9700, as you may expect, offers a bit more precision when it comes to electric shavers for the elderly. Now do keep in mind that this is the elder brother of norelco 8900 shaver, and the features and pricing does reflect that very thing.
As far as the features go, then you are pretty much getting the usual features like the norelco 8900 shaver. You are getting V-track precision blades, the 8D Contour Detect technology and comfort settings for all your shaving needs. Also, the Smart Clean Plus system offers good charging and lubrication capabilities as well.
So, what do the extra dollars offer you?
For starters, the power management system is a bit advanced on the 9700. The digital user interface offers a really good overall experience when it comes to charging and other such management. Also, the smart click oil control cleaning brush acts as the correct face wash to give you the perfect finish after each shave.
Now the question remains: is it worth it?
Absolutely. If you just see the features for the money, you really are not missing out on anything. Overall, it is a really good bargain.
cons
✘  The trimmer isn't connected to the shaver body, which feels annoying.
Pros
✓  The V-track precision blades offer more-than-decent shaving performance.
✓  The power and notification indicator feels more advanced and to the point.
✓  It features a lightweight ergonomic design for a better overall feel.
✓  Settings for personal usability, wet and dry shaving all feel smooth and seamless.
#6. Panasonic ES LV95 S ARC5 Review
The ARC5 electric shaver from Panasonic may as well be the bigger brother of the ARC4.
As far as the features, then you are pretty much getting a bumped up ARC3 to say the very least. You now have 5-precision blades for a better shaving experience. Also, the ActiveSense sensory technology is more precise with the ARC5, as the beard density mapping is now easier.
Other than that, all the features are pretty much the same. You are getting the pop-up trimmer, now with a pivoting head. Also, the Lift-tech foil system and the 14000 CPM linear motor work together in unison to offer a better overall shaving experience.
So, the takeaway here is the overall bumped up performance numbers. In short, if the extended features offer better usability for you, there's no reason for you to skip it.
cons
✘  The adaptive sensing could be better.
Pros
✓  The precision blades offer a seamless shaving experience.
✓  The indication LED screen offers more precise readings for power consumption.
✓  The Lift-tech foil system is more than capable of dishing out smooth shaves.
✓  The design and the pop-up trimmers work better than ever.
✓  Takes only 40-minutes to charge up properly.
#7. Panasonic ES LV65 S ARC5 Electric Razor Review
There is certainly a place for the Panasonic ES-LV95 in our review for the best electric razor for elderly man.
The reasons for this are very simple.
First of all, you are getting all the usual functionality alongside precision and seamlessness. For example, the 5-nanotech sharp blade design does offer a smooth shaving experience overall. Also, shave sensing technology is pretty much accurate. It's have perfect cleaning solutions. Overall, the level of precision is commendable so far.
Other than that, you are pretty much getting all the precision Panasonic has to offer. The waterproofing, no doubt is right up to the mark. Also, wet and dry cleaning technology gives a nice overall feel when it comes to regular usage. Overall, it's pretty much a complete package that checks all boxes.
In conclusion, we would like to offer this option as the best budget electric shaver.
Now do keep in mind one thing. We are only suggesting it as a budget option because it has a nice balance of price and performance, which is something that many products lack. You may want to check it out if it works for you.
cons
✘  It's one of the more loud and bulky options in the bunch.
Pros
✓  The sharp nanotech blades offer decent shaving with a 14000-cpm shaving efficiency.
✓  The design of the shaver is easily handled able, the 2D contour flex being sleek and precise.
✓  The charging and cleaning station is automatic and does a smooth and precise job.
✓  The sensing technology is decent as well, offering a good overall experience.
✓  The multi-flex pivoting does live up to the standards as well.
How to Choose The Best Electric Shaver For Elderly Man
Choosing the best electric razor for elderly man is a particularly daunting task, especially when you are dealing with so many options. So, in order to make your life easier, we are here with some key things to consider whenever you are looking at options for the best electric shaver for elderly man.
Electric Shaver Pricing:
Pricing is probably a relative matter depending on the individual. We do have a variety of options in our arsenal. But your preference is what matters the most. So, if you want the best level of precision, then it is probably the right choice to break the bank and get an electric shaver with all the bells and whistles.
Electric Shaver Power and Battery Life:
You have a lot of options here.
But a popular option is probably the cordless shavers, which are easier to handle overall. Now with the corded option, the hassle for wiring is always annoying.
But with modern shaving units, you are getting the clean-and-charge units, which offer more convenience than cordless or battery shaving units. They all have their proprietary after-shave or dipping solution, offering a better shaving experience overall.
When it comes to the overall battery life, then charging usually takes 40-minutes to an hour. Anything longer than that isn't acceptable. The same goes for charge consumption.
Electric Shaver Cleaning and Washing difficulty:
The modern electric shavers for delicate skin all offer clean and charge functionality. This allows the user to charge and douse the shaver, eliminating the annoyance of manual cleanup. Also, these units are also capable of wet and dry shaving, an option which is becoming more and more affordable.
Electric Shaver Flexibility and Ergonomics:
Flexibility and ergonomics pretty much go hand in hand. One of the traits of the best electric razor is proper ergonomics, which usually results in better flexibility.
Most modern reliable shavers for delicate skin offer good gripping and handling. Also, the shavers can adapt to the shape of the face really easily. So, the ability for contouring overall is something that one must keep in mind.
Electric Shaver Blades:
Rotary blades are like spinning disks, which are better for understanding the skin contour. They are good options for hard-to-reach places and long hairs.
On the other hand, the foil system features a thin film of foil with the blades, which is essential for avoiding skin contact. It does remove the possibility of skin irritation, but long hairs do offer a problem.
It ultimately depends on which electric shaver is the best for you.
Electric Trimming Support:
Older men usually struggle with ancient razors for his or her sideburns. An electrical razor that may trim beard hair is often a and to possess. A trimmer could also be found on the rear finish of the razor. The trimmer head comes out as you push a lever or press a button. The teeth on the cutter can bear thick bits of hair in moments. The trimmer is appropriate to be used on the sideburns or for once you would like a pre-trimming method to figure on your hair.
Electric Waterproof Support:
Some razor models area units safe to use within the shower. a water-proof razor works in wet and dry conditions alike. you'll be able to wash the razor off below your toilet sink. Also, a water-proof model will run aboard toiletries or gel. you'll be able to wash the razor head once in an every so every now and now and again time to occasionally infrequently while shaving. Reckoning on the model, you'll be able to use a sanitizing or cleansing station on your charging unit to any clean off the shaving head.
Electric Motor practicality:
The motor within your razor ought to work with each short and long hair. Some models block once you're acting on thicker hair spots. you will realize an impact feature on a razor that enables you to regulate the intensity or speed of the motor. The review however well the motor works which it will turn out a quick enough move through difficult surfaces. A motor with several speed settings is ideal for older men because it provides them additional management over however well a cut goes whereas keeping trims on sensitive areas under control.
Frequently Asked Questions(FAQ)
Question 1: What is the best men's electric shaver for sensitive skin?
Answer 1: In the series of many brands available as topmost electric shavers for men with sensitive skin, choose best. Before buying any reliable electric shaver, you should know your skin type as prior. You can go for Philips Norelco 9700, Braun Series 3 ProSkin 3040s, or other shaver designed for sensitive skin people.
Question 2: Should you use shaving cream with an electric razor?
Answer 2: When you are using manual razors or the razors with traditional outlook, you need to use shaving cream or foam. However, if you are using an electric shaver, then there is no need for shaving cream or other shaving products.
Question 3: How do you get the cleanest shave?
Answer 3: Well, the right technique, useful shaving device, and some shaving hacks enable you with the cleanest and closest shaving experience. Tips related to pro and post-shaving such as never shave dry, use of good shaving cream not, etc. hacks will help you best to get the cleanest shave.
Question 4: How do you get the smoothest shave down there?
Answer 4: Shaving the pubic hair is something more challenging, and most of the people actually fear of that. Indeed, our private parts are sensitive and soft than other skin surfaces, so always be conscious while using shaver and razors. Ample of hacks and array of tips will offer the cleanest and smoothest shaving experience down there.
Question 5: Is Rotary or foil shaver better?
Answer 5: This totally depends on the personal choice of the user. The individual choice how easy and convenient he/she is while using any type of shaver. The rotary shavers, however, are less picked as they are a little painful and frustrating. Outstanding is using shaver according to the skin type.
Question 6: What shaves closer foil or rotary?
Answer 6: When it comes to the closest shaving experience with a maximum of smoothness, then pick foil shavers, not the rotary ones. It even gives smooth and comfortable shaving on jawlines, neck, chin, etc.
Question 7: Are electric shavers as good as blades?
Answer 7: Blades is out of the trend, but still people use it. However, when it comes to an electric shaver, these are goods. They are even far better choice for people with sensitive skin. Even the risk of cuts, razor burns, itchiness, rashes, and redness is quite less than blades.
Question 8: What type of electric razor gives the closest shave?
Answer 8: Picking up the right and a regular electric razor to get the closest shaving experience is challenging. But you can make a wise decision to select a quality electric razor while knowing about its features. Even you can check out its performance with wet or dry shaving experience. Always buy an electric shaver from a popular brand such as Philips, Braun, Panasonic, etc.
Final Thoughts
Whenever you're looking for the best electric razor for elderly man, you cannot deny the fact:
Choosing isn't as easy as it seems.
And that's true for the most part. Although pricing is a key factor whenever you are choosing any new product, usability always takes priority. And when it comes to the best electric shaver for sensitive skin, the features need to meet the individuals need.
So, our final piece of advice would be to not cheap out. Of course, some products may seem a lot pricier than the features they are offering. But the precision and seamlessness they offer for the money are certainly worth it.
With that said, we hope you've had the opportunity to gather the relevant info you've been looking for in this review. So, we will leave the final choice to you. After all, you are the one holding the cash!