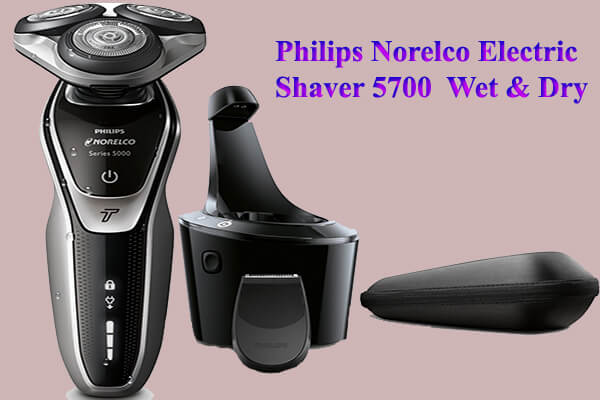 PHILIPS NORELCO SHAVER 5700 REVIEW
Philips Norelco Electric Shaver 5700:
Philips is just not a new brand in comforting our lives in many ways, via its advanced world of technology. In fact, a successful name in hair and care appliances such as hair driers, hair straighteners, hair curler, and shavers respectively. All of its such useful equipment come with advanced high-tech features, that are even user-friendly and pocket-friendly.
Here specifically we are highlighting Philips Norelco electric shaver 5700 wet & dry review which is a new launch that is handy, reliable, cordless, easy rechargeable, convenient that gives you premium, and gently shaving effect on both wet or dry hairs. It is supportive with Smart Clean System that actually curves according to the body and shaves closest to the skin.
Below we have mentioned that makes the mark on the technology and specifications of Philips Norelco 5700.
First Impressions Philips Norelco Shaver 5700 With Turbo mode
With the first contact with the machine, the printing is excellent. It has a design very similar to that of the 7000 series. Even something more modern is it comes with a better choice of colors.
Again we have a tremendous power button on the front, easy to access without a look at the machine. And, just below, a new button that activates the turbo functioning. And if we press for 3 seconds activates the lock for travel.
Furthermore, we find the body of the machine that, at first glance, is an empty plastic space, hides the screen indicators. These are only visible when they are lift and that, depending on the model. It also indicates the Battery level, if it is charging, blocked, etc. if it is blocked, etc.
In the back, we can see the rubber coating that acts as a grip so that it does not slip. And in the bottom part, it is featured with having the charger connector.
What's in the box – Philips Norelco 5700 With Turbo Mode
Shaver: Philips Norelco 5700
SmartClick Precision trimmer
SmartClean system
Power cord
Travel case
Instruction Manual
Features On Philips Norelco 5700
1. Turbo mode
Shave even quicker through dense elements of your beard with the 10% extra energy raise you to get by using activating Turbo mode.
2. MultiPrecision Blade System
The double blade rotating system lifts the hair and cuts them in an optimal position closer to the skin.
3. Flex Heads
Systems of 5-way heads with five independent movements that make the blades constant in contact with our skin.
4. Wet & Dry
Choose how you choose to shave. With the AquaTec Wet and Dry seal, you could opt for a quick dry shave or a more cushty wet shave with gel or foam – even underneath the shower.
5. SmartClick precision trimmer
Click on our pores and skin-pleasant precision trimmer to complete your look. It's best for retaining your mustache and trimming your sideburns.
6. Lithium-Ion Battery:
A Lithium-ion battery has a battery with a duration of 45 minutes with 1 hour of charge. It also offers the possibility of a quick charge of 5 minutes enough to perform a shave. We have the option to use it directly connected to the network.
7. Battery Charging System
The battery is easily changeable by the supplied cable charger or by the Smartclean cleaning station for the models that include it.
The cable charger is multi-voltage, is quite reliable for people who travel a lot since and use this high-tech shaving device. What they just need to worry about is the adapter for different types of plugins.
The charging process lasts one hour and the time of use with the full battery is 50 minutes.
Whenever it runs out of battery, quick charge mode is available for complete shave within 5 minutes of charging.
8. Screen And Lock
The Philips 5000 series has a simple but intuitive display with indicators of battery status, block for travel, cleaning, and replacement of heads.
9. Super Lift and Cut Action
Shave closer with the dual-blade Super Lift and Cut Action. The first blade raises each hair at the same time as the second one blade comfortably cuts underneath skin level, for exceptionally smooth results.
10. Smart Cleaning Station
The Smart Clean is a base that acts both as a charger and as a cleaning center. Instead of plugging the charger into the machine, we can plug it into the Smart Clean. Despite all, it will act as a permanent base for our machine in the bathroom.
For cleaning, Smart Clean uses a liquid detergent that cleans and lubricates the blades. This liquid comes in cartridges, so needs a significant replacement, more or less in every two months.
It seems how expensive it is to keep the machine clean, and Philips' heads come in the same category. The cleaning process lasts no more or no less than 4 hours. It is due to the drying process of the machine done by induction, which consumes more time.
We Now Go To The Most Important Part on Philips Norelco 5700
CHECK PRICE ON AMAZON
Like all Philips machines, the head consists of 3 heads with independent rotating blades. Despite this, each head, then holds an outer ring of plastic, a metal track, and a silver disc in the center. The plastic ring has slits whose function is to lift the hairs that are more glued to the beard, enabling a comfortable shave.
The metallic track has a series of perforations along with it, through which the hairs introduced, that will automatically cut by the blades that turn under it.
And finally, the central disc supports the machine slide with less friction along the face.
The heads have a movement in 5 directions, and the head ultimately moves also to adapt to the contours of the face. It is especially noticeable in areas such as the chin, neck, and chin.
If we press a central button on the front of the head, it opens, so we can access its interior and clean it after each use. For this, it uses a system with a "hinge," so that the head is not separated completely. Although if we want to do a more thorough cleaning or replace the blades, we can also separate them completely.
Each set of rotating knives is formed by three pieces. The metal cover that is in contact with the skin, the blades that are rotting inside, and a piece of plastic that acts as a retainer.
This piece is similar to that of the 7000 and 9000 series, but they have improved it a lot due to the complaints on the part of the users. In the previous ones, it was challenging to remove it and easy to break it when doing it.
They even included a tool in the 9000 series to do it. Now, they have introduced some slight but quite effective changes to solve this. Although the appearance and design of the 5000 series are similar to that of the Philips top series, the blades are more similar to those in the lower range.
comparatively the blades of the 9000 series are more reliable than others with rotating assembly, which translates immediately into fewer cuts per pass which, in turn, translates into the need for more passes to complete shaving and, therefore, more suffering from the skin.
As in the two upper series, the 5000 series includes a beard trimmer as an accessory separately. Although putting and removing is quite a simple task within the smart click system. And personally, I prefer such advanced systems that are in-built integrated into the machine.
Final Thoughts
In the race of many advent electric shavers, to choose the best is often a struggling deed because all shavers crafted with unique features, advanced specifications to give users a perfect, gentle, and hassle-free shave in lesser time. And to go with such daily routine shaving, an easy and reliable shaving device is a significant choice. And we hope our mentioned in-depth closer look about Philips Norelco Electric Shaver 5700 is something that you can blindly trust now.