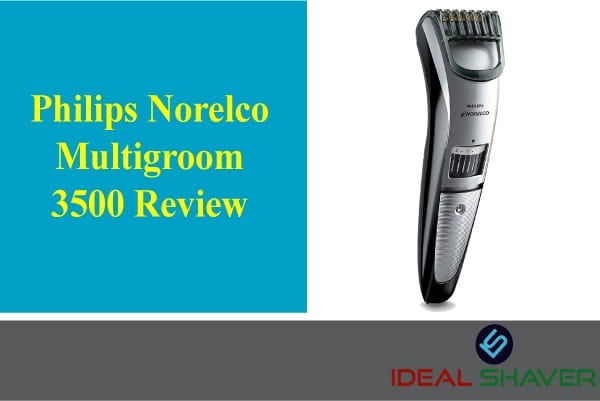 PHILIPS NORELCO MULTIGROOM 3500 REVIEW
Philips Norelco Multigroom 3500 provides you with a self-sharpening titanium blade to cut all of your hair efficiently. There are 20 precision lengths(built-in), which are also adjustable and capable of locking with the trimmer's wheel. You get a cornucopia of precision lengths, which is from 1/32 inch to 13/32 inch or from 0.5 millimeters to 10 millimeters.
About the lithium-ion battery, it always serves an excellent running time, which is 2 hours. You need only 60 minutes of charge to avail of 2 hours of cordless operation. The heads of Philips Norelco 3500 are easily washable; you can clean them easily anytime. You get a beard comb, and your shaving is so better with Philips Norelco Multigroom. The voltage it needs is 100 to 240 volts, and the blade is titanium.
Cons
✘   Sometimes titanium blades can have problems
✘   Not always great for a stubble look
✘   Not water-proof
Pros
✓   Self-sharpening titanium blades
✓   120 minutes of cordless charging with 60 minutes of charge
✓   20 built-in precision length settings with 0.5 mm precision
✓   A locking feature for which you get a customized excellent shave
✓   Two years of warranty
Philips Norelco 3500 Key Features
1. Titanium steel blades are self-sharpening and efficient: If you are planning to prevent skin irritations or even minimize them and you are repeatedly unsuccessful in it, you can try this trimmer. The blades are of titanium, self-sharpening, and cut all hair efficiently.
2. Zoom wheel technology and built-in 20 precision length settings: There is a unique zoom wheel technology here in this trimmer. You get a chance to adjust the length settings from 0.5-millimeter minimum to 20 millimeters maximum. And since the wheel is adjustable and you can lock it at your desired setting, so the trimming becomes easy and straightforward. You do not need separate attachments.
3. Blades are skin-friendly preventing irritations: The blades are skin-friendly and comfortable to handle. The blade tips are round and assist in preventing and minimizing all skin irritations. So to get a perfect and also secured trim, you can try this out.
4. Cordless use for 2 hours with just 1 hour of charge: The battery is robust and of lithium-ion. Use your trimmer anywhere and at any place you want by cordless use. If you charge it for 60 minutes, you can have access to use it cordless for 120 minutes. So for a high-performance cut, use it anytime.
5. Simple and easy to clean: The trimmer is so easy to clean. Open the head of the trimmer and keep it under the tap. You can wash it easily like this. After cleaning it, dry it for a long-lasting trimmer.
6. Effortless shave with excellent ergonomic design: The design is excellent, and it is effortless to hold, use it with your comfort and shave at the hard-to-reach areas so much more quickly and effortlessly.
Why do you need it?
The excellent features of the trimmer serve you one of the best trimming experiences. You get all the unique features, including precision length settings starting from 0.5 lengths, and you get 20 types of range, which is pretty excellent. The battery is of high quality, and one of the features of using it cordless is also available.  You get some unique quality blades, it is made of titanium and also self-sharpening. The design, the ergonomic view, everything is customer friendly and well-appreciated.
Final Thought
Philips Norelco beard trimmer 3500 can serve you with some unique shavings. The precision length settings, zoom wheel technology, and locking feature are some of the things enticing to the customers. Though it has some cons, it is always worth trying to experience the new features and to have an irritation-free comfortable shave.