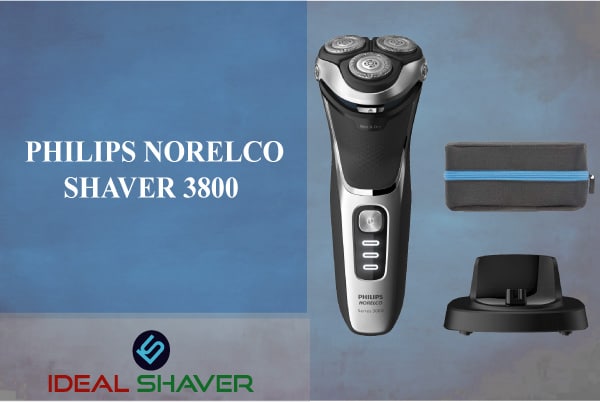 Philips norelco shaver 3800 review
Are you tired of those painful bumps and razor burns? Well, it seems like it is time for you to switch to manageable and pain-free electric shavers.
That is right! An electric shaver can provide you with all the benefits of a regular razor without any risks or difficulties. And so, here, we introduce you to a brilliant edition of the field.
Check out the Philips Norelco shaver 3800 and see for yourself!
If you are looking for a single device that can give you a super-smooth shave and also a trendy trim at the same time, Philips Norelco 3800 is just the thing for you.
The shaver focuses on all the criteria that you need to get that smooth and healthy result. Moreover, it protects the natural texture of your skin and keeps you safe from any unwanted irritation or injuries. Not to mention, you get a versatile and convenient tool at a great price as well.
Therefore, it is an ideal investment, and you should add it to your shelves for a simple, safe, and hassle-free shaving routine.
Philips Norelco 3800 Key Features
Here are the key features that make this shaver an irresistible tool for your everyday life.
Flex Heads & 5D Pivot: The entire design focuses on the facial contour. So, you get a flexible pivot that can move in 5-directions and a flex head that keeps the blade in the correct position while gliding on your face.
Wet & Dry Shave:  With this shaver, you can pull out a smooth and dry shave with the help of sharp blades. Again, it works perfectly for wet shaving at the same time. You can also do it with or without gels or foams.
ComfortCut Blades: The head of the shaver includes rounded caps of blades. Together, you will get 27 blades that are capable of automatically sharpening themselves and running smoothly every time you use them.
Pop-up trimmer: You will get an additional trimmer built into the main body of the shaver. The trimmer can pop up with your command and trim off your sideburns, hairlines, or mustache.
Powerful battery life: The powerful Li-ion battery can give you a single shave with just 5 minutes of charging. Also, you can recharge it for an hour to get almost 20 rounds of shaving. Moreover, it does not require any cords while shaving.
Easy cleansing: The head of the shaver has a flip-top opening feature. All you need is to touch the opening button and hold it under the running water to rinse off the residues.
Battery indicator: The battery offers you two types of charging. Regular and quick. The indicator panel denotes the charging type and also the remaining battery life. Also, you will get a three-segment indication for battery life.
Strong grip: The smart design of the shaver provides a super-strong grip with an ergonomic handle. Also, it gives you a superior anti-slip facility with the help of rubber pads.
Convenient accessories: The shaver comes with a convenient pouch that perfectly complements its compact shape and size. Also, you will get a trendy charging stand to hold it in place the entire time.
Charging stand: Keep the shaver stored, charged, and ready to go with the included charging stand.
Cons
✘   Takes much more time than regular razors
Pros
✓   Extremely smooth and comfortable finish
✓   Compatible with both dry and wet conditions
✓   Brilliant design, superb protection
✓   Durable and long-lasting
Conclusion
Are you impressed with all those mind-blowing features yet? Well, let me assure you that you will be even more impressed after giving it a shot. So, why are you waiting?
Hurry up and grab your Philips Norelco 3800 electric shaver and start your day with the best shaving experience.