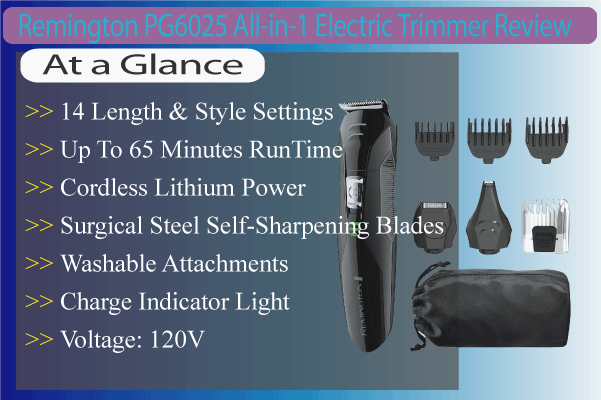 When it comes to the trusted brand among the list of personal care products, Remington is popular. The company is a world-famous manufacturer of products like Electric Shavers and razors. In fact, the company holds a successful journey in the manufacturing of personal care appliances for both men and women.
The brand even launched many designs and models in various series of trimming and beard and mustache grooming kit. However, today, we will highlight The Remington PG All in 1 Electric Trimmer, significantly ideal for men. If you are planning for a reliable grooming device at affordable rates, then this Remington PG6025 Beard Trimmer best choice.
For better shaving and trimming experience, Remington PG6025 Beard Trimmer is an extensive choice with advanced features and reliable mechanisms. It comes with all required attachments to offer desired grooming and trimming.
This Remington PG6025 All-In-One Trimmer is simple with specifications and modes. So while getting confused with the best all-purpose trimmer, you can rely upon this Remington Great Trimmer. Ending up with an introductory discussion, let's scroll and check out the great features and settings of this Foil Shaver.
Box Included Remington Model PG6025
One Storage Bladder for carrying
Three Beard combs [ 3mm, 6mm & 9mm ]
One Hair Clipper Head
One Foil shaver Head
One Nose/Ear Trimmer Head
One Li-ion battery
Remington Pg6025 Trimmer Specifications
14 Length & Style Settings
Up To 65 Minutes Run time
Cordless Lithium Power
Surgical Steel Self-Sharpening Blades
Washable Attachments
Charge Indicator Light
Voltage: 120V Adapter
PG6025 Remington Key Features
1. Detail Shaver
Well, let us clear an aspect; it is just not a featuring trimmer with an advanced mechanism but also a useful shaver. It gives you a smoother and easier shaving experience. However, it is quite less in offering the closest shaving experience like other shavers available in the market.
This is an Electric Shaver similar to other pro shavers like Braun Series-9, Braun Series-7, Pansonic Arc5, etc. But still lacks in offering great shaving options. However provides you ease and comfortable trimming on edges, neckline, jawline, etc.
2. Nose And Ear Hair Trimmer
If you want to get rid of unwanted hairs on ears, nose, etc. then this Great Trimmer is good. The Remington PG6025 Beard Trimmer is the perfect choice to trust upon to comb, style, and trim mustaches, beards easily. It gives comfortable handling and convenient usability by making such trimming and cutting task hassle-free.
To get a stylish and tidy look, you can buy this Remington PG6025 All-In-1 Lithium Powered Grooming Kit. It gives no skin irritations and itchiness whenever used. Prior is to maintain the shaver with cleanness and maintenance.
3. Beard And Stubble Combs
The Electric Hair Trimmer comes with worth useful Remington PG6025 Attachments, and other additional settings. This Remington PG6025 All-In-1 Lithium Powered Grooming Kit Beard Trimmer is packed with all essential Remington PG6025 Accessories. Such accessories give you a chance to change your appearance in just lesser time.
With all Remington PG6025 Adjustable Comb Length components, the versatility with functionality increases. It offers a beautiful look to you with easy accessibility and modes. The inheritance of additional accessories makes the trimming and cutting process more comfortable and satisfactory within safety as prior.
4. Adjustable Haircut Comb
The Remington PG6025 Adjustable Comb Length gives sufficient flexibility to cut and trim hair up to perfect hair length. The combs and essential accessories not only bring charm to your look but even give you more adjustability and usability. All available adjustments and accessories with this Remington pg6025 stubble trimmer.
5. Complete Versatility
Well, the Remington PG6025 All-In-1 Lithium Powered Grooming Kit Beard Trimmer is a complete set that offers high performance and features. It is a reliable Foil Shaver with full-size length, different styling settings, adjustable combs, and various clippers.
Even the pack consists of a travel pouch that makes it more efficient to carry even while on the journey. The simple features, stable structure, the perfect dimension with quality blades offer trustable functionality.
It gives an outstanding performance to shape, trim, and cut your beards, ear, and nose hairs. Even you can safely use it for trimming of eyebrows, sideburns, jawline, etc. Apart from features, the balanced weight and size make this the lightest Electric Shaver. The lightness in weight and perfection in size gives you safe handling from accidental cuts.
6. Performance of Remington PG6025 Trimmer
When it comes to marking this whole Remington PG6025 All-In-One Trimmer, then it multi-functional shaver. It offers cordless power-up usability of approximately 70 minutes when charged fully. Apart from 14 settings, 4-length hair options, and other modes, quality blades, the robust motor performance makes it suitable.
It is really worth a useful and helpful kind of PG6025 Remington Trimmer with simple features and easy to use mode. The device consists of no-hassle specifications and complicated settings. In fact, the pack contains a self-explanatory manual guide to start and use off with.
This is one of the best and most picked hairs clipper cum trimmer by both beginners and pro stylers. Within long-lasting battery life, the shaving experience becomes easy, speedy, and convenient. However, you can even use this Remington PG6025 Beard Trimmer with or without a cord.
It is an everyday fresh look Remington PG6025 All-In-1 Lithium Powered Grooming Kit Trimmer with all-sufficient features and accessories. The top quality of blades, components, and accessories material makes this trimmer a next-level shaver.
If you have sensitive skin or are worried about skin irritations, then this excellent and compelling shaver is safe to use. It gives you complete and proper trimming and cutting solutions in just a few minutes anywhere.
7. Warranty
Unlike other Remington Beard Trimmers and Electric Shavers, this specific Remington PG6025 All-In-1 Lithium Powered Grooming Kit comes with a 2-year limited warranty. In fact, the company gives a forty-five-day trial time. The manufacturer offers a 60-days money-back guarantee and returns period if not satisfactory results.
Moreover, after free trial time, this Beard Trimmer comes with Remington PG6025 Replacement Head. So with this Remington Beard Boss PG6025, you can plan best for your skin and unwanted hairs.
Main Uses Of The Remington PG6025 All In One Trimmer
1. 8 Length Hair And 14 Style Setting Modes
This is a reliable Electric Hair Trimmer that offers to trim options for ears, nose, eyebrows, etc. It gives you a comfortable and convenient grooming experience with hassle-free settings. With this Electric Shaver, you can easily and comfortably get rid of unwanted hairs.
Its 16-Length Settings enable you with fantastic shaving and trimming feel. You can simply switch on your favorite length option to groom your look.
In fact, the style setting mode provides you with a simple yet reliable functionality with excellent features. This Remington Beard Boss PG6025 Trimmer is high in performance that comes with full fledge flexibility.
It is an ultra adjustable Great Trimmer with perfect productivity and functionality. The PG6025 Remington comes with reliable accessories and attachments that significantly improve its functionality.
2. Cordless Lithium Power
The Remington PG6025 All-In-1 Lithium Powered Grooming Kit gives your perfect trimming experience. The stable and rechargeable lithium-ion battery gives you a sufficient runtime of 65-70 minutes after a full charge.
It gives a long-lasting and comfortable shaving experience. The powerful battery backup cuts and trims your hairs with ease and enables smoothing effects aftershave.
The reliable Remington PG6025 All-In-1 Lithium Powered Grooming Kit Beard Trimmer is one of the best shavers of today. This Great Trimmer gives a quick five minutes charge for smooth and convenient shaving and trimming experience.
3. Self Sharpening Blades
The Self Sharping Cutting Blades makes it a versatile Remington shaver with a safe trimming feature. The metal used in the manufacturing of trimmer's blades is basically the surgical stainless steel that enables sharpness and safety both. It makes this Foil Shaver more efficient while trimming and shaving process closest to skin.
The use of stainless steel blades gives long-lasting life to The Remington pg6025 beard trimmer. It makes the shaving device more durable, as gives a rust-proof coating that boosts its experience and functionality. Hence because of its self-sharpening blades
With self-sharpening blades, you never need to worry about cutting blades. In fact, blades are highly flexible and fit with defined shape and size, making the best and closest shaving strokes quickly.
4. Remington PG6025 Washable Attachments
The easily and speedily detachable Remington PG6025 Attachments give you a chance for worth maintenance. The availability of this cleaning and washing of trimmer attachments and components provides you an opportunity for less unhygienic.
The attachments and components of this Beard Trimmer are durable in quality, offering easy to clean advantage. The additional accessories are easy to wash and clean, as are rustproof and water-resistant as well.
To keep your trimmer and its attachments rinse them after every shaving experience. This will make the device and components hygiene ad clean from hairs and other skin debris.
5. Remington PG6025 Full Size Trimmer
When it comes to the ideal size, dimension, weight, and accessibility together, this Remington PG6025 All-In-One Trimmer is the best choice. Its perfection in all features and functionality makes it worth a useful kind of Electric Shaver at a pocket-friendly price.
The size of the trimmer is ideally measurable as 3 x 9.2 x 4.5 inches with a significant weight of 13.4 ounces. This perfect dimension and weight enable easy, safe, and well-gripped handling. Apart from its specialized features related to shaving and cutting, this is a rightful Trimmer For Trimming mode.
The PG6025 Remington gives excellent functionality and complete versatility that offers sufficient flexibility. The Foil Shaver is a Great Trimmer, with enough additional adjustments, hair clippers, stylers, and combs to make it a packed kit.
The Remington PG6025 All-In-1 Lithium Powered Grooming Kit Trimmer fledged with all authentic attachments and accessories. It even consists of a travel pouch that increases its portability and mobility where you want. Its high-quality blades and other additional components make it the best Electric Hair Trimmer.
The Remington PG6025, All in 1 Electric Trimmer, is a perfect tool to shave and trim, so it is a significant one-time investment with worth features and functions. Its versatility increases the usability of the face, nose, eyebrows, and ear hairs. It is even an extensive choice for trimming and shaping beard and sideburns.
Cons
✘  Not useful Electric Shaver for wet shaving and trimming experience.
✘  It heats up fast than other Beard Trimmers available in the market at the same price.
✘  Replacement after the first battery to the second or third gives less runtime than ever.
✘  No quick charge is available.
✘  It's not waterproof.
Pros
✓  It is simple to use, clean, and maintain.
✓  It comes with advanced features, high performing mechanism that gives quality accessibility.
✓  It is perfect in size, well in weight, the ease with flexibility.
✓  You can use it in both corded and cordless ways.
Remington razor pg6025 FAQ's
1. What Is A Good Trimmer?
Answer: Well, when it comes to picking up Great Trimmer, then it must have reliable features, advanced mechanisms. The Foil Shaver, like Remington PG6025 All-In-1 Lithium Powered Grooming Kit, should consist of all essentials. Even the Electric Hair Trimmer should have Remington PG6025 Attachments too. It should be simple to use, easy to clean, and affordable price tag.
2. How Do You Use Beard Trimmer Attachments?
Answer: The availability of additional accessories and attachments, makes the functionality of the Foil Shaver more versatile. It gives the user an accessible mode with quick means to switch on different lengths, hair combs, and styling options. With the use of various attachments, you can give your appearance a new look in just a few minutes.
3. Which Trimmer Is Best For Ladies?
Answer: The availability of different brands, series, and models, gives women a big choice to pick the right kind of trimmer. Most of the shavers and razors are easy to use for both men and women. However, just a few are designed for specific genders like males or females. In fact, the inheritance of sensitive skin also gives ladies a choice to pick the skin type razor or trimmer.
4. What Length Should I Set My Beard Trimmer?
Answer: Well, this is specifically a personal choice about styling and trimming of beard. Moreover, your convenience and styling look allows you to select the trimming and cutting mode on the Great Trimmer. You can go with different settings for longer or shorter trimming options.
5. Should I Buy A Trimmer vs Shaver?
Answer: As most shavers come with multi-purpose functionality and features. So best to buy the trimmer that is power-packed with shaving and cutting modes too. You can pick a perfect combo Electric Shaver For Trimming and shaving experience to shuffle on both options whenever required. If you want a clear concept look shaver vs trimmer Review.
Remington model pg6025 Final Thoughts
Indeed, picking up the right kind of Electric Hair Trimmer is a challenging task. As the availability of various brands and their series gives you a wide choice to pick. However, when it is about selecting a Great Trimmer, then The Remington PG6025 All in 1 Electric Trimmer is a useful choice.
This Electric Trimmer For the Trimming and shaving experience is the rightful device. The Remington PG6025 All-In-1 Lithium Powered Grooming Kit fledged with all features and high-performing specifications. It gives you easy-to-use and maintains accessibility at a pocket-efficient price.
We hope our little help with Remington PG6025 All-In-1 Lithium Powered Grooming Kit Beard Trimmer will let you a good selection. Our detailed review of this Remington PG6025 Beard Trimmer with its features, performance, and essentials will help you much.
You can easily buy this Electric Shaver offline and online. This Remington PG6025 All-In-One Trimmer is a one-time investment to trust and use, with excellent efficiency and accessibility.