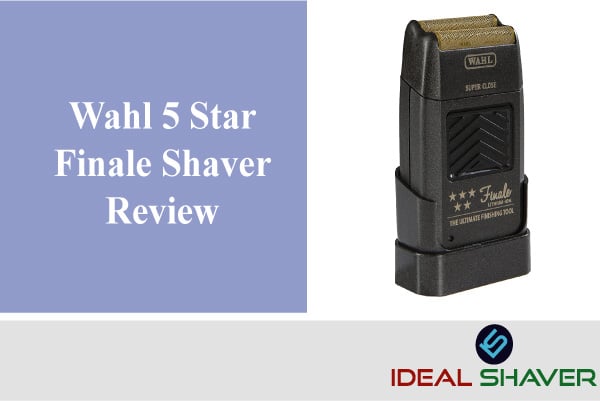 WAHL 5 STAR SHAVER REVIEW
Are you looking for a reliable electric shaver with powerful performance and comfort? Look no further than the WAHL 5-Star Shaver!
The WAHL 5 Star Shaver is well-reviewed by experts, offering superior quality and durability. With its high-powered rotary motor, ergonomic design, and advanced features, it's easy to see why the WAHL 5 Star shaver is a top choice among consumers.
Read on to learn more about what makes this amazing product a great option for those who want a reliable and efficient shave every time. You won't be disappointed! WAHL 5 Star Shaver Review has all the details that you need to make an informed decision. Don't miss out on this one-of-a-kind shaver!
Are you selective best trimmer for sensitive skin
If you are selective regarding trimmers and have sensitivity issues, this shaver can do the trick. 5 Star finale shaver has a hypoallergenic gold foil. What does gold foil do?
The gold foil will help you to have a clean, safe shave. It's time to experience a shave, free of razor bumps, ingrown hairs, or skin irritation. So you can pick this shaver and try it.
How does Wahl shaver 5 stars for a close shave
Gold-plated hypoallergenic foils assist you in having the pretty closest shave electric razor. These gold-plated foils are very lucrative and useful.
You know about gold, which is a very soft metal. It has a minimal amount of abrasion. You can guess, it is a fancy way of telling good about this shaver. This trimmer of Wahl will not rough up your sensitive skin shaving, it is happy news for you.
What this gold foil do amazingly? You can become free of all razor bumps or irritations. And it is real. Many complain about irritations in various online reviews. There can be a reason behind that.
Perhaps, they are using the trimmer in the wrong way. Wahl's shavers are professional products. And you cannot afford to use them like a consumer-grade products. So the technique to have the best shave with no irritations is to have some lighter touches with a Wahl shaver.
With a bunch of pros with the gold foils, there are some cons as well. The foils can damage easily. And Using a shaver regularly, save some money to buy new foils every six months.
What is there in the box?
It can be a happy feeling, unboxing. See what you are getting with your Finale shaver.
Finale Shaver
Plastic Foil Cover
Cable and charger
Shaver Stand
One Set of Gold Foils
Manual Booklets
Two cleaning brushes
The manual booklets, with Wahl finale shaver, contains "how-to" guides. For beginners, it is helpful and will make things easy. And as far as gold foils are concerned, you need to treat them as delicately as you can.
Now we look for some of the features of the shaver.
At a glance Wahl's finale 5-star shaver
Foil Guard: Have
Run Time: 1 hour 30 minutes
Voltage: 120 volts
Length: 4.6″
Weighs: 5.8 Oz
Recharge Stand: Have
How is the shave of Wahl 5-star shaver finale
Shave with the Finale is the closest. And you cannot get closer than this. Anything closer will harm your skin.
You do not need multiple foil heads or swivel and tilting action. All you need is a perfect tool with a sharp cutting blade, a clean foil, and a perfect hand. And when you have the Finale, you have already got the perfect tool in hand.
The Finale has a rotary motor. It is the strongest motor out of the three motors that are installed in shavers. The upgraded Wahl has extra power with strong circular rotation. You can already guess now how shave is going to be.
Key features
1. Excellent eye-catching Ergonomics
haver is powerful, and in regards to view, it's appealing and aesthetic. You can have a go with this top-notch quality trimmer with high precision and function. some sensitive issues and cannot experience any trimmers, then the gold foil of the Finale will assist you to have a clean, safe shave.
5.8 oz is what a shaver weighs. So it is light to handle and easy to operate. The weight is about one-third of a pound, and by this weight, you can also easily afford a can of tuna.
In terms of length, it is 4.6″ which is so small. This small posture of the final shaver will allow you to do many things at once. You can maneuver the shaver comfortably, and reach the hard-to-reach areas. Wahl has designed it to work, it is not about looking attractive. You can trust that it works and is so professional.
2. Battery indicator light and sound
You will get the battery indicator light on the front bottom corner. When the light is solid, its battery is full, and while charging, the light will blink.
Bit cringy about vibration sounds, you may face some troubles. The vibration sounds are pretty much higher, and it can annoy you.
3. Professional use at your barbershop
The 5-Star Finale shaver has all the necessary items for good professional use. This trimmer will provide you and your customers with a lot of trimming opportunities on your face, head, and everywhere you need. For all these reasons, you can try this professional trimmer. shaver operates at 120 volts.
4. The Lithium-Ion matters: Have 90 minutes of cordless shave
The five-star Finale has upgraded itself with a new lithium-ion battery. The battery life is better than the earlier product of Wahl's finishing tool. You can afford to get 40 minutes more cordless use in comparison with the earlier version of Wahl. The total cordless usage time is 90 minutes. Lithium batteries are better than nickel-cad batteries in terms of less memory loss.
5. Cleaning and Maintenance
Cleaning the Finale is never hard. Every series of Five Star Series have this convenience. You can clean the foil shavers simply. So why is it so simple?
You will find a button on the side that will unlock the foil. Unlock it and then pull it off. Always use a can of air and remove the hair from it. Please make sure you never use a brush, there are gold foils and they are delicate.
You need only five minutes for daily maintenance.
Why does the Finale resemble Shaver Shaper?
Yes, you will be confused, just because of the similarity. The finale does resemble Shaver Shaper. The finale is the updated version of the Shaper blade.
But why is that?
Wahl decided to revisit their classic shaver and maintain the look. The battery life and power were an issue. So they fixed all the problems of Shaver Shaper and made 5 Star Finale Shaver. Shaver Shaper was popular in barbershops across North America.
So the conclusion is Wahl upgraded the needed components in the Finale Shaver. It made sure that the classic look of Shaver Shaper existed.
And yes, do not misunderstand. The change is not only in its color. It's a completely new product with upgraded features.
Why do you need it
For professional use and minimizing irritations, this is one of the best products for your barbershop. The trimmer is versatile, and the 90-minute cordless shaving is something you will always want.
5 Star finale from Wahl provides you with some of the accessories like a foil guard, automatic recharging stand, cleaning brush, and a lot more pieces of stuff. The professional precision, stylish, and top-notch look in terms of accuracy and function all the things contribute to better shaving opportunities.
The eye-catching ergonomics, the lightweight, and the length help you and your customers to have an excellent shaving opportunity with the Five Star Series.
Cons
✘   Razor bumps may occur if not used correctly with proper techniques
✘   It operates at 120 volts only
✘   Vibration is intense compared to other shavers
Pros
✓   The rotary motor carries a fair amount of power for cutting different hair
✓   90 minutes of cordless shaving
✓   Hypoallergenic gold foil for an excellent shave
✓   Close shave and good fading ability
✓   You can change the foil head and cutting bar without facing any problem
✓   The compact body goes perfectly in the hand
Conclusion
Try out Wahl 5 Star Finale shaver at your barbershop. If you are someone who is having problems selecting the right electric shaver, you can have a go. The fantastic features and hypoallergenic gold foil make this electric shaver an exciting product for your home usage too.
The pros and cons in this article will help you in choosing this electric shaver. For professional, bump-free, irritation-less shaving opportunities, this trimmer is worthy of use.
I recommend this electric shaver from Wahl for any barbers or even for people who want to use it at home. The reason for my recommendation is not because of how it looks but because of how it works. In terms of prices, a shaver is also affordable, considering other brand products in the market.