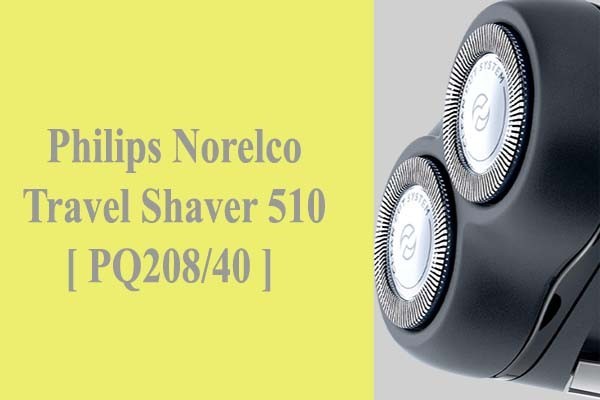 PHILIPS NORELCO TRAVEL SHAVER 510 REVIEW
People love to travel. Whenever we get a chance, we pack our bags and get out of the house to seek the wilderness, the mountain, or the sea. During packing, we never forget to bring the essentials. Razor is one of them. We carry a razor to have a groomed outlook whenever we want; men, think, the less time it consumes for shaving, the better. And when we are traveling, we tend to take the smallest size available in the market like everything else so that the bag does not become very big and weighty. The Philips Norelco PQ208/40 travel electric razor passes all the qualifications to be in your bag pack whenever you are traveling.
So now, let's dive into the Product Review of Philips Norelco PQ208/40 Travel Electric Razor.
Philips travel shaver Benefits
1. Clean Shave: The razor provides a clean shave on the go, so you don't have to worry if there are any corners left or if the beard is visible the Norelco PQ208/40 has it totally under control.
2. Adjustable: The razor has independently floating heads, so it adjusts with the facial structure of the user.
3. Portable: The razor is tiny in size and weighs below 7 ounces.
4. Cheap in Price: With all the features the product costs only 15 USD. With such a less amount of money with all the features available, it has become a hot cake available on the market.
Box Includes:
A Brush
Two AA Battery
A Razor
A Blade Cover
Key Features:
The razor has some great features that made it one of the best travel electric razors available in the market.
1. Self-sharpening blades: The particular model has a mechanism of self-sharpening the blades, so there's no chance of the edges becoming blunt. So it will ensure that you will have a good shave.
2. Small in size: The razor is tiny in size with a dimension of 1 x 2 x 3.5 inches .so it does not take much space in the bag. Or can be carried in any way, and the weight is also very less, which makes it more travel-worthy.
3. Runs on two AA batteries: The Philips Norelco PQ208/40 runs on two AA battery, which is included in the box; the batteries can also be replaced. So no extra charging materials or direct electrical power is required for your instant shaving.
4. Auto adjustments with face: The Philips Norelco PQ208/40 has a feature of independent floating heads, and as a result, it automatically adjusts with the body.
Disadvantage
✘  Not waterproof.
✘  Not ideal for regular use.
Advantage
✓  Perfect for travelers.
✓  Run Time 60 minutes
✓  Independent floating heads that adjust with the face.
✓  Clean shave.
✓  Low cost.
✓  Smaller size.
✓  Self-sharpening blades.
✓  Dry razor.
Buying Guide:
1. Foil or trimmers or rotary: Decide what kind of razor you will buy between foil type or rotary or trimmers type as both types have different features. You have to decide the type you want to use or best suited for you.
2. Power distribution system: People use different type of razor some needs direct electric plugin some use battery. The user has to choose the type of razor he wants to use, considering the conditions he is going to use it. For travel purposes, needs to buy one with a battery, but for home use purposes he can choose anyone.
3. Ease of cleaning: The ease of cleaning after usage is a factor that needs to be considered before buying a particular model.
4. Dry or wet razor: The user needs to decide if he's going to use a dry or wet type of razor.
5. Price of the razor: The price range is a huge factor. The user needs to look for the product according to his budget range. There are multiple ranges of products that the buyer needs to consider.
6. Ergonomics of the razor: Always buy one that you are comfortable grabbing or holding on to.
7. Buy from an authentic seller: After considering everything, you still can be deceived if you buy one from a duplicate seller. They may provide a duplicate product. So always buy from an authentic, reliable source.
So, people who travel or will be traveling looking for a small and low-budget dry razor. Philips Norelco 208/40 travel electric razor is the one that should be on the top of their choice list.
Conclusion
Razors are essential in our day-to-day life. There are different types of razors available. People use an electric razor over a manual razor because it's more efficient and safer. Various razors are available to serve various conditional purposes. The Philips Norelco Series is one of the renowned series of electric razors. The Norelco 208/40 is specialized to serve the purpose of shaving during traveling. The overall customer review of the electronic razor has been positive. So if you are going somewhere and looking for a razor at a low price, the Philips Norelco 208/40 Electric razor should definitely be on your choice list.
FAQs
1. Is it Rechargeable?
The razor runs on two AA batteries. It has no Charging option of its own. But you can use rechargeable AA batteries to use it.
2. Does it have a multi-voltage charger?
No, it does not even need a multi-voltage charger; it runs on AA Battery.
3. Can I buy the blade?
Yes, you can. But you should recycle the product as the price is low, but the price of the blade is comparatively high.
4. Do I have to use shaving Cream to use this?
No, you don't have to use shaving cream. It's a dry razor
5. Does it Shave well all over?
Yes, it does consider its price and travel convenience.
6. Is it easy to clean?
Yes, it's very easy to clean with a brush.
7. Where is it made?
It's made in china.
8. Can this be used for any other place in the body?
No, it's recommended only to use in the beard, not any other places in the body.