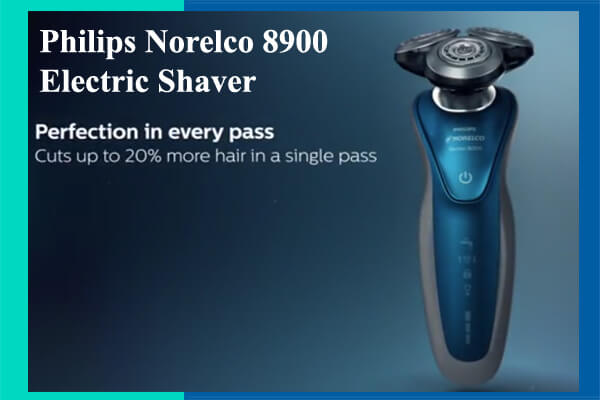 PHILIPS NORELCO 8900 REVIEW
Men's shaving is a daily task that needs a hassle-free procedure that includes less time, energy, and smoother shaving effects. When hundreds of shaving gadgets are available in the market with high-tech and advanced features, picking the right kind is not easy.
Apart from traditional shaving kits, with blades and razors today electric shavers are more crucial to men's lives as there are numerous types of shavers in the market to choose from with their own unique features, but what is ideal is that offer both dry and wet shavings. To get over these together features, we found Philips Norelco 8900 Electric Shavers for men a significant one.
However, other shavers are also good, but when we compared all of the Popular Shavers together. We found this Electric Shaver quite useful, reliable, and high-quality type. Among the list of top beauty care and shaving brands, Philips always stands out from the crowd.
The invention of Smart Rotary Razors and Electric Shavers today has added more comfort and con convenience to shaving.
And when Comparing Men's Electric Shavers, with end-to-end solutions the Philips Norelco 8900 Electric Shaver is one of the Smart Rotary Razor with an array of top-notch features to please the shaving methods in addition to the sexy-stylish-smoother look of men.
Philips Norelco Series 8000, Wet & Dry Edition S8950/90, is considered one of the Best Men's Shavers Brands worldwide, most picked by men. It is all inherited with super unique features offering easy, smoother, and safe shaving. It is detailed with advanced specifications yet, a user-friendly and pocket-friendly model in shaving equipment.
Philips Norelco shaver 8900 with smart clean stand is Safety Razor that is water-resistant, rust-resistant, and high operational so is also the most Prefer Rotary Razor. Below we are briefing about this shaving appliance by Philips Series 8000 and inspect its unique features and advantages.
Box Included:
Philips Norelco Series 8000, Shaver 8900
SmartClean System
SmartClick Beard Styler
Comparison of Best Philips Norelco Shaver
Model
Philips
Norelco
8900
Philips
Norelco
5100
Philips
Norelco
5500
Philips
Norelco
5700
Philips
Norelco
9700
Cutting Dimension
8D
5D
5D
5D
8D
Fully Washable
Yes
Yes
Yes
Yes
Yes
Wet & Dry
Yes
Yes
Yes
Yes
Yes
Run Time
50 Min
40 Min
45 Min
45 Min
60 Min
Price

Check Price

Check Price

Check Price

Check Price

Check Price
Preview on Philips Norelco shaver 8900
If you are looking for an easier, smoother, and safer shaving appliance then Philips Norelco electric shaver 8900 is a dominant choice. The Rotatory Razor lies in the Philips series of 8000 and can offer smoother effects in just 3 minutes.
This is suitable for both wet and dry shaving conditions so is listed as a Wet & Dry Electric Razor. It gives you a convenient, and satisfactory shaving effect even on rough and hard edges of the face.
In the series of 8000 by Philips, this specific model covers almost 50% of the skin surface at one time. It is designed with Razor Sharp Blade to catch and cut even short face hairs easily for a smoother shave.
The Philips Norelco shaver 8900 is also featuring, a patent Lift and Cut System that actually cuts flat hairs evenly. It also offers you shaving with no damage to the skin or without creating hassle and discomfort.
Key features of Philips 8900
1. Magnificent Rotary Razor
It comes with three easy shaving rotary heads that enable convenient eight-direction shaving. Its Magnificent Rotary Razor is a thoughtful design with Contour Detect Technology. In addition to top-notch technology, it gives easy moving multiple shaving according to the face curves and skin surface.
The feature of a smooth shaving head with contour technology cuts almost 20% r more hairs at one time. Three Rotary Razors offer more continuous and safe shaving closest to the skin surface and is ideal for both dry & wet shaving each day.
2. Popular Shaver and Beard Styler
Unlike other Electric Shavers available in the market, Philips Norelco 8900 misses the popup trimming feature. It is uniqueness comes with a separate trimmer-equipped attachment. You can use this trimmer altogether with a shaver in just SmartClick that will get you a beard styling feature. It is an excellent add-on feature in this specific series of Philips 8000. You can even easily detach the beard styler when not in use.
In fact, a comb is also part of the Great Rotary Styler Shaver by Philips, adding more setting features. It enables you within 5 different hair length setting comb options, for a more comfortable and convenient experience in styling.
3. Smartclean System
We are calling it smart because of its high-tech cleaning system, which gives quality shaving with a touch button feature. It is all composed of a quick dual filtration system, that offers you alcohol-free skin-friendly shaving. Its Razor Glide gives a smooth closest electric shave to the skin and also reduces friction.
It needs smart charging to boost up the shaving power and actually uses a detergent liquid fluid cleaning procedure. Philips Norelco 8900 automotive in cleaning, drying, and lubricating the shaver. The device is cost-effective, effortless, and user-friendly for everyday shavers.
4. 3-Level LED Display
Philips Norelco 8900, is designed with a smart LED display, that helps you in checking up the everyday shaving. Even a battery display is there, so if you find it low, get it charged. It also comes with a travel lock system that lowers the risk of automatic on of the device.
The device is all compressed with 5-level battery signs that offer an easy understanding of the battery indication when in use. The LED display also helps in quick monitoring of the Electric Shaver, so is also a Popular Shaver appliance.
5. Cartridge Razor With Sharp Razor Glide
Philips Norelco 8900 comes with Razor Sharp Blade that provides you with a smoother, more secure, and comfortable shaving experience. Its Cartridge Razor blade system is one of the most Preferred Rotary Razors among men today.
Its wet and dry shaving effects make it worth more than its estimated expectation, this is all because it inherits with V-Track Precision Blades, so is one of the Great Rotary Style Shaver in the market.
Furthermore, closer shaving in both wet and dry conditions comfortably gives premium shaving and no razor bumps. That is why also crucial Wet/Dry Electric Razor that suits men's everyday usability at an affordable price.
Additional Features
Incredible Power And Battery Life
Charging isn't a drawback for Electric Razors until having a high-quality power life, that saves time, effort, and energy respectively. When electric shavers take much time in charging, then why use such time-consuming shaving devices in life?
when using this Electric Shaver as it will offer hassle-free shaving, which fewer effort and less time. Philips Norelco electric shaver 8900 with smart clean will get you just the opposite of another inconvenient and time-consuming shaving with much smoother effects.
The flow of charging is as smart as this shaving device is, it will take just an hour for a fully charged battery. In fact, if you are in a hurry-furry for shaving then, a quick charging mode is also featured. It offers a 5-minute full battery that saves time for getting ready.
A simple plugin cord is available with the device, even can charge when in the cleaning system. The smart Rotary Razor by Philips comes with 50-minute flawless shaving run-time, for a smoother shave so is more useful than traditional shavers.
Compatible And Consistent Shaving Performance
This specific shaving equipment is packed with all advanced features and functions, to comfort the everyday shaver's life. Within the array of unique specifications, its performance expectations with powerful functions, convenient Razor Sharp Blade technology, etc. unable for smoother, more comfortable, and hassle-free shaving.
This shaving device, won't disappoint you, its battery life, durability, usability, and performance so should be part of your shaving kit. It gives quality shaving in both wet/dry conditions without creating inconvenience and disruption even when having a long and thick beard.
Even this Cartridge Razor provides irritation-free and auto-adjustable electric razor shaving effects to the skin surface. It is a skin-friendly, timer saver, Electric Shaver by Philips in Series 8000, known for extended run-time, with Magnificent Rotary Razors.
To calculate its overall performance and experience, it is worth more than the functionality and features are more than other Comparing Men's Electric Shavers available today.
Quick And Easy Cleaning
Unlike other Electric Shavers, the Philips Norelco series 8000 shaver 8900 is not featuring an older cleaning system. It comes with a high-tech detergent-based cleaning solution, with fluid that also enhances the lubrication of the device. It is one of the smart cleaning systems and comes at a pocket-efficient rate to comfort life.
The cleaning system is quickly within reach of the button on the left side offering a new cleaning process with a detergent slide. As it comes with a comfortable and removable Cartridge Razor system, it is quite convenient in clean as well. Philips Norelco 8900 by Philips is operational with automatic cleaning system mode, with the touchscreen on-off display.
The possible use and proper cleaning of this Smart Rotary Razor. Philips Norelco electric shaver 8900 cleaning stand is not complicated with many dedicated buttons and a simple touch feature, that flashes over the LED display. If you face issues with the usability and cleaning of the Philips Norelco electric shaver 8900 smartly clean, then a user manual is always there to help you.
After going with easy cleaning, drying the device is mandatory; for this, you can switch on the drying phase automatically. The drying procedure will heat the coil and gives hotness to the entire system of the device.
And this will gradually heat the whole internal parts and evaporate the water swiftly. In fact, the light-up indication will appear as an icon when drying completes. The entire process, at last, will get an indication with the next shaving usability.
Conclusion
We hope you are now very much confirmed about Philips Norelco 8900 features and functions that make this Electric Razor a Popular Shaver when listing others in the queue as well.
This Razor Glide is one of the Prefer Rotary Shavers and there have properly packed. The packet has unique features, One secure handling, One wet & dry shaving function, One LED display, and much more. It is the most pick, Electric Shaver, today, because of its countless advantages, one-year warranty, additional beard, comb attachment, etc.