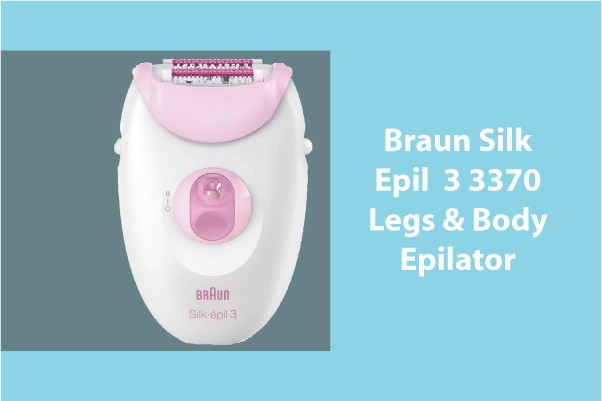 BRAUN SILK EPIL 3 3370 REVIEW
Choosing an epilator is a huge deal. Especially, when there are a bunch of shiny and glittery products grabbing your attention. I was confused too while choosing the brand and model of the epilator I can rely on. Because, you have to put your whole faith in this teeny-tiny sharpie gadget when it comes to the matter of comfort, beauty, and hygiene. It took me almost a year to bid farewell to my old epilator brand and go for a new one. But after switching, I felt really happy and blessed. This new Braun Silk-épil 3 epilator got everything that I was looking for, from Comfort, Beauty, Hygiene, to Modern tech. I just can't stop myself from blaming that why I haven't found this gem earlier!
Features of Braun silk-épil 3 legs & body 3370 epilator
This astonishing epilator has got every shaving-related solution that girl faces in their everyday life. Starting from unwanted facial hair on a date night to an embarrassing swimsuit day, Braun Silk-épil 3 epilator can make your bad days disappear just like it removes your unwanted hair.
I can't stop counting the features that Braun Silk-épil 3 epilator has got. From speed settings to the additional shaver head- it has everything that a modern girl needs.
1. Unique SmartLight
This epilator has a unique SmartLight that finds the finest baby hair from the skin and epilates it from deep down the roots.
2. SoftLift tip & OptiTrim attachment
The SoftLift tips beside the blades won't spare the single lying hair on your body. It helps the blades to epilate the stubborn hairs. And its OptiTrim attachment ensures that the hair is at the ideal length for epilation.
3. Pain softener & Massage Rollers
The most relieving feature of an epilator that I always look for is how less it is going to hurt me? Because removing hair with blades is always painful. But Braun Silk-épil 3 epilator broke my lifelong misconception. YES, Epilating hair can be painless and irritation-less, if you have this specific piece of magic gadget. The 4-way moving pain softener minimizes the pulling sensation and the Massage Rollers gently stimulate and massage your skin to give you a comforting feeling. I felt the stimulation very soothing.
4. EfficiencyPro clip
Earlier I used to epilate my legs, underarms, and private parts only when I went to any party. Because doing regular shaving seems hectic. But Braun Silk-épil 3 epilator changed my habit and now I frequently do the shaving and wear my 'Little Black Dress' whenever I feel like to wear. Now I don't wait for an occasion, I just create one! The reason I shave frequently now is the new EfficiencyPro clip of Braun Silk-épil 3. It efficiently removes more hairs in one stroke, which means extra fast epilation within a short time.
5. Small & easy to carry
Now I don't even hesitate to carry my epilator wherever I go. The size of Braun Silk-épil 3 is so cute and travel-friendly that it became a must-have item in my travel kit.
6. Different skin setting
Let me clarify one thing, everyone doesn't have the same skin type. So it is quite natural that one item can't go right for all. But Braun Silk-épil 3 has some real options for different skin types and different skincare routines. You can find 2 (two) different skin settings, from where you can find your kind of speed.
Attachments on Braun Silk Epil 3 Epilator 3370
A Sensitive area cap comes with the Braun Silk-épil 3 epilator's package, which makes this gadget handier. The cap perfectly fits underarms and bikini areas. It minimizes the cuts and bruises in your private parts. So no more fear of shaving.
Benefits of using an epilator for pubic hair
If you are still confused about using an epilator. Then let me tell you the benefits. There are hundreds of advantages that you can't ignore.
1. First of all, it made your life easy and hassle-free
Yes, using an epilator made my life easier. Because now I don't have to go through the lengthy process of waxing or razor shaving. I just clean the part where it is needed with my Braun Silk-épil 3 epilator. It is so hassle-free that I don't have to give a second thought before doing the epilating.
2. Using Epilator is time-saving
Earlier removing body and facial hair were very time-consuming. But now it has become a piece of cake for me. I clean my legs before I could finish my morning coffee! It works that much faster. For hair removal, epilators don't require any other creams or gel. You can use it without any prior preparation. So, Pre-shaving time is saved if you have a set of good Epilators like Braun Silk-épil 3.
3. The health benefits of using an epilator are huge
Waxing with chemical enriched products or using hair removal cream on your skin can be harmful. You never know which chemical may affect your skin. In that case, using an epilator is quite risk-free, because it is chemical-free. There are no products or preparations between you and your epilator. As you don't have to use chemicals on your skin, it will make your skin healthier.
4. To keep the skin smooth and fresh an epilator works like a wonder
Not only healthy, using an epilator can make your skin smooth and fresh. Epilator's cuts are different and much smoother than razor cut. And even blades of epilators are safer. So it keeps your skin fresh and glowing. Other hair removal techniques lead you to apply chemicals on your skin. Like using wax gel or hair removal creams or the laser thing. This may make the skin dull and non-reflective. Whereas, you don't have to use any secondary element on your skin while using the epilator. This means a lot for your skin.
Conclusion
Epilating body and facial hair is always a time and money-saving option for girls. You just have to choose a safe one and the right one for you. I would suggest the Braun Silk-épil 3 epilator because of its modern and handy features. It made my epilating experience happy and stress-free. Braun Silk-épil 3 epilator has got all the amenities. And the maintenance of this product is very easy. It is lighter and easy to carry in a handbag. So the convenience of these products is much more than the inconvenience. Just feel free to give Braun Silk-épil 3 epilator a try.
Epilator for bikini area FAQs
1. Is it safe to use an epilator?
– Yes. Epilator is one of the safest options for hair removal, both for facial and body hair. I know, as a woman it is very stressful to choose the right technique for hair removal. And from my experience, I can tell you using an epilator made my hair removal process easier and stress-free.
2. Does epilating reduce hair growth?
– Most of the cases, yes. Epilation helps hair to grow slower than usual. After the first few times, you can notice the change of hair growth by yourself. The more you use the epilator the more your hair growth cycle will adopt the system. It won't stop the hair to grow, but it will make the growth slower than usual.
3. Do epilators damage skin?
– As long as the epilator is clean and hygienic, it won't cause any damage. In rare cases, it can cause bumps, rashes, and irritation on the skin. But most of the times epilation is much safer than other hair removal processes. Just remember, an epilator is an electronic gadget. So don't use it under any unsafe conditions. If you follow the instructions provided by the manufacturer, then it won't cause any damage.
4. Is epilating facial hair bad?
– The skin of your face is very sensitive. So epilating facial hair is a bit complicated, but not impossible. If you don't follow a specific pattern to pull the skin while shaving then it can cause a bit of pain. So skin taut is a must while epilating facial hair. If you can epilate facial hair in the right way, it can make your facial skin much smoother.
5. Can you Epilate pubic hair?
– Yes. Epilating pubic hair is possible. But the Epilator has to be a trusted one. The pubic area is incredibly sensitive than the other parts of your body. So, shaving pubic hair with an epilator can cause pain. But the good part is, epilating pubic hair can make the hair grow slower than shaving or waxing.