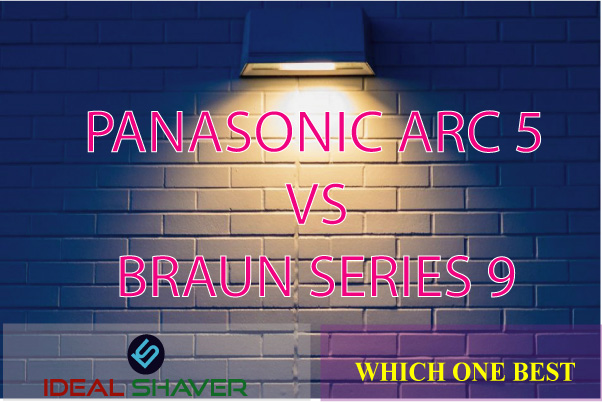 PANASONIC ARC5 VS BRAUN SERIES 9
Do you love having a close shave? Are you looking for the perfect electric razor but aren't sure which one's best for you?
If so, then look no further than the Panasonic ARC 5 and the Braun Series 9. These two razors are two of the best shaving systems on the market today and we're here to help break down some of their features so that you can make an informed choice about which one is best for your needs.
Read on to learn more about what makes them unique, how they compare in terms of price, performance & durability, and finally, who should be choosing either system!
So let us begin!
Let's Pick A Contender From Both Realms
To help you choose one shaver between the PANASONIC ARC 5 VS BRAUN SERIES 9, we will discuss all the questions in terms of performance and usability. Before we start the comparison, let's choose one shaver model from each brand.
Today we will compare the Panasonic Arc 5 ES-LV97-K with the Braun shaver series 9 9390CC. First, we will give you all the details you need to know about these two shavers.
PANASONIC ARC5 ES-LV97-K REVIEW
The Panasonic Arc5 ES-LV97-K is an improved version of the LV95 model. You get to enjoy the most precise and close shave with this shaver. It features a five-blade cutting system that can cut even the tiny and flat hairs making it the best close shaver.
You will get a comfortable shave very quickly with the 14,000-CPM motor of this shaver. Besides, the pop-trimmer will allow you to trim sideburns and mustache. What's more, the advanced shave sensor checks your beard density 220 times per second and adjusts the pressure accordingly.
Another great feature of this shaver is the pivoting shaver head that can move in 16 different directions. This allows the blade to seamlessly glide through the contours of your face. Moreover, it saves you from accidental cuts and nicks while shaving your neck, jaw, and face.
Finally, this shaver can be cleaned effortlessly with the premium automated cleaning station. So enjoy a smooth and comfortable shave every day with this intelligent, rechargeable, and travel-friendly shaver.
BRAUN SERIES 9 9390CC REVIEW
The BRAUN SERIES 9 9390CC is known for being the best men's shavers for sensitive skin.  It features 10,000 sonic vibrations that allow the shaver to effortlessly glide over the skin. This ensures the gentlest shave possible and also makes it the best shaver for teenagers as they have more sensitive skin.
Moreover, enjoy a fast shaving experience with the five cutting elements that remove more hair in one stroke. You will also enjoy smooth skin as it can cut hair as short as 0.05mm. Besides, this shaver is 100% waterproof so you can use it for both wet and dry shaving.
One of the greatest features of this shaver is the innovative Li-ion battery. This battery provides 20% more power. And you can use the shaver for a whole month after one charge.
Lastly, the Clean&Charge station of this Braun shaver automatically chooses your cleaning program. And not only cleans but also dries, lubricates, and charges the shaver. Enjoy a flawless shave every day with this shaver.
Which One Is Worth The Investment?
It's evident from the review of the Panasonic ES-LV97-K and the Braun 9390CC that both of the shavers offer excellent features. As both shavers exhibit somewhat similar features, we'll focus our Braun Series 9 vs. Panasonic Arc 5 comparison on how adequately these features work in everyday life.
1. Blade System
The Panasonic Arc 5 blade system includes a Multi-Fit Blade architecture for making everyday shaving more efficient. It also features nano-polished  30-degree inner blades and a 5-blade foil system.
This blade system includes 2 reverse-tapered foils for raising flat-lying hair and one comb blade for pre-cutting long whiskers. It also features one quick slit blade that effortlessly cuts the hair off your jaw and neck. And lastly, the tiny hairs can be cut from the root using a finished foil.
Braun series 9 also features five shaving elements. Moreover, it includes two middle trimmers for capturing different types of hair.
In terms of blade system, the Panasonic Arc5 is superior to the Braun series 9.
2. Shaving Performance
The Panasonic Arc5 features a 14 000 CPM motor that is the swiftest motor among all-electric shavers available in the market. This enables fast efficient shaving with 70,000 cross-cuts per minute. Moreover, the 30-degree inner blades increase the shaving efficiency.
On the other hand, the Braun series 9 performs 40,000 cuttings per minute which is less than the Arc5. However, it can cut more hair in a single stroke and effectively cut even 0.05 mm long hair. This shaver is mainly great for sensitive skin and curly hair.
The Panasonic Arc5 gives a close, efficient, and fast shaving experience. The Braun series 9 provides a comparatively slower but more comfortable shave.
3. Wet-Dry Operation
Both the shavers offer wet and dry operation. You use them with shaving foam or gel. However, Panasonic Arc5 works better as a wet shaver as it can cut flat-lying hair more precisely even during wet shaving.
You will need to clean the foam or gel from the blade before putting it in the cleaning station. And the Panasonic shaver can be manually cleaned with minimum effort. However, cleaning the Braun series 9 manually can be quite troublesome.
Hence, considering the cleaning hassle while foam/gel shaving, the Panasonic Arc5 is the best wet-dry shaver.
4. Charging and Cleaning Station
The premium cleaning and charging station of the Arc5 uses cleaning sachets that are cheaper than cartridges. As they don't need to be mixed with water every time, they are easier to use. However, they need to be changed every month. It also offers a one-minute quick charging feature.
The Clean&Charge station of the Braun series 9 does an entire hygiene check of the shaver with only one click. The cleaning cartridges have to be mixed with water and need replacement after 6-8 weeks.
Even though the Braun series 9 doesn't offer a quick charging feature, it provides 60 minutes of cordless use. In terms of the cleaning and charging stations, both of them have pros and cons. So it's a tie.
5. Cost of Ownership
For Panasonic Arc5, you will need to replace both inner blades and outer foils once a year. You can buy these two in a package for a high price.
On the other hand, Braun Series 9 shavers only require outer foil replacement after every 18 months. Braun produces cassette cartridges which are less expensive than Panasonic WES9032P cassettes.
However, the Braun Series 9 shaver is more expensive than the Arc5. Considering the yearly replacements, the cost of ownership for both is about the same
 6. Waterproof
Wet shaving is more comfortable as wet skin and hair reduce skin abrasion while shaving. The great thing is both of these shavers offer wet shaving.
Both of them are 100% waterproof and can be used during a shower. They can also be cleaned under running water.
So in terms of waterproofing, the Braun series 9 and Panasonic Arc5 are tied.
 7. Battery
In terms of battery, both of them feature a Li-Ion battery that lasts longer than normal ones. You will need to charge these shavers for 60 minutes to enjoy cordless shaving.
However, the Panasonic Arc5 provides a one-minute quick-charge feature. This will allow you to charge the shaver when you are in a hurry.
Braun Series 9 has an upper hand in cordless runtime. It features 20% more battery power and provides 60-minute cordless usage. But the Panasonic Arc5 can only be used for 45 minutes.
So if cordless battery power is a priority for you, the Braun Series 9 is the winner.
 8. Shaving Comfort
The flexible 16-dimension head of the Panasonic reduces accidental cuts. That's because it can easily glide on the contours of your face. It also features a shaving sensor that detects hair density and adjusts blade pressure for more comfort.
Braun features a comfortable head that can move in 10 directions. However, it also features 10,000 sonic vibrations that allow the shaver to seamlessly glide over your skin and increase comfort.
Keeping in mind that the Braun shaver has been accredited by the Skin Health Alliance organization, we declare it the winner in terms of shaving comfort.
Conclusion
Both Panasonic Arc5 and Braun series 9 shavers are top electric shavers and provide stellar performance. Hopefully, our comparison PANASONIC ARC 5 VS BRAUN SERIES 9 has helped you in deciding which one is best for you.
However, if you want a fast, efficient, and extremely close shave then go for the Panasonic Arc5. But if you have sensitive skin and value more cordless use time, then the Braun series 9 shavers will be perfect for you.