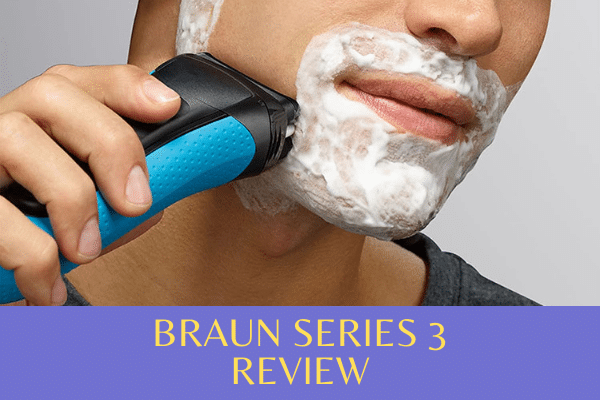 Are you still uncertain about whether the Braun Electric series 3 is appropriate for you after reading several internet reviews? It is great that you are taking the time to do your own research before making the decision. However, in order to lessen your workload I have also done my research on this product.
After conducting thorough research on this shaver, I have provided you with information on its features, benefits, drawbacks and applications that you may find useful. Read the entire review to find if the Braun series 3 lives up to your expectations.
Braun Series 3 Overview
Braun Electric Series 3 Razor with Precision Trimmer
Braun is a well-known German company that is known for its superior quality precision Shaver &trimmers and is recommended by men all over the world. It is known throughout the world for its user-friendly design and excellent product performance.
The Braun Electric series 3 pro is a customer favorite shaver with a lot of useful functionalities. Once you get used to this product, you won't feel like going back to your old shaver or shifting to any new one. The Braun Electric series 3 is not only best budget shaving machines, but also widely available on the market.
To give you a close and smooth shave, three specialized shaving parts work together. The SensoFoil technology guards your skin against the ultra-sharp blades. With this shaver, you don't need to shave over the same area repeatedly, as this shaver comes with the MicroComb technology that enables you to capture more hair from the first stroke. This helps to minimize skin irritation and provides you with a satisfying outcome.
Its built-in precision trimmer is great for styling sideburns and trimming beards before shaving. Not just that, you can also shave hard-to-reach areas like under your nose as it has a narrow precision head.
It is 100% waterproof. So, do not be afraid to have a wet shave using shaving cream, foam, and other liquids. Shaving in the shower is also recommended. You can have a dry shave with it as well. When it comes to cleaning the shaver, washing under the water is always the best choice for thoroughly getting rid of all hairs from it.
With an hour of charging, you can get up to 45 minutes of shaving time from this shaver. However, a rapid charge of 5 minutes will be enough for a shave as well when you need to shave urgently. This is considered a great gift item for men on occasions like birthdays, Christmas, anniversary and so on.
Pros
It is waterproof
Good for both wet and dry shave
Fast charging system
Battery lasts for a long time
Cons
It does not give as close shave as some other razors
How to Use BRAUN SERIES 3
It can take up to a month for your skin to adapt to the new manner of shaving after shifting from a rotary shaver or manual razor, which can make achieving a close shave difficult at first. Follow the steps below to get a beautiful smooth close shave without cuts or redness using your Braun Series 3.
Ensure that your shaver is fully charged and prepared to use.
Before shaving, you should trim your stubble if it is long.
First, turn the shaver on. Before shaving extremely sensitive areas or areas that require a closer shave, stretch the place with your spare hand.
Trim in the opposite direction of your beard's development, placing the shaver at a 90° angle to your face. Remember that limiting going over the same areas again and again can lower your risks of skin irritation.
Maintain even pressure to get the closest shave possible. There's no need to use as much force as you would with a manual razor.
Keep your shaver clean. To get the most out of your cutting parts, change them every 12-18 months.
How to Clean BRAUN SERIES 3
Cleaning your shaver on a regular basis gives better shaving experience. It is simple and quick to keep the shaver head clean by washing it under running water after each shave. Go through the steps below to know more about the cleaning process.
Using Water:
Turn the cordless shaver on and wash the shaver head under hot running water. You can use liquid soap that is free of abrasives. Wash off any remaining foam and operate the shaver for another few seconds.
After that, turn off the shaver and detach the Foil & Cutter cassette, allowing it to dry.
Using Brush:
You may also clean your Braun shaver using a brush. First, turn the shaver off. Then take off the Foil & Cutter cassette and tap it out on a smooth surface.
Clean the inside of the shaver head with a brush. However, cleaning the shaver's Foil & Cutter cassette using a brush may damage it.
Using Cleaning Spray:
This is an alternative way to clean your Braun shaver. It helps to clean your Braun shaver thoroughly, eradicating all signs of sebum.
How to Maintain BRAUN SERIES 3
Apart from cleaning, there are other things you have to keep in mind in order to maintain your BRAUN SERIES 3 shaver.
Change all cutter parts every 18 months for optimum performance. Because the cutter foil and cutter have a lot of functions in shaving, they will eventually wear out after so much use.
Conclusion
Thank you for giving your valuable time in reading this article. I hope I was able to give you all of the necessary details on the Braun Electric series 3.
If any further question pops up in your mind about this product that I have not addressed, please let me know. I will remember to include them.
I am confident that after reading this article, you will agree with me that this is a fantastic product for daily usage. If you use this product, please share your first-hand experience with me in the comment section. It will help other potential customers as well.