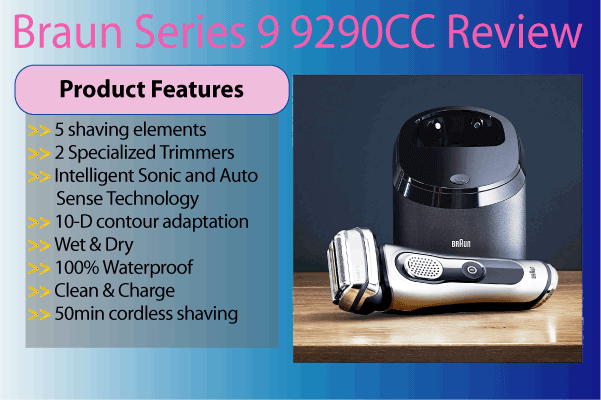 BRAUN SERIES 9 9290CC REVIEW
I usually look for something long-lasting that offers a certain level of quality. It's providing smooth shaving with fewer strokes, less repetition, and more skin comfort than ever before. When I try to cut longer hairs and other directions, it's playing an important role with its direct and cut trimmer. Braun series 9 Suitable and simplest sensitive skin shaver and extremely fast shaving session. Braun Series 9 9290cc is well known for its amazing technology and its 5 cutting elements.
I would like to spend some extra If I know that I'm going to spend my money's worth on time and efficiency. Always I am seeking durable & long-lasting things. Tools are investments, after all, not one-off purchases to be forgotten once they're used.
The Braun 9290cc Series 9 electric razor men is a higher-quality close shaver that brings a lot to the table in terms of function, technology, and performance.
Braun electric shaver series 9 9290cc men's electric razor, after a team of 60 engineers has worked on this product over a period of five long years. The Braun 9290cc Series 9 is Braun's flagship model. Braun has not left any stone unturned to put all it had to offer in this ultimate shaving unit. So you undoubtedly take this one. Braun says its technology and performance have improved the overall shaving experience by 40%, by making the razors more powerful and faster.
Braun 9290cc Performance
The shave I got from the Braun series 9 model 9290cc Electric Shaver was smooth and quick. Series 9 with its two middle trimmers simply works better than any other foil shaver and better than most rotary shavers. I have sensitive skin and coarse facial hair. It's performing a smooth shave on my neck as fast and.  I also never experienced any pulling or yanking on the hairs even with two to three days between shaving sessions with Series 9. Because it is so effective at catching stubborn hairs, the time it takes for me to complete a shave is also remarkably short with the Series 9.
The Series 9 has four cutting elements that form a massive head that can cover a lot of ground fast. The motor is also adequately powerful and never felt sluggish with micro motion technology. Series 9 has probably the best implementation of a flexing shaving head.
Direct & Cut Trimmer Aligns and cuts hairs growing in different directions. It'll align them & it'll make sure we can trim those as well. When shaving right below the jawline or on your chin you will really feel the difference compared to most other razors. This trimmer made it more flexible to series 9. Even though it's not nearly as advanced as one of the latest Arc 5 models, it actually improves your shaving experience.
Braun Series 9 9290cc electric shaver Box Included
It's come with a premium silver cordless razor. It is a razor and Schaefer and pop-up trimmer with a travel case. The box includes-
Braun Series 9 9290cc
Smart Plug.
Cleaning Cartridge.
Cleaning Brush.
Travel Pouch.
Cleaning Station.
Additional Shaver Head.
Braun 9290cc Key features
There are so many interesting features that you are seeking. Those interesting features really make it the best close shaver in the market today.
1. SynchroSonic technology
World's most intelligent sonic technology. It can read and adapt to the density of your beard & adjusts the power accordingly, giving you a clean shave 40,000 micro-vibrations capture more hair with every stroke for Braun's most thorough and comfortable close shave. Checking its density 160 times per minute. It provides extra power exactly where needed most. SyncroSonic technology per minute 40,000 cross-cutting actions. It has intelligent sonic technology that automatically increases the shaver's power, especially in difficult areas that have dense skin. I would personally prefer Braun series 9, as I never found this type of gimmicky feature. Braun series 9 make so many improvements in its technology to get the actual performance of the shaving.
2. Hyper lift & cut trimmer
The new Hyper Lift & Cut trimmer lifts & cuts flat-lying hairs. It'll take those flat-lying hair and it'll trim those up. There is a golden color trimmer is made by Titanium Nitride coating, a ceramic material used for its anti-corrosive and edge retention properties, this is a novelty and a distinct element of the Series 9.
3. Direct & cut trimmer
Direct & Cut trimmer cuts the growing hairs in different directions. It'll align them & it'll make sure we can trim those as well. It doesn't leave any single different directed beard.
4. 2x Opti-foil
On the top & bottom, it has two options-foils, called foil shavers. They use Braun's notorious hexagon-shaped holes that are supposedly superior for capturing hairs to perfect closeness that lasts longer.
5. Protective skin guard
There is a metal straight line located right next to the Direct and Cut trimmer, which is called a protective skin guard. That will create smoothness as you are shaving. This isn't a cutter and should not count as one. It just protects the skin.
6. Macro motion
It has intelligent Autosense technology where the motor in this can actually tell the density of your beard & adjust the power 13 times per second to make sure you have the optimal amount of power to get through your shave. Its intelligent Autosensing motor guarantees efficiency in every stroke, even on dense beards. The type of blade is titanium and the battery charge time is 1 Hour.
7. Titanium coating
Titanium is an extremely durable metal & highly resistant to corrosion. It's not gold or anything gaudy; titanium gives a smooth, silvery finish that really ups the look of your entire bathroom. It's preventing rust on the trimmer.
The motor and pivoting head work in tandem to keep the shave quick but fine. I found the normal trouble spots around my cheekbones and at the back of my jaw to be short work for the Braun 9290cc Series 9 electric shaver.
8. The 10-D flexible shaving system
All these five shaver elements are here that can move in an independent direction. Easily the five shaver elements can be a pop-up on both sides. This is for contouring your face in any direction & you have the most efficient shape possible.
9. LED display
When you're finished, its intuitive LED interface will inform you of the battery status, check your shaver heads performance, hygiene status, and travel lock indicator. And remind you to clean your shaver with the Clean & Charge station. This has one button, one screen, and LED lighting. Very classy. It's cordless, too, just to make things easier for the user.
10. Multi-headlock system
The easily accessible Braun Series 9 9290cc Multi Headlock locks the fully flexible shaver head in five positions to achieve a more precise shave. It's able to shave the cheek all the way down to the mustache and back and just a few strokes. The new shaving heads also use the Titanium coating and have a golden color instead of blue. You are just not going to be able to do it with Braun series 9. It is very fast and so much more comfortable. This is especially helpful when shaving hard-to-reach areas, like under the jawline and under the nose. Braun Series 9 combines both into a single part. Even better, removing and attaching that part took us less than 5 seconds. The shaving head can be locked in one of the 5 positions for more precision and flexibility. When shaving a tight spot & a different position. You can achieve that by sliding down the switch.
11. Travel case
Braun provides a travel case for traveling. The black and silver body exudes elegance and style while being compact and easy to travel with. Braun Series 9 9290cc is arguably the best option for shaving on the go, for it is practical, portable, and fuss-free to operate. The Braun 9290cc electric shaver is exceptionally lightweight and has a textured rubber grip in the back and sides to give it a well-balanced grip.
12. Precision trimmer
The most impressive feature of the Braun Series 9 is Shaving longer hair. It has Hyper Lift & Cut trimmer to cut long hair. The most impressive thing about the Braun electric shaver series 9 9290cc men's electric razor is just how efficient it was at catching. The long hair trimmer is very smooth to slide in and out. When fully extended, it just about passes the shaving head. It also cuts longer hairs that lie flat on the skin. In the problem area on the neck, hairs grow in different directions and also parallel to the skin. It's creating in the time shaving. The Series 9 managed to perform better than any electric shaver available in the market today. And this scenario longer, flat-lying hair is without a doubt the Achilles heel of most electric shavers.
Braun Series 9 9290cc men's electric foil shaver Additional features
1. Comfortable shaving wet & dry
The series 9 Braun is one of the best wet-dry electric shavers. It can be used dry, or with water, foam, or gel for a comfortable and refreshing shave without compromise. On top of that, All Braun shavers are waterproof up to 5 meters, so you can shave under the shower and rinse them under running water. You can shave at your desk in just a couple of minutes and practically without the mess. So, if you want the convenience of shaving both in the shower and in your office then Braun series 9 model 9290cc is the best choice for you.
2. 100% waterproof
Experience premium German engineering quality. All Braun shavers are waterproof up to 5 meters, so you can conveniently rinse them under running water or even shave them under the shower. The 100 percent waterproof guarantee is a good thing if you take this into the bath. Because Braun series 9 provided rubber grip & waterproof use anywhere.
3. Cleaning system
Braun Series 9 uses an alcohol-based automatic cleaning solution across its clean & charge station. The clean & charge station has been upgraded with series 9. It also dries the shaver after the cleaning and lubrication process has finished. Series 9 uses a fan for the drying cycle of the cleaning process. Where the Series 3 and 5 there are no active drying systems and therefore they take the longest to dry the shaver. The Series 7 station uses induction of heat, the fastest and quietest method. All Braun cleaning stations will automatically charge, clean, and lubricate the shaver.
4. Running & charging time
The charge time is about an hour and the shaver lasts for nearly the same amount of time, which I found to be a ratio that's more than fair. Braun 9290cc Series 9 Electric Razor provides strong battery backup. I usually put my shaver back in the charging port, however, as soon as I'm done using it, so I can't imagine using it for 50 minutes straight at any point. With the Braun 9290cc Series 9 electric shaver I get at least 10 shaves from a full charge which is very good.
5. Long-time battery support
The state-of-the-art Li-Ion removable battery keeps performance and fully recharges in one hour. The battery life is excellent and there's a 5-minute quick charge option as well. It's providing a 50-minute shaving time. The premium display counts down the remaining battery time with 5 different steps and counts down the last 9 min. of shaving time.
Why should I buy Braun Series 9 9290cc
It depends on your expectation & priorities. I said earlier in this review that electric razors are tools. I stand by that opinion. Series 9 has everything that you need. It has an amazing performance like wet and dry shaving should not pose any difficulty for you when you use it. It has 5 cutting elements or automatic charging and cleaning station & the travel pouch is durable and handy. I also like the multipurpose LED display quick charge feature. In my opinion, worth the cost because of the guaranteed satisfaction, it brings to the table. Its build quality and durability & its performance are pretty good than other available in the market.
Braun Series 9290 Consumer satisfaction
When it comes to reliable and ideally functional shavers with excellent efficiency, Braun is a known brand. The manufacturers have launched many series and models with unique and versatile specifications. However, buying this Braun Series 9-9290cc is a significant choice for everyday shavers.
When it comes to customer satisfaction and user efficiency, this particular shaver comes across mixed reviews. Precisely it is one of the world's most considerable shaving devices with advanced synchronic technology. The 9-9290cc shaver by Braun offers a trimming range of 0.5 to 10mm trimming range, fast rechargeable mode, four length adjustments, etc.
What makes it a more specialized trimmer is its whole kit consists of a charging station, nine-type razors, alcohol-based cleaning cartridges, a cleaning brush, and a travel pouch. The ideal size (25.2 x 15.7 x 15.7 cm) and weight (4.45g) make it easy to use and carry anywhere. Moreover, with excellent performance, it offers hassle-free and safe trimming as closest to the skin.
Braun Series 9 9290cc vs. 9293s
The latest comparison of Braun Series 9-9290cc and 9293s will make you more excited to buy any of them.
Braun Series 9 9290cc
If you are looking for a modern-sleek trimmer, then do buy this Braun Series 9-9290cc as it comes with more uniqueness. This ergonomic design with a secure grip helps in convenient handling for a more extensive shaving experience. The super-adjustable features with different trimming ranges between 0.5mm to 10mm enable great user efficiency.
The availability of charging stations and a cleaning dock makes it worth useful and simple to maintain a trimmer. However, the five shaving elements, LED indicator, provide users an advantage to keep an eye on battery level, and mode of trimming. With this trimmer, you can easily shave and quickly trim your lengthened beard, mustaches, sideburns, etc.
Braun Series 9-9293s
Truly an advanced trimmer to comfort everyday shaving hassles with more reliable efficiency. It is installed with high-tech supersonic AutoSense technology. This gives 10,000 micro-vibrations of blades according to the movement. The 9293s is a titanium trimmer that provides both wet and dry shaving modes that are entirely water-resistant.
The setup of the charging stand makes it more portable to place when not in use. The installation of an LED display helps in telling you the accurate power battery and mode of shaving. The 10-D contouring enables you to give a convenient shave even at awkward face angles like cheekbones, sideburns, etc.
Braun Series 9 9290cc vs. 9295cc
While picking up the best one, I reviewed both 9290cc and 9295cc in Braun Series 9. What is more, fascinating is both are highly advanced and specialized.
Braun Series 9-9290cc
Braun Series 9-9290cc is unique with all the useful features that are required in any advanced shaver/trimmer of today. It comes with five different shaving elements to get a smoother and closest shaving experience. Moreover, the design of the trimmer is durable and convenient to grip because of rubber handling.
The trimmer is an ideal choice to get shape mustaches, beards, sideburns, etc. with an adjustable mode. The installation of a cleaning and charging station makes it more simple to use. The comeback of LED display and waterproof design with fledged features makes it perfect for everyday use.
Braun Series 9-9295cc
There comes one of the fantastic trimmers with an ergonomic design to comfort everyday shavers with no fuss experiences anymore. If you want a powerful trimmer with 100% water-resistant capability, then 925cc is the best choice.
You can completely submerge it into the water for up to 5 m while operating. The installation of quick charging mode gives 50 minutes shaving time, after one hour of full charging. The availability of the charging station and cleaning mode is simple to use.
The LED indicator, with adjustable modes of trimming, makes it highly versatile yet user-efficient too. It is worth the right choice to shape mustaches, beards, the back of the neck, sideburns, etc.