TYPES OF ELECTRIC SHAVERS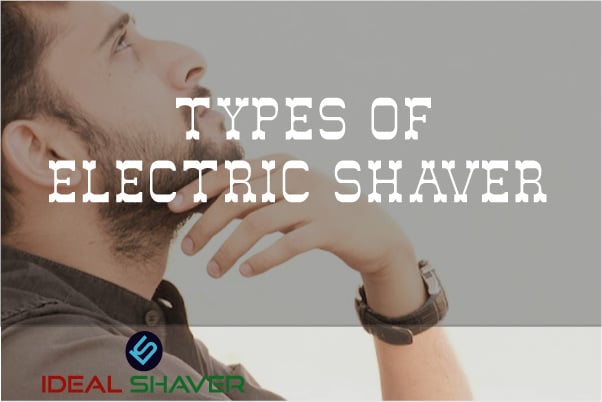 Electric shavers work by rolling the skin ahead of the blades and forcing the hair above the skin line for cutting.
Today's electric razors come in two styles — foil and rotary. A foil razor is made of a thin, curved metal foil that covers a cutting blade. While moving back and forth, the blade cuts stubble as it pokes through the foil. A foil shaver may have one, two, or three foils.
A rotary razor, on the other hand, has three or four round heads. Cutters spin below the heads and cut off the hair
Although you might be able to find a battery-operated travel razor for around $20, a quality everyday electric razor can run from $50 to more than $200. Because you'll also need to replace the foils, heads, and blades periodically. The maintenance costs bump up the overall cost of an electric razor.
The Best Foil Electric Shaver: Panasonic Arc5
Panasonic's wet-dry Arc5 electric foil shaver is our top pick for several reasons, but the biggest is its ergonomic flexible head. The Arc5 touts what Panasonic calls a "16-D flexible pivoting head", which is to say that it pivots in 16 different directions, thanks to five foil blades, and hugs the contours of your face.
Its motor speed adjusts with the thickness and density of your facial hair so that it knows precisely how forcefully and fast to cut stubble. The  Arc5 shaver can operate for a full 45 minutes after just one hour of charging and gives you enough juice for a quick shave after just three minutes plugged in.
Electric razors, whether you choose foil or rotary, have a number of advantages over blade razors. Convenience is a major one. You can shave on the run, and you don't need to pack shaving cream or gel for travel. Some will even work safely in the shower, and you probably won't get nicked by an electric razor.
The main disadvantage of an electric shaver is that it may not give a close enough shave for your taste. Moreover, some say that the time between shavings is shorter with an electric razor than with a standard razor.
However, many men are happy with the shave they get from their electric razors. Read on to find out the best ways to get a smooth shave from an electric razor and whether the closest shave comes from a foil or rotary.
The Best Rotary Shaver: Philips Norelco Series 9000
Philips Norelco wet-dry shaver soars over your neck, chin, and face without getting caught. (Try it on your shoulders, upper back, and such, too.) It promises to cut hairs up to 30% closer than the competition with its three rotary heads that rotate eight ways each.
You can adjust the speed of the shaver if you want to take it slower, or if your skin is too sensitive for its rapid-fire removal.
The device is easy to clean since it's a wet-and-dry shaver, but it also comes with a cleansing stand for quick, effective disinfecting. This cordless shaver lasts three hours with each charge, and a digital display tells you how much charge remains.
Even the best electric shavers are badly underestimated and underused by the general shaving public. But anyone who does rely on them knows that they deliver a nearly-perfect shave, minus any irritation.
That's because they buzz you as close to the skin as possible, without breaking the surface (and thus without inviting ingrown hairs, razor bumps, and razor burn). This is highly favored by guys with sensitive skin who want to do a clean shave frequently, but would rather not risk irritation and redness.
Many of the best electric razors can be used for wet shaving or dry shaving—that is, with shaving cream or oil, in the shower, and rinsed clean. Others are lightweight and hold a long charge, making them easy for on-the-go shaves for a weekend away or post-gym freshening.
They have foil heads for an antimicrobial clean, or a cleaning station that helps flush out debris and preserve the quality of the device. There are even electric shavers designated for long beards and bald heads.
The Long-Standing Favorite Shaver: Braun Series 7
Braun shavers have been celebrated for delivering comfortable shaves for long time, and for good reason. Consider all the benefits of Braun's excellent rechargeable Series 7 shaver: It's got both a cleansing base that also serves as a charger; it's a wet/dry shaver for whichever method you prefer; you can adjust its speed (with 5 options); it lifts hairs away from the skin for an even, close shave; and it lasts just shy of an hour on a full charge.
Plus, it comes with a pop-up trimmer to get a clean line on your sideburns.
But the main thing they do is clean up your face in a hurry. The best electric shaver will get the hair so close to the skin that, to the naked eye, you have a noon-o'clock shadow, if anything at all.
It's far superior to the stubble that you'll get from a guard-free beard trimmer, and the same can be said for bald-headed guys needing an electric shaver over the buzz-inclined hair clippers.
The Best Body Shaver: Mangroomer
We know that, secretly, many of you are here to find the best manscaping device. Mangroomer's double-headed wet-dry device gives you a trim or a shave (with 8 different length settings on the trimmer, so that you can trim or shave to your liking on chest or junk.)
Its foil shaving head glides smoothly over the contours of your, uh, curves, snipping everything down without nicking the skin anywhere—particularly not in your most sensitive areas.
The Best Bald-Head Shaver: Kibiy
If you're rocking a polished dome—maybe you're auditioning for the next Fast and Furious—then you'll want an easy-to-use, ergo-friendly rotary shaver. (That is if you don't want to actually shave your head with a razor.)
While Kibiy's palm-held device boasts attachments for clean beard outlines, facial cleansing and exfoliating, and nose-hair trimming, it is a head shaver above all. Just grip it and zoom every which way around your head—it even works in the shower if you prefer a wet shave, and it holds an hour-long charge.
Braun "Series 9" electric foil shaver
Here's the thing: Braun's Series 7 shaver earned its designation as a long-standing favorite for a reason. (For a few of them all pretty compelling.) But if you want to level up, the brand's top-of-the-line Series 9 option offers all the features you'd expect from a shaver of its caliber—namely, standard-exceeding performance and speed—at a significantly higher price.
Normally. Because right now, the Series 9 happens to be on sale for a mere $75 more than its counterpart, making an already enticing buy an absolute no-brainer.
Final Thoughts:
Well, there you have it, people. Now that, you have got a clear understanding on the types of electric shavers and hopefully, you will be able to choose the one that will best fit your needs.
And, now it's your turn. Please do let me know in the comments section below if I've missed anything in this article. Have a nice day, thanks!!!