FREEDOM GROOMING VS SKULL SHAVER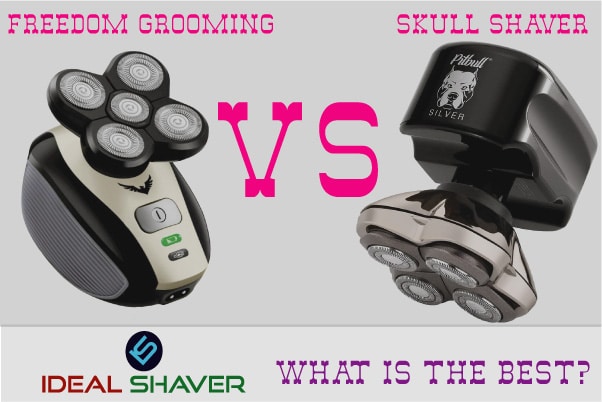 If you're a person who's having hair fall problems and opted to go bald, you'll need a high-quality head shaver for yourself.
It can be baffling to choose between various kinds of head shavers available out there on the market. If you are a busy person, you'll probably have no time to go to the internet and do extensive research on what head shaver you should buy.
This is where we come in, we have already selected two of the best head shaver for you. Furthermore, we have collected all that necessary info and real-world reviews of these products. We are also offering a comparison base analysis between these two best head shavers.
So, without wasting any more of your time, let's dive into this discussion so you can go ahead and make a decision to buy a head shaver for yourself.
Freedom grooming
FREEDOM GROOMING Electric Head Hair Shaver is a prominent player in the field of Head trimming. If you're someone looking for a bad boy on a budget, you should definitely take a look at its vitals.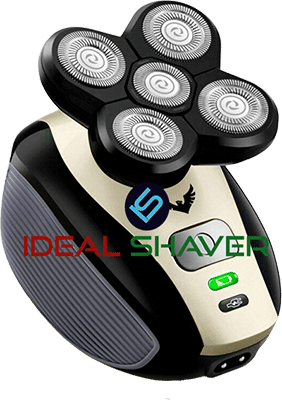 This electric shaver comes at a minimal price and provides a smooth shaving performance. It is so smooth in performance that the user might not even feel that his head is being trimmed. Instead, he will feel like getting a head massage throughout the whole shaving session.
Smooth shaving is facilitated by three amazingly manufactured soft-head blades that offer anti-bump features. A shaving head featuring a five-blade design is included in the package too.
Furthermore, as the device is cordless and waterproof, you'll have no problem using it even in wet conditions. For instance, you can use it conveniently even when you're lying in your bathtub.
For instant shaving preparation, a fast-charging USB cable and fast charging capability are included in this head-shaving wonder machine. Because of this, you can get ready for your meeting or outdoor tour within minutes.
Additional components with this head shaver include three category clippers of 3mm,5mm,7mm safety guards, and micro comfort exfoliation brush for your head. On top of that, a messaging pad with a deep cleansing facility and nose/ear trimmer is also offered in the package.
Pros
Reasonable price
Fast charging capability
Lightweight
Sufficient battery
Cons
Skull shaver : Best High Profile Shaver
Skull Shaver Pitbull PRO Electric Razor is an indispensable machine for bald lady-killers. This vibrant and powerful machine completely gets you rid of all the hairs within only a few minutes, getting you prepared for your job /date really fast.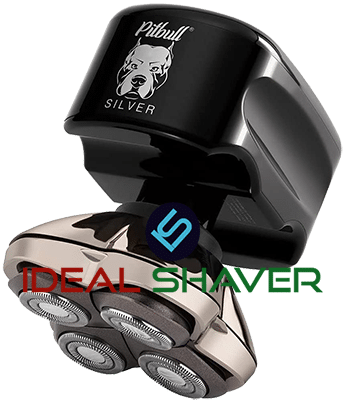 The handle of this device is specially designed to provide the most ergonomic comfort to hold. Since it has comfortable blades with a 5-head design, You can use it to shave your facial hair too.
Whether you are a travel-loving person or just a regular office goer, you'll love this device's deep cleaning facility. You can just pop open the top portion of the blade frame surface, and use the cleaning brush to get rid of all the accumulated hair inside the machine.
The shaving performance is butter smooth because you'll experience no cuts and no irritation during the whole shaving. It's a promise from the manufacturer. This head shaver provides an ample 30 minutes of performance with one single full charge.
Furthermore, you'll get light indicators that will tell you If the battery charge is getting low. There's a green light to indicate that 10 minutes is the remaining battery performance and a red light to indicate that you have less than 10 minutes.
The battery itself is a 600 mAh lithium-ion battery that supports fast charging. The device is IPX5 waterproof tested, so you can use it all you want in your shower too.
Pros
Ultra-portable
Comfortable to hold
Helpful battery indicator
Ample battery capacity
Cons
Shaving Efficiency: Which Shaver Is Best For Shaving Your Head?
Let's take a look at a quick comparison between the above-mentioned head shavers.
Types
FREEDOM
GROOMING
SKULL
SHAVER
Dimensions:
7.36"×6.18"×2.48"
7.72"×6.57"×3.39"
Weight:
14.9 oz(0.9 lb)
1.17 lb
Pricing:
Starts from 49 USD
Starts from 100 USD
BATTERY:
LI-ION
LI-ION
As you can see in the above comparison, the main difference lies in the pricing of the two products.
While Freedom Grooming provides a budget-friendly head shaver with amazing characteristics, the Skull Shaver is a high-profile head shaver equipped with premium qualities.
In terms of weight, The Freedom Grooming is a bit more lightweight compared to the Skull Shaver.
While Freedom Grooming offers only one variant of the head shaver model, the Skull Shaver offers three different variants of the model: Gold, Platinum, and Silver. The Gold and Platinum versions of the Skull Shaver are more feature-heavy and more costly. They pack more battery power and a higher quality LED battery indicator.
To give a final verdict, It would not be a bad idea to choose either one because both the products have amazing reviews from their respective customer base. But it will be best if you choose Freedom Grooming if you have a limited budget.
On the other hand, If you can spare a few more dollars, you can even opt for the Pitbull Gold PRO, Pitbull Platinum PRO (premium versions of the Skull Shaver).
Concluding Words
Under the hoods, both Freedom Grooming and Skull Shaver pack some really useful features. The difference between them actually boils down to the budget. A budget-friendly person will choose the Freedom Grooming, whereas others will choose the best Skull Shaver.
Whichever head shaver you choose, you are sure to get a high value for your money. Why is that? We have arranged the comparison between these two products only because they are amongst the best.
So, best of luck in your journey. See you later!