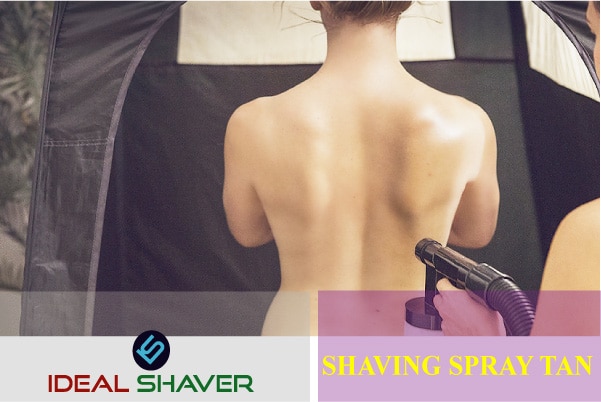 Can you shave after a spray tan
Not quite sure whether you can get a shave before your spray tan? Well, it's one of the most asked questions in the spray tanning world. But, worry not, my friend. In this article, not only will we go over some essential hacks for shaving before a spray tan, but we will also discuss some tips for shaving after a spray tan for your convenience. Sounds awesome, right?
Spray tanning is the easiest and most delicate way to get a fantastic sunless tan. But there are lots of pre-tan and post-tan cares that you need to follow to get an even sunless tan.
I'm sure you want that stunning glow from a spray tanning session. Don't you? Just keep on reading. In this post, we are going to provide you with a couple of tips for shaving before and after a spray tan so that your tan can last a long time on your skin.
So, without further ado, let's get straight into it!!!
Should I shave before a spray tan
1. Prepare Your Skin
To ensure the best result out of your tan, exfoliate your skin prior to your tanning session. Also, try to give your full focus on the driest areas like hands, knees, elbows, and feet. For this, you can make use of pre-session exfoliating products, but you had better avoid spa or waxing the day of your tanning appointment.
2. Why is Shaving before a Spray Tan a Good Idea
Like we mentioned earlier, shaving doesn't just remove the hair, but it also takes off the dead skin. That's to say, it exfoliates your skin largely. Have you ever talked to a spray tanning expert? If yes, then you might know that they suggest exfoliating the skin before coming to the tanning session to make the most out of your spray tanning.
If you get a close shave prior to the tanning session, the tanning expert will get smoother skin to work with, helping the tanner spread evenly. In this way, you can get rid of both dry patches as well as face blistering due to the reactions.
3. Tips for Shaving Before a Spray Tan
Well, when you want to get a shave before a spray tan, you should shave one whole day before the spray tan at the least. Four hours is the soonest and ensure that you have a cold nice shower to close up your pores.
Getting a shave just before your appointment can make your tanning solution uneven or streaky. As shaving may put a film over your skin, making it tough for the tanner to stick to your skin.
4. So, let's get to some shaving tips that will prepare you before your tanning appointment
Shave 24 hours prior to your spray tanning session at the least. By doing this you can allow your pores to close up before the tanning session, helping the tanner set over the skin. Because if your pores are open while applying the spray tanner, the solution will settle inside your pores, leading to the nasty "polka dots" like textures.
Get your other beauty treatments like sauna, spa, waxing, and nails done before your spray tan.
Exfoliate while having a shower 4 hours before your spray tanning appointment at the least. As it will help the tanner stick to your skin.
Use oil-free or organic exfoliator while exfoliating.
Don't wear any make-up, perfumes, or deodorants just before heading towards your tanning salon. As they can create a deterrent to absorption.
Wear loose-fitting and dark clothes to your tanning salon.
Can you shave after a spray tan
Can I shave after my spray tan? Well, the answer is yes. But, to make your spray tan last as long as possible, you should follow lots of post-tan care tips after stepping out of your tanning salon.
Though shaving after a spray tan is not recommended by tanning experts, it's not taboo at all. Since you might get into some trouble at first it can be a difficult task. Shaving just after a spray tan is also a pure waste of both time and money.
So, let's discuss it in a logical way!!!
1. Some tips for shaving after your spray tan:
Always use a fresh razor. As old and used razor blades might be pretty blunt and unhygienic. Used razors also need to be pressed heavily on your skin compared to the new razors. They won't glide over your skin smooth as well. That's why it will scrape off your spray tanning solution with it. So, you don't want your sunless spray tan to go in vain, right?
Wait for a little while after your spray tanning session is over. As shaving doesn't just remove your hair, but it exfoliates your skin to a large extent too.
Therefore you need to wait 8 hours at the least after getting out of your spray tanning appointment. Because the tanning solution needs this amount of time to set on the skin better.
Try to avoid traditional shaving cream. While shaving, use a lotion particularly made for post spray tan shave or an organic moisturizing body wash instead. You can also use shower gel or conditioner that doesn't contain sulfate.
Most shaving products sold in the market are loaded with harmful elements such as alcohol and detergents that might take off your artificial tan.
Try to avoid pressing on your skin too hard while you shave. Be gentle to your skin. Otherwise, shaving blades will remove your tanning solution.
Avoid shaving regularly. As the more you shave, the quicker your sunless tan will fade away. A little hair won't bother you, right?
2. Let's see some additional tips for your skincare if you want to shave after a spray tan:
Use specially formulated moisturizer at night and morning after getting your spray tan.
You can also use spray tan extender lotion as a moisturizer to extend the life of the spray tan from day 3 on.
To make your spray tan last for a longer period, try to avoid showers, swimming, baths, and saunas.
If you are ready to remove your present tan and get a new one, only then you can exfoliate your skin.
Conclusion
Well, there you have it. We have just shared some easy-to-follow tips about shaving before and after a spray tan for your convenience. Hopefully, these effective ways will help you keep your skin healthy and also make your sun-free bronze glow last longer than you really want, don't you?
If you have any other questions to know and want to share your spray tanning experience with us, leave a comment in the comment box below. We would love to hear from you!!!