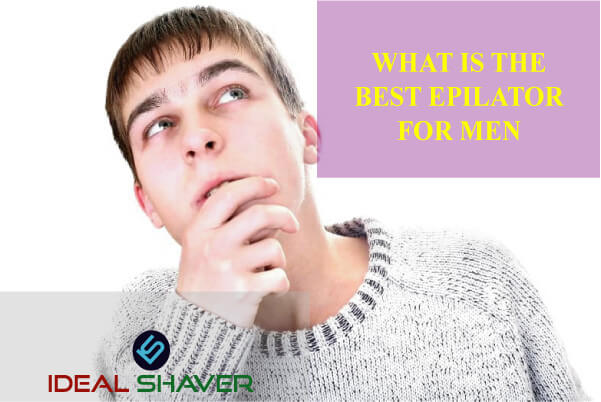 When it comes to male hair removal, there is no better way than epilation. An epilator for men is a great option for those seeking long-lasting results and convenience. With the right device, you can be sure that your skin will stay smooth and comfortable without the hassle of regular shaving.
Currently, the most favored options for hair removal methods involve employing an electric shaver or resorting to shaving. If you're intrigued by these painless hair removal techniques, I recommend taking a look at my article about the best closest shave electric razor for achieving possible.
However, not all epilators are created equal. To help you choose the best epilator for men, we have compiled a list of our top 7 picks based on performance, price, and features. Whether you're looking for something cordless or one with multiple attachments, there is sure to be an option that fits your needs.
Shaver vs Epilator – Which One is Better to Use
When it comes to finding the right tool for men's grooming, shavers and epilators are some of the most popular options. But which one is best? The truth is that shavers and epilators each have their own advantages and disadvantages.
Shaving with a shaver can give you a clean, close shave in just a few minutes, but it can also cause irritation and razor burn. On the other hand, epilators use tweezers to gently remove hair from the root and can provide long-lasting results with minimal discomfort.
When comparing shavers vs. epilators for men, there are several key factors to consider. For instance, shavers are generally cheaper, more convenient, and faster than epilators. However, shavers require a lot of upkeep to maintain their effectiveness and can't provide the same level of precision as an epilator.
Epilators may be pricier compared to shavers but they are also much more effective in terms of long-term results. They provide a more precise shave, can remove even the finest hairs, and can be used in areas that shavers can't reach. On top of that, they are gentle on the skin and don't cause any irritation or razor burn.
Waxing vs. Epilators
When comparing epilation and waxing, one significant difference to consider is the timing between sessions and potential side effects. With waxing, you typically need to wait longer between sessions than with epilation, as the unwanted hair needs to grow to a sufficient length before it can be effectively removed using a wax kit.
Additionally, waxing may have some side effects, such as redness and irritation, especially when used on a small area.
7 Best Epilator for Men
There are tons of different options available for hair removal in the market. Therefore, finding the epilator that will be suitable for you can be quite confusing and tricky.
To help you make an informed decision, we have compiled a list of the top 7 epilators for men.
1. Braun Silk épil 9 Flex 9-300 epilator for men's face
The Braun Epilator Silk-épil 9 Flex 9-300 is one of the best epilators for men. Not only does it work great as an epilator, but also you can enjoy a face spa with this. The facial brush and massage pad give you a stimulating and relaxing experience.
This epilator has 40 tweezers with micro-grip technology that gives you the smoothest skin you can imagine. Did we mention you can use it for both wet and dry epilation? Also, the anti-slip handle is great for wet epilation.
Let us not forget the entirely flexible head of this epilator that makes epilating the tricky areas easy. Also, SensoSmart technology prevents you from pushing too hard. Lastly, the two different speed levels and skin touch caps allow you to epilator according to your comfort.
Pros
✓   Can be used both wet and dry
✓   Built with durable stainless steel
✓   Runs up to 50 min cordless
✓   Great for beginners and professionals
✓   Skin stimulating massager included
Cons

✘   Heats up after five minutes of running
Why is it best?
The pivoting head of this is one of the most amazing features of the Braun Epilator Silk épil 9 Flex 9-300. It enables you to effortlessly epilate every part of the body.
Moreover, with the smart light, you will not miss those tiny stubborn hairs anymore and you'll get a smooth painless epilation with the pain-reducing massager.
2. Braun Silk épil 9 9-890 epilator for men's facial hair
Another amazing epilator from Braun that will improve your hair removal experience is the Braun Epilator Silk-épil 9 9-890. This epilator comes with SensoSmart technology for protecting your skin from extra pressure.
This rose gold stainless steel epilator doesn't only look amazing but also is extremely durable. You can even use it in the shower as it's completely waterproof. Also, the battery runs for fifty minutes so no need to worry about charging frequently.
It also comes with seven extra accessories for enhancing your shaving experience further. The bikini styler and the caps for facial, skin contact trimmer head allow you to epilate the delicate areas carefully. Moreover, it also has trimmer heads for those last-minute shaving emergencies.
Pros
✓   Rechargeable battery
✓   Entirely waterproof
✓   SensoSmart technology
✓   Removes 4x shorter hair
✓   Great for people with sensitive skin
Cons
✘   Creates loud noise
Why is it best?
The best thing about the Braun Epilator Silk-épil 9 9-890 it can pull out even the tiniest hair. With this, you will get the smoothest skin for a long time. Another great thing is that it's cordless so you'll be able to use it anywhere anytime.
3. Panasonic ES-EL7A-P Cordless epilator hair removal for men
The Panasonic ES-EL7A-P Cordless Epilator comes with three different speed settings. You will be able to epilate the sensitive areas with precision and care using the soft mode. The 1.25-inch double discs also cover 30% more skin giving you smooth skin in fewer strokes.
Moreover, the specialized epilation discs rotate over 2900 times per minute to give you the fastest hair removal experience in Power mode.
Also, removing hair from hard-to-reach places like underarms and knees is effortless with the ultra-flexible epilator head.
This epilator is great for beginners as it comes with a specialized Gentle Cap for minimizing discomfort. This cap not only narrows the exposure of tweezer heads but also keeps the skin in place to ensure a comfortable experience.
Pros
✓   Wide epilator discs cover more area
✓   Fastest hair removal
✓   Sure-grip handle prevents slipping
✓   Precision trimming technology
✓   90-degree rotating epilator head
Cons
✘   The battery doesn't last long
Why is it best?
The five snap-on attachments of the Panasonic ES-EL7A-P Cordless Shaver & Epilator make epilating super easy and comfortable. What's more, it has sixty rotating tweezers that can pull out hair as tiny as 0.5 mm. Also, these tweezers are hypoallergenic so you won't have to deal with burns and rashes.
4. Braun silk epil 7-7561 epilator for men face
The simple yet elegant white and grey Braun Epilator Silk-épil 7-7561 is a perfect epilator for men's taste. The Closegrip technology ensures the smoothest for up to four weeks. Also, it can be used cordless for about forty minutes.
The shaver and trimmer attachments make it a great epilator for men's faces. Moreover, the narrow epilator cap can be used on the face and sensitive areas for precise and comfortable epilation. It also has a beginner cap with plastic teeth for minimal discomfort and more ease.
This epilator also includes a narrow trimmer with rounded tips. With this, you will be able to trim the hair from the private parts without fear of cuts and burns. Lastly, the smart light helps to illuminate your skin so you don't miss any hair patches.
Pros
✓   Can be used in the shower
✓   Features highly flexible pivoting head
✓   The battery lasts for 40 minutes
✓   Comes with eight attachments
✓   Doesn't leave any hair patches
Cons
✘   Causes skin irritation
Why is it best?
The best feature of Braun Epilator Silk-épil 7-7561 is the three different-sized epilation caps for different areas of the body. Moreover, you get a complete epilator and shaver package with this as it also comes with a shaver and trimmer. With this epilator, you get to enjoy silky smooth skin for weeks.
5. Braun Silk-épil 5 5-620 epilator for male facial hair
The Braun Epilator Silk-épil 5 5-620 is another good epilator from Braun. It has two-speed settings that enable both gentle and extra-efficient epilation. This is also waterproof so you will be able to use it in the shower for more comfort.
Moreover, the massage cap stimulates your skin and minimizes irritation. It provides high-frequency vibrations for relieving the skin of stress and adding relaxation.
The tweezers are wide head so you get to remove more hair in fewer strokes. Also, the shaving head ensures minimal discomfort while epilating the sensitive areas. This rechargeable epilator is lightweight so you can travel with it without hassle.
Pros
✓   Has two-speed levels
✓   Massage roller cap ensures comfort
✓   Available at an affordable price
✓   Comes with an anti-slip body
✓   Package includes cleaning brush
Cons
✘   Not quite durable
Why is it best?
The 28 micro-grip tweezers make the Braun Epilator Silk-épil 5 5-620 a great epilator. With this, you will be able to pull out hair that doesn't even get pulled out during waxing. Also, hair grows back much more slowly ensuring smooth glowing skin for a long time.
6. Emjoi AP-18 Emagine Best epilator for face
The Emjoi AP-18 Emagine Epilator is the first epilator designed specifically for use on coarse hair men. This epilator is equipped with a 17-millimeter epilation disc which is quite larger than what we see in women's epilators. This wider disc removes more hair with every stroke.
The large epilation has one fixed disc and two discs open and shut with every stroke. This machine pulls the skin taut and ensures minimum pain and discomfort. Moreover, it has a unique glide technology that raises and then pulls out the hair minimizing irritation by gliding the wide tweezer plates across the skin.
What's more, it protects your skin from microbial infections as it has silver ion technology. With this, you get up to six weeks of smooth hairless skin.
Pros
✓   Comes with a cleaning brush and attachments for shaving
✓ A wider head removes more hair at once
✓   Holds skin in place to minimize discomfort
✓   Eliminates the chance of ingrown hairs
✓   Renders antimicrobial protection
Cons
✘   Can not be used without the cord
✘   Bulky design not suitable for use on the face
Why is it best?
The Emjoi AP-18 Emagine Epilator gives you super-fast hair removal with high precision. It comes with 72 tweezers that remove a high amount of hair in a single stroke providing you fast and efficient hair removal. This corded epilator also comes with dual-speed settings and silver ion technology for the optimal epilating experience.
7. Remington EP7030E Deluxe Rechargeable epilator for male pubic hair
The Remington EP7030E Deluxe Rechargeable Epilator can cover a large area in a single stroke with 40 tweezers. It ensures a soothing experience with the aloe vera-infused massaging cap. Also, the precision cap allows you to epilate the sensitive pubic area effortlessly.
The integrated detail light helps you to epilate precisely. Moreover, it has two different speed settings to ensure personal comfort. Lastly, this epilator is rechargeable so you can use it on the go.
Pros
✓   Great for wet epilation
✓   Built-in light allows precise hair removal
✓   More comfortable than others
✓   Good for people on a low budget
✓   Massage cap with aloe vera for sensitive skin
Cons
✘   Does not remove hair properly
✘   Battery drains fast
Why is it best?
The Remington EP7030E Deluxe Rechargeable Epilator is effective and lightweight. It comes with a large number of tweezers for efficient hair removal. Moreover, it's both waterproof and cordless so it is perfect for carrying while traveling.
Buying Guide- Best epilators for men
There are tons of epilators for men on the market that offer various features and cater to different needs. However, you need to decide which points are important for you as your epilating experience will depend on those.
We have put together this complete buyer's guide so you know all the factors you need to consider before making your choice.
1. Epilation Technology
Mainly two technologies used in epilators. The first and most common is the coiled or spring teeth which pull hair out of roots. The second is called IPL which burns away your hair follicles beneath the skin using light pulses.
The epilators that use teeth provide faster hair removal and are cheaper than IPL ones. Hair grows back in about a few weeks after using these teeth-based epilators. However, it may be quite painful especially if done on dry skin.
While IPL epilators do cost more they are almost painless. Also, the hair grows back much later than the other method. But you will have to prepare the skin by shaving before using them.
2. Wet or Dry
If you are someone with sensitive skin or low pain tolerance, go for a waterproof epilator. That's because epilating on wet skin minimizes the pain and discomfort. And it's always good to have two options.
However, the waterproof epilators do cost more. So if you are choosing an epilator that has to be used on dry skin, make sure to take a bath before epilating. Also, dry epilating does remove hair faster.
3. Power Source
Some epilators are cordless and some need to be plugged in for use. Also, some cordless epilators have rechargeable batteries while others do not. In the latter case, you will have to replace the batteries after a while.
Even though cordless ones are more portable, you have to worry about battery life with these. Whereas with corded ones there is no worry about the battery. So consider the trade-off and choose one that suits your priorities.
4. Number of Tweezers
Some epilators come with tweezers as high as sixty. More tweezers mean faster hair removal and less frequent strokes over the same spot. Therefore, consider an epilator with 40 or more tweezers.
5. Speed
If you are new to epilating, choosing an epilator with different speed levels is a good idea. Also, with different speed levels you will get to epilate sensitive areas more carefully and normal areas faster. Hence, choose one with two or three-speed levels.
6. Pain Tolerance Level
Epilating will be somewhat painful no matter what brand you use. However, there are some with gentle caps and massaging heads for minimizing discomfort. Epilating in the hot shower will minimize pain as your pores will be open.
7. Pivoting Head
The capability to glide across the curves of the body is an imperative characteristic for every epilator. Also, men mainly use the epilator for removing facial hair. Having a pivoting head will make epilating the face mover easy and effective.
8. Price Range
The epilators that come with a lot of different attachments generally cost more. If you do not need those, there's no point in wasting money. Consider which features are necessary for you and choose accordingly.
Conclusion About male epilator
We understand that choosing the best epilator from hundreds of options is not easy. Nonetheless, we have attempted to make this job simpler. Hence, to find the best epilator for men, go over all the aspects presented here.
All the epilators mentioned here are great for men. Still, if we had to make a final opinion, we would choose the Braun Epilator Silk-épil 9 Flex 9-300. This intake manifold provides both long-lasting smooth skin and effortless epilation.
FAQs About Men Epilator
All these products might have left you with some queries. Therefore, we will address a few of the general questions that you might have.
1. Will my hair grow coarser after epilation?
Answer:  No. Your hair will grow thinner after continuous epilating for a few months.
2. Is epilation painful?
Answer: It will hurt when you do it for the first time. However, after a while, you will get used to it and it will be almost painless.
 3. How to prepare the skin before epilating?
Answer: Take a hot shower or bath before epilating to open your pores.
4. Why is epilation more beneficial than waxing?
Answer: Waxing not only pulls the hair out of the root but also removes the upper layer of skin. Therefore, this is harmful to the skin, whereas the epilator only removes the hair, not the skin.
5. Can men use an epilator to remove facial hair?
Answer:  They surely can. However, as men's facial hair is much thicker it will be quite painful to epilate.