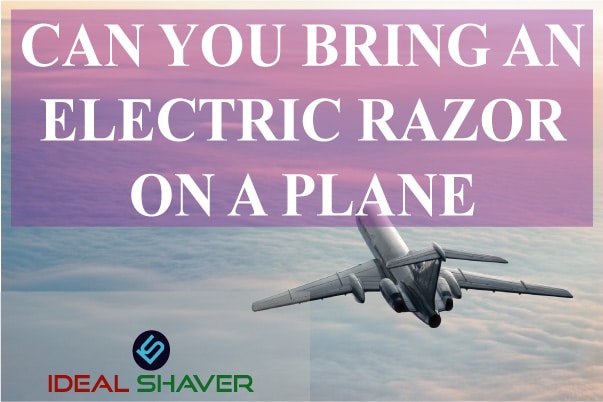 CAN YOU BRING AN ELECTRIC RAZOR ON A PLANE
When it comes to air travel, many of us are uncertain about the items we can bring with us. Can you bring an electric razor on a plane? The answer is yes! Electric razors are allowed on airplanes in accordance with the Transportation Security Administration (TSA) regulations.
However, there are certain restrictions and limitations you should keep in mind when packing your carry-on bag and other shaving-related toiletries. Keep reading to learn more about the TSA's regulations and guidelines regarding bringing electric razors on planes. With this knowledge, you'll be sure to have a hassle-free experience while traveling!
Electric Razors Permitted & Prohibited
While proceeding with checking bags, do not fear yourself, if you carry electric razors. You are no only allowed to travel with the electric body shaver in checked baggage but also can keep it onto the plane. Even if you are carrying manual yet disposable razors and cartridges, then you won't be stopped.
Precisely the carrying of straight razors on the plane is not permitted. As such, shavers are not considered to be a safe option unless the blade is removed forehand. The important is whatever razor or shaver you are carrying in the airplane, and you can not pass easily until your luggage is properly checked. Taking of electric razor for sensitive skin that inherits batteries are also authorized to move, with no fuss and fear.
TSA Rules to carry razors on plane
It is imperative to know what TSA rules you need to follow while carrying the essentials on board, rather than clothing. So let's end the carrying confusions for people with all updated TSA regulations below:
1. Disposable razors:
You can easily carry disposable razors in carrying on and checked luggage. Be sure you have adequately covered the blades to avoid any accidental cuts while checking etc.
2. Electric razors:
Carrying electric razors for men in both cabin baggage and checked luggage. If you are traveling overseas, then you must ensure that the next airplane services internationally allow you to carry it or not.
3. Razor-type blades:
Other shaving toiletries like box cutters, safety razors, and razors not in cartridges are just prohibited in carrying on bags. You can carry them after properly packing in your checked baggage so that the possibility of cutting and hurting is not there.
4. No straight razors:
Straight razors are affordable clean-cut shaving options, but these are just banned on airplanes. You can just buy them after reaching your destination, as need not carry them. Even safety razors are dangerous and sharp, so ideally forbidden on board.
If you still want to carry it, then pack it properly and keep it in your checked suitcase. Taking nail clippers, and scissors are somewhat permitted, but utility knives and box cutters are still banned.
5. 3-1-1 Rule for shaving products:
This 3-1-1 rule is applicable to all types of liquids and products that usually people carry in flights. The TSA rule includes products such as shaving gel, cream, and foam. Actually, passengers are just allowed to take such items that do not exceed 3.4 ounces. Traveling with shaving cream containers with 3.4 ounces weight is impossible as it is just not the liquid itself.
The best is you can buy your kind of shaving product after reaching your destination. But still, if you want to carry and cross the checkpoints with TSA, then put shaving gel, foam, or cream in a zip-lock plastic bag. Or even can purchase travel-size shaving products.

Considerable things you can carry onboard
We have listed some of the other items that people need but still wonder if allowed to carry them or not. These things include:
1. Batteries:
As we all have smart gadgets, and they need batteries to run. So batteries are obviously allowed in planes. There are a variety of batteries manufactured by different brands, but some are allowed, and few are not.
Batteries allowed in carry-on bags include:
Dry cell alkaline batteries: AA, AAA, C, D, etc.
Dry cell rechargeable batteries: NiMH (Nickel Metal Hydride) and NiCad (Nickel Cadmium)
Lithium-ion Batteries: Rechargeable Lithium, Lithium Polymer, LIPO, Non-rechargeable, primary lithium, etc.
Batteries allowed in checked bags:
In checked bags, all kinds of batteries are allowed to carry.
Batteries that are prohibited:
You are not permitted to carry a variety of batteries such as wet batteries, car batteries, spillable batteries, etc. If you use a power scooter/wheelchair, then you need special permission to carry spare batteries.
The proper package is a must while boarding o avoid any mishaps and leakage. Spare carrying of lithium-ion or lithium-polymer batteries is also not allowed in checked baggage.
2. Beauty care products: Majorly makeup items:
Whether you are male or female, carrying personal care products, including makeup, shampoos, and deodorants, is allowed for onboard passengers. But still, need certain precautions and regulations as mentioned by TSA.
You can carry makeup items in solid or powder form in both carry-on and checked bags. As TSA gives no foundation over the limit and quantity. But if you want to carry makeup in liquid, lotion, or gel forms, then it should be a maximum of 3.4 ounces or less. Even you are permitted to carry paste and creamy types of makeup cosmetics.
As a fact, onboard quantity is quite limited, but there is no size and quantity limitation on liquid makeup items in checked bags. Always keep travel size makeup packing in carry-on bags as it upholds certain restrictions.
3. Permitted to carry shampoos & deodorants:
passengers are allowed to carry shampoos, conditioners, hair serums, and deodorants with them. But majorly need it should be less than 3.4 ounces or less in carry-on bags. If you hold large packings of such items, then carefully pack them in checked bags. Powder and solid deodorants are allowed on board but in limited size/quantity as well.
Conclusion
While backpack your travel essentials, especially when planning for an overseas trip, is really confusing. Keeping a list of items that even are not allowed in-flight journeys can be such a waste and hassle. So best is to know the TSA rules before packing for airplane travel.
Because certain things are strictly banned from carrying on board, and some need safety measures before taking them. If you are looking for flights, then do notify each airway service rules and TSA norms to travel with allowed items only.