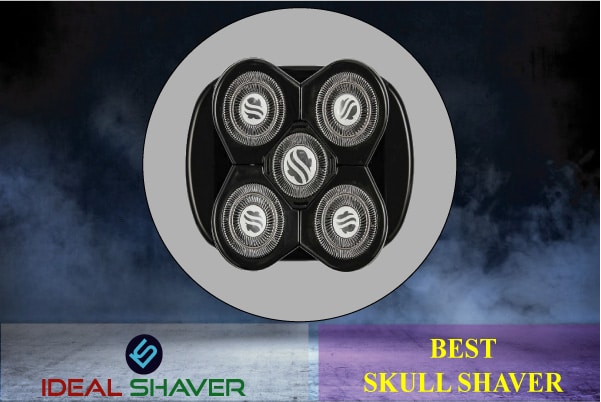 A good quality skull shaver will improve your shaving experience tremendously. They are used to completely shave off your hair for a smooth bald look. You can also use them to create a buzz cut.
Choosing a perfect scalp shaver requires careful analysis of your preferences. However, some features are crucial such as having a protective guard that will protect your scalp from cuts. Moreover, cordless shavers are great as you can maneuver them easily around your head.
Skull Shaver is one of the most prominent names in the shaving industry. And they offer quite a few shaver models of this brand to choose from. To help you, we have reviewed the 5 best skull shaver models present in the market.
TOP 5 SKULL SHAVERS COMPARISON CHART
WHAT IS THE BEST SKULL SHAVER IN 2022
The brand offers several different shavers for shaving your head. Hence, it can be confusing to know which the best skull shaver for your needs is. Therefore, we have discussed the important features, pros, and cons of the top 5 skull shavers that you should keep in mind.
1. Pitbull Platinum PRO
The flexible pivoting blades of this pitbull head shaver will allow you to shave the hard-to-reach places with ease. It is great for people who want precise control over the shaving process. The chunky handle gives you a firm hold which will be helpful while shaving your face too.
Moreover, four rotating blades decrease the shaving time. They also provide multi-directional shaving which increases the ease of use. Also, these high-powered cutting heads are built specially to shave coarse hair.
This cordless skull shaver with the 1400 mAh battery will remove the hassle of maneuvering around wires. What's more, you can use this shaver for up to 90 minutes after charging for 2.5 hours. Lastly, you can use this for both wet dry electric shaving.
Key Features
This skull shaver features five head blades.
Lithium-ion batteries allow ninety minutes of use after one charge.
The IPX5 water resistance technology allows wet shaving.
It features a LED battery life indicator.
Offers a smooth clean shave in just 90 seconds.
Cons
✘   Chrome plating is not long-lasting
Pros
✓   Allows wet & dry shaving
✓   Quick rechargeable battery
✓   Comes with a travel lock
✓   Includes USB charging cable
✓   Protects from irritation
2. Pitbull Gold PRO
The pitbull gold pro head and face shaver offer durability with ultimate shaving comfort. It features an ergonomic handle that enables you to grip easily. Moreover, the shaver fits perfectly in your hand allowing intuitive shaving.
Another great feature is the LED illuminated numerical battery indicator. With this, you will instantly know when your shaver needs to be charged. You can enjoy dry as well as wet shaves using this skull shaver.
Furthermore, the FORTE PRO blades have been specially designed for providing cleaning efficiency. You can easily separate the blades and access the storage chamber. Clean the storage chamber after every shave to maintain the performance of your shaver.
Key Features
The pivoting blades offer multi-directional shaving.
You will enjoy an irritation-free shaving experience.
It includes a 1400 mAh lithium-ion battery.
The LED display shows the battery level in percentage.
It can be used in both plug-in and cordless modes.
Cons
✘   Doesn't give a close shave
Pros
✓   90 minutes cordless usage
✓   Includes USB wall adapter
✓   Ensures effortless cleaning
✓   Adjustable shaving heads
✓   Allows fast shaving
3. Butterfly Kiss Purple
The Butterfly Kiss Purple is one of the best women's skull shavers designed by the Skull Shaver brand. This shaver has been built keeping in mind the needs of women. You can get smooth and clean skin without the fear of cuts or nicks.
What's more, the four rotating blades are super flexible. They ensure an irritation-free shave by perfectly adjusting to the contours of the body. Moreover, the soft lock arm design allows you to safely use this shaver in all areas of your body.
You also get a platinum rinse stand with this shaver. This stand will help you to deep clean the shaver effortlessly. Lastly, the travel bag features half mesh pockets for storing your shaver safely.
Key Features
This shaver features Carver Pro blades.
The travel bag is water-resistant, shock and dust-proof.
It provides 30 minutes of cordless shaving.
You can also use the plug and shave mode.
It features four rotating razor heads.
Cons
✘   Doesn't work on hair longer than 4mm
Pros
✓   Cordless and plugged shaving
✓   Upgrades blades provide fast shaving
✓   Includes LED indicator
✓   Allows effortless cleaning
✓   Comes with a rinse stand & travel bag
4. Pitbull Silver PRO
Another great men's skull shavers from Skull Shaver is the Pitbull Silver Pro. This shaver is ideal for men who want a combination of power and precise control. Moreover, the Pitbull blades are built within a strong casing for increased durability and protection.
Furthermore, you can use this skull in the shower as it comes with IPX5 water resistance technology. Hence, you can use it wet, dry, with and without shaving foam. It features an ergonomic design to provide you the most comfortable shaving experience.
This shaver comes with five rotating blades that make this shaver easier to control. These blades also ensure an electric shaver close shave without giving you cuts or nicks. Because the shaver heads can perfectly adjust to the angles and bumps on your head.
Key Features
This shaver features a ninety seconds quick shave.
The 600 mAh lithium-ion battery offers quick charging.
It can be used for shaving both the head and face.
Rotating shaving heads prevent cuts, scars, and nicks.
Comes with an easy-grip design for intuitive shaving.
Cons
✘   Not suitable for long hair
Pros
✓   Ensures a close shave
✓   Offers great flexibility
✓   30-minute cordless use
✓   Provides skin protection
✓   Completely waterproof design
5. Skull Shaver Palm 3 Head
This shaver from the Skull Shaver brand features three head razors. The large pivoting razor heads of the CR-3 blades also feature excellent flexibility. As a result, you get a close comfortable shave on both your head and face.
Moreover, the Palm 3 head shavers feature an ergonomic handle. This handle fits comfortably in your palm and increases the flexibility and freedom of shaving. You can clean it effortlessly with the one-touch open and rinse design.
You can use this shaver anywhere as it provides about sixty minutes of cordless use after one charge. This shaver comes with IPX5 water resistance so you can shave in the comfort of your shower too. Lastly, the additional trimmer attachment allows you to remove unwanted nose or ear hair without pain.
Key Features
This skull shaver is built with hypo-allergenic material.
It features three rotating razor heads.
Includes 600 mAh quick charge lithium-ion battery.
The CR-3 blades provide an extremely precise shave.
Comes with a built-in vacuum for fast cleaning.
Cons
✘   Requires a long shaving time
Pros
✓   Prevents post-shave inflammation
✓   60-minute cordless use
✓   Ergonomic handle design
✓   Includes nose trimmer
✓   Wet and dry shaving
Conclusion
Having the best skull shaver is a must for maintaining a hassle-free smooth and clean bald look. However, finding the skull shaver that will perfectly fit your needs can be difficult. Hence, go over all products reviewed here to find your fit.
All the skull shavers discussed here are excellent for shaving your head. Nevertheless, our choice is the Pitbull Platinum PRO. You get to enjoy cordless wet & dry shaving with pivoting blades and high-end durability with this skull shaver.
FAQs
It is natural to have queries after going through the product reviews. Therefore, we have answered a few common questions about the skull shaver.
Does the skull Shaver really work?
Answer: Yes, skull shavers can efficiently remove all your head and provide you a smooth scalp.
Question: How long do Skull Shaver Blades last?
Answer: Skull shaver blades last about 3 to 6 months depending on the thickness of your hair and frequency of shaving.
Question: How long does the shaver work on one charge?
Answer: The shaver should work for about 90 minutes when completely charged.
Question: Can I shave wet or dry?
Answer: You cannot shave wet using the original SHAVERTM skull shaver. But other models of Skull Shaver allow you to do both wet and dry shaving.
Question: Can I use the shaver in the shower or the bathtub?
Answer: You can only use the Pitbull, Butterfly Kiss, or Palm shavers in the shower.
Question: Can I use the shaver with different voltages in different countries?
Answer: Yes, you can use the shaver with different voltages in different countries because they are compatible with global voltages from 120v to 240v.
Question: Can men and women use the same shaver?
Answer: Men's and women's shavers vary in blade angle, width and shaver handle,  that's why it is better not to use the same shaver.