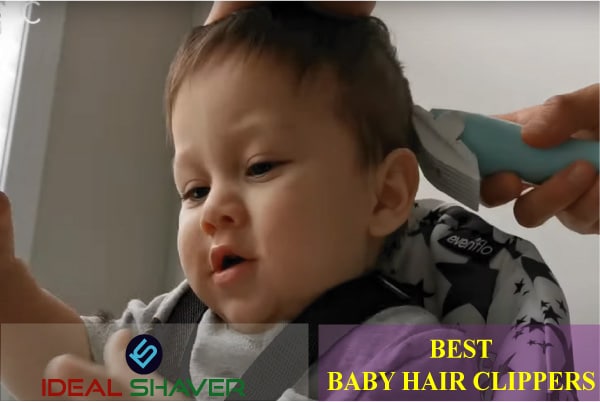 Are you looking for the best hair clippers for your baby? You're not the only one! With the rise of DIY haircuts, parents everywhere are searching for ways to cut their baby's hair safely and quickly.
Whether you're a first-time parent or have been through it all before, finding the best baby hair clippers can be difficult. But don't worry! We understand how important it is to get quality results, so we've taken the time to find and review the best baby hair clippers out there.
In this blog post, you'll find detailed reviews of the best clippers available, as well as tips and tricks on how to best use them.
Read on and discover the best baby hair clippers for your needs!
10 BEST BABY HAIR CLIPPERS REVIEWS
Have no worries anymore about finding the right one. That's because we have presented here the 10 best baby hair clippers right in front of you. Therefore, have a go through each product to know in detail.
01. MISUTA Vacuum Baby Hair Clipper
Make sure that your baby doesn't get scared by the buzzing sound of ordinary clippers. So, have a try with the ultra-quiet MISUTA baby hair clipper. Its noise depletion technology generates low resonance as well as low noise. So, you can have a peaceful and hassle-free experience with this one.
Also, the cleaning and maintenance of this clipper are really easy. It comes with an IPX-7 waterproof standard level. So, you can wash and immerse the whole product into the water without any worry.
You will also love how carefully and automatically this clipper sucks the cut hair. And it includes a large capacity to store those snipped hairs delicately. Hence, your baby won't feel any irritation but rather be at peace and comfort.
Features
Has large storage for trimmed hair
Produces very low noise of 48 dB
Operates in lithium-powered battery
Compatible with power bank, computer, and adapter for charging
Can be used with or without a cord
Cons
✘   Not suitable for long or thick hair
Pros
✓   Water-proof design
✓   Additional useful accessories
✓   Various charging methods
✓   Stable and noise-free operation
✓   Automatic suction of trimmed hair
02. Bololo clippers for baby hair
If you want to cut your baby's hair in different styles, then go with the Bololo baby hair clipper. Because it comes with 3 types of guide combs that can cut the hair of 6 distinct lengths. So, it's very suitable for kids of any age.
Anyhow, the clipper functions only within the range of 42 dB. So, you will be happy with how silently it works and cuts your baby's hair. And the IPX-7 waterproof standard makes it easy to wash as well.
As the battery of this device has a high volume of 800 mA, you can expect long performance for up to 2 hours with this one. And the recharging of this clipper is also very fast. So, have no worries about its performance and durability.
Features
Operates in a 42 dB of noise level
Includes guide comb for six distinct lengths of hair
Functions repeatedly for 2 hours straight
Has smart monitoring system
Comes in two kinds of operation mode
Cons
✘   Doesn't include any hair length description
Pros
✓   Uncomplicated to assemble
✓   Super-fast charging
✓   Ultra-quiet operation
✓   Pleasant and comfy to grip
✓   Smart light indicator
03. BAISTOM Baby hair trimmer
If you want to have a quick haircut for your baby, then you should go with this clipper from Baistom. That's because the 28 R-configured teeth ceramic blade of this device will do the task very swiftly. Not just that, it will provide you a precise and smooth trimming without any harm.
However, the clipper operates in such a silent manner that it's suitable even for kids with autism and sensory problems. So, parents can undoubtedly rely on the performance of this device. It can also offer stylish haircuts with the extra accessories it comes with.
What's more, it has a power indicator as well. As a result, you can get an alert whether your device requires charging or not. Moreover, the device is super resistant to water too. So, there is the least chance of getting damaged by water even if it's washed by it.
Features
Has 3 guide combs for different lengths of hair
Includes buzz reduction technology
Contains a power indicator for convenience
Comes with the water-resistant standard of IPX-7 level
Involves 28 R-curved teeth for smooth cutting
Cons
✘   Requires long charging time
Pros
✓   Suitability with ages of all kids
✓   Safe and secured haircutting
✓   Quiet functioning and trimming
✓   Effortless maintain
✓   Useful included accessories
04. ZIHUAD Best hair clippers for kids
Ensure safety and comfort while cutting your baby's hair with this clipper from ZIHUAD. The patented technology and ceramic R-shaped blade have made this device one of the best clippers. And you will definitely love the performance it offers.
However, the clipper can automatically cut and suck the trimmed hair. It has a large storage capacity to store hair. Not just that, you will be amazed at its noise-less operation as well. The motor can function very quietly and has a low noise level of 60 dB only.
Moreover, the device is highly water-proof too. Therefore, after each use, you can wash and clean your clipper to keep it hygienic. Also, you can continuously use this device for up to 60 minutes. Hence, you can undoubtedly rely on this product for convenience.
Features
Sucks that most of the cuts of hair automatically
Has a water-resistant standard of IPX-7
Comes with low noise of 60 decibels
Comprises of noiseless motor, charging cable, and ceramic blade
Includes a mute function
Cons
✘   Only a few additions of guide combs
Pros
✓   Noise-free operation
✓   Highly resistant to water
✓   Inflated capacity for cut hair
✓   Highly sharpened and durable blade
✓   Safe and harmless to use
05. ZIHUAD ENSSU electric baby hair clipper
Have no fear of accidents while using the ZIHUAD ENSSU hair clipper. Its round tip high standard blade not only cuts hair precisely but also ensures safety. It won't pull or snag your baby's hair either. Hence, you can calmly trim or cut the hair.
What's interesting is it's highly resistant to water. It has an IPX-7 water-proof standard and can be entirely immersed in water for 24 hours. So, there is no risk of being damaged by water. And you can easily keep it clean.
Moreover, the clipper is very handy to use as well for its design. It offers 2 types of guide combs for styling your baby's hair. You will also be happy with how silently it operates. As a result, you can even use this device while your baby's sleeping.
Features
Contains a noise demeaning mechanism
Includes a premium-grade brass movement motor
Has R-shaped ceramic blade
Comprises of necessary and useful accessories
Comes with a noise level of 48 decibels
Cons
✘   Requires much charging time
Pros
✓   Comfortable as well as harmless trimming
✓   Effortless maintenance and care
✓   Low production of vibration and noise
✓   Extremely water-proof
✓   Premium quality blade
06. XYQCPJ baby hair shaver
Another great baby hair clipper is the XYCPJ best baby hair trimmer. It can draw the broken trimmed hair automatically. As a result, your baby won't feel uncomfortable with hair itching.
Anyhow, the device includes a ceramic rounded cutter, which is very safe for babies. Because it offers comfortable touch and protection to the baby's scalp. Also, it doesn't produce any extreme vibration or friction, which makes it a noise-free device to use.
In addition, the device takes very little time in recharging too. And can function repeatedly for up to 50 minutes. What's more, you can charge the clipper with other equipment like computers and sockets as well. Besides, you will also love its water-proof characteristic.
Features
Offers to trim 2-3 types of innovative hairstyles
Rounded teeth provide protection and comfort
Includes 3 combs, 1 brush, 1 covering cloth, and 1 USB charger
The battery can operate for 50 minutes
Comes with IPX7 waterproof standard
Cons
✘   Available in only a single color
Pros
✓   Great battery performance
✓   Less charging time
✓   Highly water-proof
✓   Effortless cleaning and washing
✓   Silent and safe operation
07. WXYPP Kids Hair Clippers
The WXYPP hair clipper provides gentle, secure, and comfortable trimming. It has a distinct R-shaped sharp blade that can cut a baby's hair precisely. And it won't even leave a single scratch on the baby's tender skin.
However, it includes a high-grade motor that can cut or trim hair very quickly. Moreover, it produces such a low noise that your baby won't feel disturbed or scared. Hence, you can calmly do your job with this clipper.
As the device is operated with a lithium battery, you won't have to bother about the risk of a cord or wire either. What's more, it charges fast enough to function for 4 hours.  So, there is no trouble running out of power with this clipper.
Features
Has LED battery power indicator
Includes ceramic R-shaped blade
Comprises a sturdy and fast motor
Contains a durable lithium battery
Performs for 4 hours if fully charged
Pros
✓   Fast and smooth operation
✓   Long-lasting functioning of the battery
✓   Trouble-free user setting
✓   Safe hair cutting
✓   Streamlined arch design
08. WANDAI Electric Baby Hair Clipper
Feel like the expert while cutting your baby's hair with the WANDAI electric baby hair clipper. It includes limiters that can cut hair of different lengths. It can also suck the broken and trimmed flying hair with its shredding function. So, there is no hassle while using this clipper.
Besides, you will appreciate its minimal design as well. It has a rounded cutter that is sharp to cut hair but smooth to the skin. So, there is no possibility of a scratch on your baby's scalp.
And if you are one of the idle persons, yet prefer hygiene, don't worry about the clipper's maintenance. That's because this device can be cleansed straight with water. In addition, enjoy a long operation with its long-life battery too.
Features
Includes 2 types of limiters
Comes with a type-C battery interface
Rechargeable with a computer, mobile phone, power bank, and USB plug
Operates with lithium-ion batteries
Comprises of R-shaped cutter
Cons
✘   Limited options for haircutting
Pros
✓   Multiple rechargeable options
✓   Trouble-free installation
✓   Water-resistant body
✓   Wireless silent operation
✓   Long-lasting battery duration
09. Elebebe hair clippers for babies
Have some fun while trimming your baby's hair with the Elebebe hair clipper. With the triple-cutting head as well as triple-guided combs, create unique hairstyles for your baby. And its ceramic blade ensures the highest safety and comfort by protecting your baby's skin.
However, this clipper comes with buzz reduction technology. This special feature lessens the vibrations as well as the working noise of the motor. As a result, you will get a smooth and noise-free operation while trimming your hair.
And to offer you a longer duration of function, the device includes a lithium battery as well. It has a great power capacity and runs for a long time. Besides, if you run out of power, you can utilize the USB cable that it provides.
Features
Comes with triple cutting heads as well as guided combs
The cutting blade is constructed with ceramic and titanium
Includes modern noise depletion technology
Operates at a noise level of 50 dB
Compatible with power bank, PC, and USB charger
Cons
✘   The cutter head doesn't fit properly with the trimmer
Pros
✓   Precise trimming and cutting
✓   Skin-friendly design
✓   Multiple rechargeable choices
✓   Durable battery life
✓   Trouble-free setup
10. Birmirth Electric Baby Hair Clipper
Coming with all the useful accessories, the Birmirth electric baby hair clipper is another desired clipper among parents. It includes guide combs, a washing brush, hair enfolding fabric, and an accessory bag. The bag holds the accessories making them easy to carry around.
The device is waterproof as well. So, you can doubtlessly wash it using water and keep it clean. You can also recharge the device with its USB adapter. And the cable is compatible with most of the charger interfaces.
Moreover, the device has an ergonomic design too. Hence, you can comfortably grip the clipper while trimming the hair. On the other hand, as the working noise is below 45 dB, parents really prefer this one for its ultra-silent operation.
Features
Includes a portable USB charger
Comes with an R-shaped ceramic blade
Comprises necessary accessories with nylon bag
Contains an adaptable blade with guide combs
Can be charged with a car charger, laptop, and power bank
Cons
✘   The light indicator doesn't work properly after a while
Pros
✓   Ergonomic and comfortable design
✓   Portable charging facility
✓   Water-proof structure
✓   Low noise production
✓   High-quality ceramic blade
Can I cut my baby's hair with clippers?
Usually, adult clippers are specially formulated to cut thick hair. That's because adult hair is much thicker than a baby's. As a result, those clippers don't include any types of safety features or precautions to be suited to children.
So, it is wise not to trim a baby's hair with adult clippers. It might hurt or scratch the baby's delicate skin. Rather, what you can follow instead is, to use the hair-cutting scissor to carefully trim your baby's hair.
Difference Between Baby & Adult Hair Clippers?
The main difference is with their construction material. The baby clippers usually include a ceramic blade that has an R-shape design. And it offers protection and safety while trimming the hair.
Whereas, the blades of adult hair clippers are usually made of sharp steel or titanium material. These blades are specially designed to offer elevated torque on rugged hair.
Can I use hair clippers on a baby?
Yes, you can use hair clippers on a baby. Hair clippers are actually very safe when used right. However, you need to follow some safety rules and also make sure the child is calm enough for this process. Make sure that your child is sitting in a stable chair with no sharp edges and that the headrest fully covers their neck.
Can we use the trimmer for a 1-year-old?
Yes, You can use a trimmer on a 1-year-old baby.
Can I use hair clippers on a baby's head?
Yes, you can use hair clippers even on a baby's head as long as the child is sitting still and calm during the process. In fact, some parents prefer to give their babies short haircuts.
Do hair clippers harm babies' brains from vibrations?
The hair clippers are usually safe to use on babies. However, it is advisable that you avoid using hair clippers if the child also has an ear infection or if they have some skin irritation near the area where you will be clipping their hair. Additionally, some children may not withstand the vibrations of the hair clippers so it's better to avoid them.
BUYING GUIDE- BEST BABY HAIR CLIPPERS
So, we have come to know about some of the best baby hair clippers that are available on the market. But some important aspects need to be considered when buying one. Therefore, let's have a look at them.
Ease of Use
Always look for the clipper that comes with user-friendly features. Because complicated clippers will take time to operate. As a result, your child might lose patience and interest in the further task.
Ease of Cleaning
After every use, you will need to wash your clipper. Otherwise, it might attract germs and other harmful substances. So, check whether it's water-proof and washable or not.
Skin Comfort
Usually, blades that are made out of ceramic material are safer for the baby's skin. That's because this material doesn't harm or scratch the delicate skin of children. So, look for this blade before buying a clipper.
Clean shave
Go for the clippers that can not only trim your baby's hair properly but also shave delicate skin carefully. So, check for the properties that can cleanly shave your baby's hair.
Weight
The excess weight of clippers might make you feel uncomfortable and tired while doing your trimming job. So, look for clippers that are lightweight. As a result, you will feel at ease and light while cutting your hair.
Mobility Friendly
Sometimes you might need to carry your clipper with you wherever you go. Hence, check the clipper whether it's mobility-friendly or not. You know convenience is what we need in everything.
Replacement of parts
After using a while, the cutting heads or comb guides or USB cables might break or get wasted for some reason. So, look at whether the device comes with replacement parts or not.
Sharpness blade
Good trimming or cutting of hair depends on the sharpness of the blade. In fact, a rough blade will give an uneven and unattractive haircut. Therefore, always check for a sharp blade.
Battery backup
The battery is a big issue if you want a durable and long-lasting operation. Because you might need time when carefully trimming your baby's hair. So, check the battery backup of the device for long functioning.
CONCLUSION
Finally, we have come to the end of this article. I hope now you can reliably buy the best baby hair clippers that suit you the most. After all, every child deserves protection and comfort even if it's just trimming or cutting hair.
So, make the right decision by choosing the right clipper. And also check for the features and benefits of every product before buying one for you.