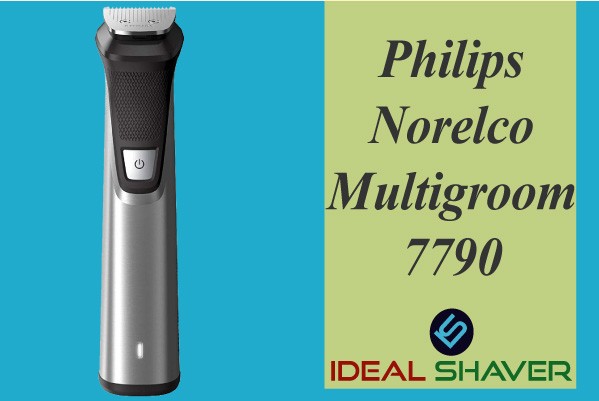 PHILIPS NORELCO MULTIGROOM 7790 REVIEW
Philips Norelco multigroom 7790 is one of the best trimmers for customers for its attractive and exceptional features like premium design and quick-charging facilities. You can avoid costly saloons and get a convenient grooming opportunity at home quickly.
Philips is a renowned brand and is well-known for electric shavers and trimmers. Philips Norelco mg7790 has some unique features. The dual-action cutting blades and sharp steel are some of the unique features.
They are self-sharpening and non-rusting for a longer life. The metal body gives it a comfortable feel and a firm grip. For easy cleaning, the groomer is fully washable also. And the guarantee it provides is eye-catching.
Phillips mg7790: Box Included
Detail metal trimmer
Metal trimmer
Foil shaver
Nose and ear trimmer
Extra-wide hair trimmer
Three beard-trimming guards
Two stubble-trimming guards
Six hair-trimming guards
Two body-trimming guards
Eyebrow trimming guard
One storage bag
One cleaning brush
Philips Norelco MG7790 Overview
The trimmer has dual-cut technology. You can have the luxury of convenient grooming at home with a stylish cut of hair and beard. One of its good features is that the blades stay sharp for a long time. There are multiple attachments provided with the product. You can use Philips Norelco multi groom 7790 for trimming hair on the head, face, and body, and is complete with a unique nose and ear trimmer and foil detail shaver. Using this trimmer, you can protect your sensitive parts using guards. The trimmer is easy to use. In the display, you can see the battery level and charging indicator. The stainless steel handle makes the product safe and stylish. The rubber grip has added a new dimension to the product. You can wash your product anytime as the product is fully washable. The maintenance of Philips Norelco multi groom 7790 is also easy and comfortable. Clean it anytime with the cleaning brush.
Philips Norelco Multigroom 7790 summaries
Philips Norelco 7790 trimmer has given 30 30-day money-back guarantee and a year's warranty which has become user-friendly.
You can stop visiting saloons and style your way at home with the grooming attachments.
The groomer provides dual-cut technology.
The lithium-ion rechargeable battery of the Philips Norelco 7790 trimmer provides six hours of non-stop service.
The groomer prevents bending and provides you with a stylish premium cut every time.
Unique features of Philips Norelco Multigroom MG7790
1. Dual cut technology:
The blades are 2x sharper. You can use them for many years. Because of this technology, you will find the blades new for five years.
2. Self-sharping system:
Have you ever thought of having a self-sharping system? The trimmer provides this type of technology. For this system, the device lasts longer.
3. Chargeless, use more (6 hours)
The lithium-ion rechargeable battery gives you the luxury of running the trimmer for six hours. You also have the option of applying it while plugged in.
4. Wash it anytime,100% washable:
The multi-groom is fully washable. You can clean all the attachments anytime and rinse them under running water.
5. 14 reinforced trimming guards:
The groomer gives you the opportunity of multiple-length trimming. The guards provide clean, even trims on the head, beard, and body. They help prevent irritations and offer an excellent trimming opportunity.
6. Premium stainless steel frame:
You are getting long-lasting durability because of the stainless steel frame. This frame protects from severe damage and gives a long-term performance. The rubber serves you one of the best comfort and control.
Do you want a comfortable and firm grip? Then this product is designed perfectly for you.
7. Steel trimmer:
You will get a clean and even trim because of the steel blades. One of the useful features is that they self-sharpen and last longer. The edges are non-corrosive and do not rust.
8. Foil Shaver:
The foil shaver gives you a comfortable shave. Are you concerned about your style? This shaver cleans the lines around your style and gives you a gorgeous look.
9. Nose and ear trimmer:
The trimmer cuts hairs of the nose and ear delicately. This trimmer can remove the hair of the sensitive parts. The good thing is you will experience no irritations.
10. Extra-wide hair trimmer:
From the name, you can understand the advantage of having it. The extra-wide design can capture more hair and helps fast trimming and hair cutting.
This feature is one of the main attractions of the customer.
Summary & powerful features
If you forget to charge it, you can use it while charging, and this is one of the best features.
The blades are sharp after five years of usage.
The trimmer cuts delicately at the sensitive parts and gives you a pleasant and comfortable grip.
Pros
One of the best upgrades
Premium design
Convenient Grooming
6 hours of service per charge
5 Minutes quick charging feature
30-day money-back guarantee
Easy to clean
Cons
Small Storage bag
Hard to distinguish the guards
Limited hair-cutting attachments
 A final thought about mg7790 Philips
Philips Norelco multi groom 7790 is a good value-for-money product from a renowned brand like Philips. The 30-day money-back guarantee has made the product more unique and special.
If you are trying to avoid a professional saloon, this product is for you. Use this product in the comfort of your home at your convenience.
Philips Norelco multi-groom 7790 is a powerful trimmer. You can use this product with ease.
FAQs About Philips mg7790
1. How can we know the battery is nearly empty?
Answers. An orange light gives a notification when the battery is nearly empty. The feature of a five-minute quick charge is also available with it.
2. How many hours does it function per charge?
Answers. The trimmer can run for 6 hours per charge. You are also getting the opportunity of quick charging when you need it.
3. Can this product be used in sensitive areas?
Answers. Yes, it can be used in sensitive areas using bodyguards.
4. Does this product provide any guarantee?
Answers. The product provides a 30-day money-back guarantee and five years of warranty for the users.
5. Is the charger readily available?
Answers. Yes, the charger is readily available.