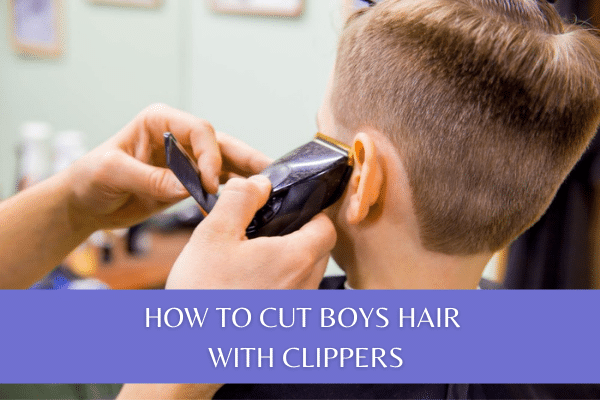 HOW TO CUT BOYS HAIR WITH CLIPPERS
Thinking about cutting boys' hair with clippers? Even if you don't have any prior experience in cutting hair, learning to cut boys' hair at home using clippers is simple and saves money. With the proper hair-cutting tools and assistance, it is easy to create beautiful hairstyles. To know more, read the article.
Before diving into the whole process of cutting boys' hair using clippers, you need to have prior knowledge of what you might need and do your homework. We recommend that you do the following steps.
How to cut boys hair with clippers
1. Make Sure To Prepare Well Before Cutting Hair
The first and most important step in giving a decent haircut is to make sure you have everything you need. Without the right preparation, you may get lost in the midst of cutting hair.
Make sure you have a comb, a pair of scissors, a sprayer bottle, and clippers ready. Don't forget to leave the hair dry. This will make clipping their hair much better. Choose a place where you can cut hair comfortably without having to worry about the mess. In that case, the suitable place can be your garage or backyard, or the bathroom.
Begin by draping a gown or towel around their shoulders, covering their back and chest. This will prevent unwanted hairs from falling down their neck and back.
2. Selecting the Best Hair Clipper Grade
A quality clipper set is well worth the cost, especially if you intend to trim hair for a lot of people. When choosing hair clipper sizes, keep in mind that the less the hair clipper grades (in mm), the shorter the haircut.
Some customer-favorite kid's hair clippers for cutting boys hair here are given below.
a. Wahl Elite Pro High-Performance Hair Clipper Kit
For the majority of individuals, it is the best clipper for home applications. It is recommended by barbers as well. It comes with a strong and long-lasting motor, self-sharpening blades, and Secure-Fit guide combs with stainless steel attachment clips. You will be saving a lot of money in the long run if you purchase this product.
b. Wahl Color Pro Cordless Rechargeable Hair Clipper & Trimmer
Now you can use your clipper while running on battery or while it is charging using the Wahl Color Pro Cordless Rechargeable Hair Clipper & Trimmer. It includes a rechargeable cord/cordless clipper as well as a complete set of color-coded attachment guards for convenient and simple haircutting. It is ideal for traveling, vacations, and more, with a 60-minute run time.
c. BuySShow Quiet Professional Hair Clippers Set
I am sure you can guess from the name that this hair clipper has a silent motor. It only functions at 50 dB, which means that not only is the vibration low, but the sound is also very low. It will only take three hours to fully charge, but you will be able to use it for four hours.
The blade's R-shaped rounded edge is designed in a way so that it doesn't cause skin irritation. It is suitable for cutting the hair of small children.
d. Hatteker Hair Cutting Kit Pro Hair Clippers
The Hatteker Hair Cutting Kit features a high-quality Stainless Steel Blade for easy, clean cutting. A high-capacity motor ensures a quiet and efficient haircut. All of the features of a full-body hair cutter are combined in this multi-purpose hair clipper. Unlike many other clippers, this clipper has a waterproof body. So, you can use it without the fear of it being dropped on wet surfaces.
e. SUPRENT Hair Clippers for Men
The SUPRENT Cordless Hair Clippers for Men includes a titanium ceramic blade that sharpens itself as it trims the hair. It includes everything you will need for a quality haircut in the privacy of your own house. It does not make much noise while trimming. Besides, it will not irritate children's skin as the blades are close together. ­
3. Cutting the Back and Sides
When trimming lengths on the top of the hair, always keep the hair up and use your fingertips to determine the length. If necessary, the top can be cut with scissors afterward.
It is preferable to start trimming boys' hair at the side of their heads and work your way around. Don't go too high because you will need space for blending afterward. Proceed straight up in scooping movements, keeping your clipper at a 90-degree angle at the bottom of the hair.
4. Clean up Along the Edges
To finish off on the sides of the neck and ears, carefully pull back the ear and clip the hairline around the ears with the precision attachment for a tidy completion. Don't forget to remove any loose hair from below the hairline on the shoulder. Comb the hair and check both sides to measure if they are in an even position.
5. Cut the Top of the Hair
Make sure to wet the top of the hair first using spray bottles. Before you begin cutting, choose an imaginary line to work your way up.
Comb the hair in the preferred sections. When cutting, only use the tips of the scissors and cut one small section of hair at a time. Do not be concerned about cutting all of your hair to the same length. This will only be applied to the top layers where texture is required. You can keep the hair a little bit longer around the crown area.
6. Blending
Use scissors to combine various lengths of hair between the top and bottom. Begin at the top. Lift the hair out at a 90-degree angle and hold it between your index and middle finger.
Hold the scissors vertically and cut the longer lengths first to get a smooth blending. Trim the longer top hair down till it blends in with the shorter cut hair, then repeat the process. Keep cutting till you get your desired length.
7. Finishing Off
Comb out all loose hairs. Finish off by drying the hair thoroughly with a hair dryer or a towel. Hope you got your desired cut.
Concluding Part
Thank you for taking the time to go through the article. Have you decided whether you will be cutting boys' hair from now on? It is not just a great way to save money, in fact, if you get good at it in the course of time and practice, you can even have your own saloon for boys.
I hope I could inspire and assist you in cutting boys' hair with clippers through the article.
Please enlighten me if there is any information related to this topic that you think I could have added. You can also suggest some good brands of hair clippers that you found to be efficient.
Please share your valuable thoughts on the article. Wishing you luck if you are attempting to get your first haircut using clippers.