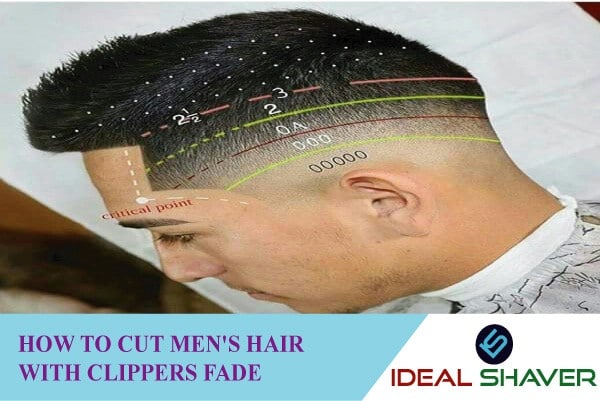 Cutting men's hair with clippers fade
Styling men's hair can be a daunting task for those just starting out. It requires precision, skill, and the right tools. Cutting men's hair with clippers fade is one of the most popular techniques used to give men's hair a stylish, well-groomed look.
Fading is a cutting technique used to blend the lengths of hair together at different levels and create a gradual transition. It works especially well with short hairstyles like buzz cuts, crew cuts, and Ivy League styles. Clipper fading requires precision cutting to achieve an even finish that looks professional.
When cutting men's hair with clippers fade, it is important to use the right clipper blade. You will want to start with a smaller blade and work your way up until you reach the desired length. Generally, it's best to begin cutting at the back of the head and work your way toward the front. This method ensures the fade is even and looks natural.
To create a clipper fade, start by cutting the sides of the head with a medium-length blade. Then, move towards the back of the head and use a shorter blade to blend in the transition from length to length. Work your way up until you reach a desired style or length.
HOW TO CUT MEN'S HAIR WITH CLIPPERS FADE
1. Wash & clean your hair: Get a shower
Washing hair before having a cut is essential. When your hair is clean, you can easily cut it, especially with your clipper. Greasy hair can tend to stick together, making it difficult to cut. So to have a perfect reach of the clippers, wash and condition your hair. Another thing is that before cutting, make it completely dry, since wet hairs do not give you a perfect cut, and result in different looks. You should also comb your hair so that you can get the desired look.
2. Search for a comfortable place
Pick a comfortable place. The place should have access to a mirror, and if possible, water. So after picking your location, you can finally start cutting your hair.

3. Start cutting with the mirrors on and with easy access to water
You can choose your hairstyle from a catalog. After taking all the arrangements, you are finally ready for a haircut. Set your clippers and keep the guards ready, which you need to start. Start cutting your hair from the sides and the back of your hair. Trim from the bottom of the sides and gradually go towards the top. Make your clippers angular to give a smooth fade, and repeat it for the other side.
4. Start trimming from the back and gradually go to the sides
Start from the back after you have done trimming the sides First, cut the bottom and move upwards, and change guards to give fade according to your design.  If you are a beginner, cut carefully because it's not that easy to cut the backs. You can hold a mirror behind you to check if you are cutting evenly. Chose your guard lengths to have a stylish end.
5. Pick up the right guard sizes for a perfect fade
Change your guards to give a perfect fade. You can keep your hair short and also long by gradually changing the guards. For fading hairs, guard sizes are essential.
6. Change your guards and give the fades
You always want a stylish cut and to look better. To have a gorgeous look, change your guard and give layers on the side of your hair. Remember to have a close look at your face shape. All face shapes will not suit every style. So considering all these changes, your guards and give fades. You should also change your comb attachments to have a trendy blend of your hair.
7. You can use a comb which will make fadings easy
You need combs for better control, and sometimes your hair is too large to control with clippers. You should always opt for a comb and style your hair with more efficiency. We recommend using combs to trim the sides of your hair.
8. Before finishing it off, shave your necklines: Have a perfect finish
You have done trimming your hair; now, it is time to finish it off perfectly. Look at the neckline and hairline and try to give a border by shaving the unwanted hair. You will need excellent-quality hair clippers to get these things done efficiently. We can recommend using beard trimmers in case of shaving your necklines. Take time and give sharp cuts to look good.
9. Look at the mirror and see if any modification is needed
Observe and look at your fading. If you can find any mistakes, try to overcome them. If you are a beginner, you can overlook some errors. You may have some uneven parts, you should not waste time on these, because you will not have a professional approach right from the word go. It can seem that your fading could be better but keep high hopes because you have done something right as a first-timer.
Conclusion
Follow these steps for a perfect fade. Choose your styles perfectly according to your face shape, and start cutting your hair. Choose a method that will make you more presentable and stylish. You can also experiment and take time.
You need to find a well-branded clipper that will get your work done. You can avoid costly saloons and start cutting your methods at home. Remember to have a shower first and make your hair clean before starting. It will make trimming done quickly and easily. Mark the lines where you want the fades, and where you need to begin giving fades. You need to do all the things with a specific plan. Identify the right guard sizes for your hair that will make fadings easy.