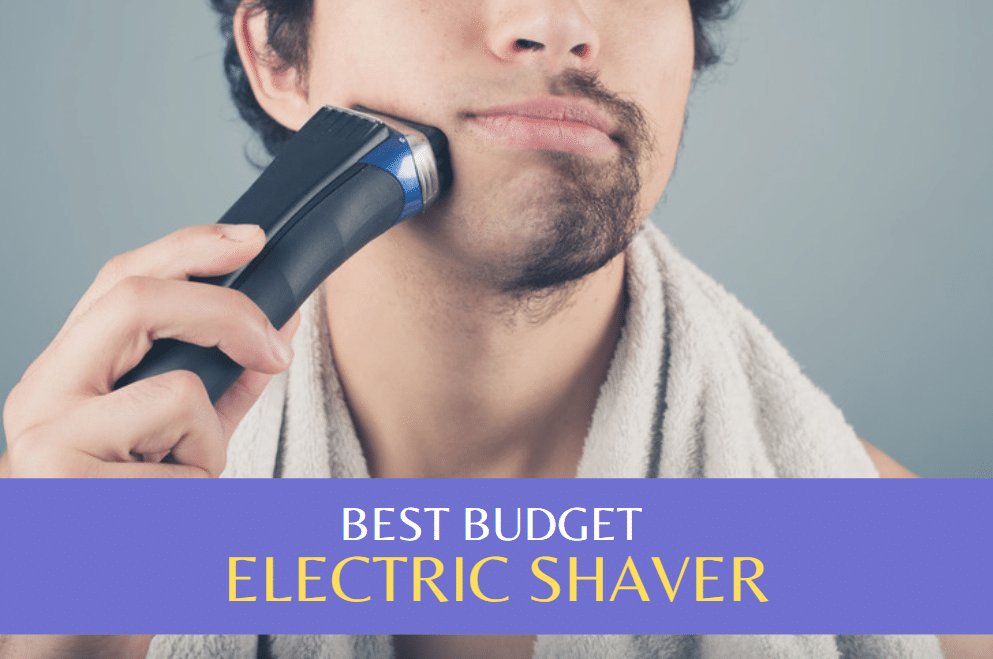 BEST BUDGET ELECTRIC SHAVER
Are you looking for the best budget electric shaver? Purchasing an electric shaver can be a daunting task with so many choices available in the market. To make sure that you get exactly what you want, I have compiled some of the best affordable electric shavers out there to help make your decision easier.
These models are all from well-known and trusted brands, so you can be sure that they are of high quality. Plus, all these shavers have their own unique features and functions which make them stand out from the crowd. So no matter what your preference is, you should be able to find a model that fits your budget and needs.
In addition to the list of electric shavers, I have also included a comprehensive user guide to help you pick the best budget electric shaver for yourself. This guide covers all aspects that one should consider when selecting an affordable electric razor, such as design, power, battery life, and price. I have also added my own personal recommendations on which budget electric shaver would be best suited for different types of users.
So, no matter if you are a beginner or an experienced shaver, this guide will help you find the best budget electric shavers that fit your needs. With my help, you can make an informed decision and select the most suitable model for yourself. So what are you waiting for? Go ahead and get the best budget electric shaver today!
Cheap vs Expensive Electric Shaver
Like all other gadgets, you will find electric shavers in many price ranges.
Electric shavers are sometimes linked with other additional investments. If you happen to own a shaver that is advanced and has a lot of functionality, you can expect to be spending a good amount of money on its replacement parts.
These factors may cause a budget-conscious shopper to avoid electric shavers entirely. Fortunately, there are various low-cost electric shavers that provide good performance at an affordable price.
How much should I spend on an electric shaver?
Advance tech Electric shavers aren't cheap. But, expect to pay at least $50 for most models. Buying an electric shaver is a far better investment than buying disposable razors that cost $5 to $10 for a pack of 4 or 8. Electric shavers can last for up to 10 years with proper care, at which time you'll spend less on maintenance (cleaning and replacement blades) than you would on replacement cartridges.
What is a good first shaver?
Beginners often start with inexpensive foil shavers. These are easier to use, faster to get used to, and provide less risk of nicks and cuts. Most modern foil shavers come with pop-up trimmers for neatening sideburns or discreetly trimming under the nose. Some foil electric shavers like Panasonic ES8243A.
Are all electric razors the same?
Most electric razors are similar in design, but not all have the same features. Look for features like self-cleaning, wet/dry shaving, or LED displays on some of the high-end shavers.
How does an electric razor work?
The rotary type is made up of three circular heads that contain blades that spin underneath to cut hair. The foil type has oscillating blades that retain the same cutting angle.
BEST BUDGET ELECTRIC SHAVER REVIEW
For valid reasons, many people don't want to spend a lot of money on electric razors as there are less expensive alternatives. Below I have provided some best budget men's shavers.
1. Philips Norelco Shaver 3800 – Best rotary shaver under $100
If you want to get a clean shave that matches the curves of your face, Philips Norelco Shaver 3800 is the perfect shaver for you. It has a 5-directional pivot, flex, and floating movements. The head contacts your face at the perfect angle and bends to the curvature of your face and neck, resulting in perfect skin contact.
It provides a relaxing, dry shave or a refreshing wet shave with gel or shaving cream. It has 27 self-sharpening blades that are protected by rounded blade caps, which delicately cut hair just above skin level and allow the shaver to glide easily over your skin. This great electric shaver is for sensitive skin.
If you are worried about your sideburns and shaping your mustache, the pop-up trimmer will do the job for you. The trimmer includes a travel pouch, charging stand, power cord, and protective cap.
Besides, no need to worry when it comes to charging as it provides 60 minutes' worth of shave with a full charge. Even if you charge it for 5 minutes, you will be able to shave at least once.
The one-touch open function makes it easy to clean. So, after shaving you can remove the hair and clean it with water without any hesitation.
Pros
Easy to wash
Provides both wet and dry shave
100% waterproof
Long battery life
Affordable price
Cons
Doesn't provide an entire clean shave
2. Braun Electric Series 3 Razor with Precision Trimmer – Best electric razor under $100
The Braun Electric series 3 pro is a well-known shaver model with good features. It is one of the best budget shaving machines, and it is readily available on the market.
It has 3 pressure-sensitive shaving components that pair up to provide effective results. All Braun shavers shave in clean, natural strokes, reducing skin irritation by eliminating the need to circle over the same region twice. It can reach hard-to-reach areas like under the nose with the built-in precision head.
The Micro Comb technology helps to catch more hair from the first stroke, resulting in a quick shave and improved skin comfort.
It is completely waterproof. As a result, you won't have to worry about water causing issues when you wash it. You can have a dry or wet shave using shaving cream, foam, and other liquids.
It takes only 1 hour to get a 45-minute long shave with this shaver. However, if you are in a hurry and don't have enough charge on the battery, only a 5-minute quick charge will be enough for a shave.
Pros
Waterproof
Provides both wet and dry shave
Charges faster
Long-lasting battery
Cons
Compared to some other razors, it doesn't cut as close
3. Remington F5-5800 Foil Shaver – Best budget electric shaver with a replaceable battery
When it comes to electric shavers, Remington is a famous name. The Remington F5-5800 is a fantastic foil-style rechargeable shaver that not only performs wonderfully but is also reasonably priced.
It is a simple shaver with no frills, but if you want a smooth, clean shaving experience, this is basically the shaver you are looking for. The Intercept shaving technology on this product pre-trims longer hairs. Between the two foils is where the intercept shaving technology is located, providing for a clean shave.
It is fully washable under running water, making it simple to clean. So you won't have to worry about clogging or jamming. Besides, you can shave either wet or dry with it.
When completely charged, it has a battery life of 60 minutes. If you are a lazy person this is great news for you as this means you can use it without having to charge it for up to 20 days.
Pros
Shaves both long and short hair with ease.
Has a long battery life
Easily washable
Provides both wet and dry shave
Affordable price
Cons
Noisier than many brands
Shaving foils must be replaced on a regular basis.
4. Panasonic LT67 ARC3 Electric Razor for Men – Best budget electric shaver with a replaceable battery
If you want a shaver with a reasonable price tag, the Panasonic Arc 3 series is somewhere you can look for.
The Panasonic LT67 ARC 3 electric shaver for men is a powerful yet delicate shaver with an ultra-fast linear motor for a clean shave. While going on tours, this shaver can come in handy as it is equipped with a universal voltage and a travel pouch. Using the precise pop-up shaving trimmer, you can quickly and simply style sideburns and mustaches, or trim down thick stubble before shaving.
For greater comfort and efficiency, the flexible head of the shaver can cover 12 directions. The detailed following of the outlines allows for a precise shaving experience. Besides, it has an Intelligent Shave Sensor that detects the thickness of the beard 200 times per second and cutting power for a more pleasant, irritation-free shave.
You can use for it up to 40 minutes with a single charge. As it is totally waterproof, you can have a wet shave without any complications. Of course, you can have dry use at any time as well.
Pros
Easy to clean
Provides both wet and dry shave
Great for traveling
Good battery life
12 directional; gives a close shaving experience
Cons
Can only be used cordless
5. Philips Norelco Shaver 2300 – Best budget rotary electric shaver
The Philips Norelco 2300 is one of the best budget rotary shavers. It comes with ComfortCut blade technology, which allows for smooth gliding over the skin and irritation-free shaving. The shaver has 27 rounded self-sharpening blades that stay sharp until they are damaged.
The head of the shaver flexes in four directions for effective and easy shaving. It adjusts to the contours of your face, ensuring smooth, pressure-free contact with your skin and you won't feel much pressure.
On the shaver, there is a popup trimmer that assists in completing the shaving process with finishing touches.
The one-touch open technology makes it easy to clean after use. You can use it for up to 40 minutes which is about 13 shaves after charging it for 8 hours. However, if you are in a hurry, you can also use it while charging.
Pros
Easy to clean
Can be used cord/cordless
Affordable price
Long battery life
Easy to hold
Cons
Expensive replacement head
Needs 8 hours to charge fully
6. Limural Men's Electric Razors for Shaving – best budget rotary electric shaver
The flexible head of the shaver can cover 5 directions that track every contour of your face to stay in close contact with the skin for a rapid yet close shave.
It comes with one replacement shaver head which assists to extend the life of the shaver, which is truly a huge benefit. So, if the original rotary head is damaged somehow, you can simply swap it with the additional rotary head to receive a fresh shaving experience.
No need to worry about shaping your beard and sideburns as the self-sharpening pop-up trimmer of the shaver will do the job for you. Besides, it can be taken while traveling as it comes with a safety travel lock.
As it is waterproof, it allows you to have a smooth dry, or wet shave. You can also directly wash the electric shaver without causing it any damage. With only a 1.5h charge, you can run it for up to 90 minutes. If you are in a hurry and don't have enough charge on the battery, you can also use it while charging.
Pros
Provides both wet and dry shave
Waterproof
Can be used cord/cordless
Comes with a replacement shaver head
Long battery life
Lightweight
Cons
Compared to expensive razors, it doesn't give a close a shave
7. Philips Norelco OneBlade Face + Body Hybrid Electric Trimmer and Shaver – Best budget foil electric shaver
If you are looking for a 2-in-1 product that will cover your facial styling and body grooming, the Philips Norelco OneBlade Face plus body is recommended.
It has a dual-sided blade that makes shaving more comfortable on your body. To add an extra layer of protection to sensitive regions, attach the skin guard. It has a unique one-blade technology that allows the cutter to move fast (200x per second).
Because OneBlade does not shave as close as a traditional blade, your skin is left feeling soft, and is considered one of the best electric shavers for sensitive skin by 93% of men who used it. Without skin protection or razor guard on sensitive places, it effortlessly shaves off any length of hair on your face or body. The blades require replacement every 4 months.
You can have a dry or wet shave according to your preference using this shaver. With its rechargeable Li-Ion battery, you can use it for up to 60 minutes after charging it for 4 hours.
Pros
Can cut any length of hair
Can be used on both body and face
Provides both wet and dry shave
Gives quick shave
Lightweight
Cons
Doesn't give a close shave
8. Braun Electric Razor for Men, Series 5 5018s – Best budget foil electric shaver
It is a three-bladed electric shaver for men that adjusts to facial features for a precise shave that is simple to achieve. The ergonomic handle allows for a smooth shave with one-way movement.
The Braun Electric Razor has the EasyClean function for quick and easy cleaning without removing the shaver head. Besides, a Beard Trimmer attachment is included for beard styles ranging from 0.5mm to 7mm.
It is 100% waterproof. According to your preference, you can use it for a dry or wet shave. With the Li-Ion Battery, you can use this razor for up to 3 weeks with only 50 minutes worth of charging time. However, if you are in a hurry and need one quick shave, only a 5 minutes charge will be enough.
The Precision Trimmer attachment will help you in trimming your mustache and sideburns just the way you like. It can be a great gift item for men.
Pros
Easy to clean
Easy to grip
Good battery life
Can be used dry or wet
Waterproof
Cons
Can only be used cordless
9. Braun Electric Razor for Men, Series 3 310s – Best electric razor under 50
For efficiency and skin comfort, the Braun 310s shaver includes three pressure-sensitive shaving components. The three movable shaving parts (3-Flex head) adjust to every facial curve which provides a close shave.
The sensitive blades of this electric razor are gentle on the skin. It has two rows of small, perfectly spaced grooves to assist in hair guidance for a quick, smooth shave.
Like other razors of the Braun series, this can also be used for a dry or wet shave with the use of water, foam, or gel. As it is 100% waterproof, you can clean it with water and also shave in the shower.
It is a cordless shaver with rechargeable batteries. With only a 1-hour charge, the batteries give 45 minutes of cordless performance. If you are running out of batteries and need an emergency quick shave, just 5 minutes' worth of charge would be enough to get that.
The package contains an electric razor of Braun Series 3, a protective cap, and a smart plug for automatic 100-240V adjustment. It can be used as a thoughtful gift to give to your close ones.
Pros
Easy to wash
Long battery life
Provides both dry and wet shave
Inexpensive
Cons
Can only be used cordless
10. Remington PR1335B R3000 Series – Best electric razor under 50
If you are looking for a rotary shaver that shaves long hairs and short stubble neatly and gently, then Remington PR1335B R3000 is the one for you. Using its PrecisionPlus Heads, it does the job very smoothly. It is one of the best budget rotary shavers in the market.
It has a 360-degree pivoting head that enables the user to move the head independently. You can basically alter it at any angle you choose to take care of spots and areas that you couldn't have otherwise. Besides, the Twintrack blades stay in close line with the skin, reducing irritation and allowing for a quick shave.
With a full charge, it gives a 40-minute runtime which is long enough for a full grooming session. With a pop-up trimmer, you can achieve a clean-cut appearance trimming and styling your beard and sideburns. It comes with a stubble attachment that allows you to create stylish stubble.
Pros
Affordable
Rotates 360 °
Lightweight
Gives close shave
Cons
Not waterproof
The runtime of the battery might be shorter than expected
Buying Guide 
Choosing the right electric shaver among so many is very difficult. However, following these guidelines can assist you in determining which characteristics are most essential to you and limiting your options.
Brand
The electric shaving market is dominated by numerous large companies, including Philips, Braun, Panasonic, Remington, and so on. It is always suggested to use a trustworthy and respected brand when shaving something as delicate as your face. However, choosing a brand totally depends on personal preference.
Razor Type
Electric shavers are mainly of two types: rotary and foil. A foil shaver has a cutting blade covered by a thin, curved metal foil. The foil glides over the curves of your face to give a close shave. This is recommended if you have a shorter, thinner beard.
A rotary shaver, on the other hand, has three or four round heads that glide around your face in a circular motion. Rotary shavers are best for men who have slightly longer stubble.
Charging
Some electric trimmers can be used both cord/cordless and some cannot be used without a cord. Some models have the function of a five-minute emergency charge, which is sufficient for one shave. Depending on your lifestyle and usage, you can choose the shaver that suits you.
Wet VS Dry
Many people enjoy the speed and ease of a dry electric shaver. It is ideal for simple shaving because it is quick and clean. Besides, some models allow you to shave in the shower in addition to dry shaving.
Cleaning Process
Cleaning is an important part of your electric shaver's daily maintenance, and you should clean it after each use. Many shavers come with a cleaning brush. The waterproof models can be cleaned by rinsing them.
Automatic Shutoff
It is convenient to have a charger that turns off when the battery is fully charged. Some require you to unplug the charger as soon as the shaver is completely charged, as overcharging might shorten the battery performance.
Conclusion
Thank you for taking the time to read the entire article. I hope after reading it, you have now figured out which features you are looking for in an electric shaver.
Are you planning on buying any of the shavers I have recommended? If yes, do let me know which one and why you preferred that over the others. You can also recommend me if you have any personal favorite models.
Please let me know if you have any queries in the comment section.