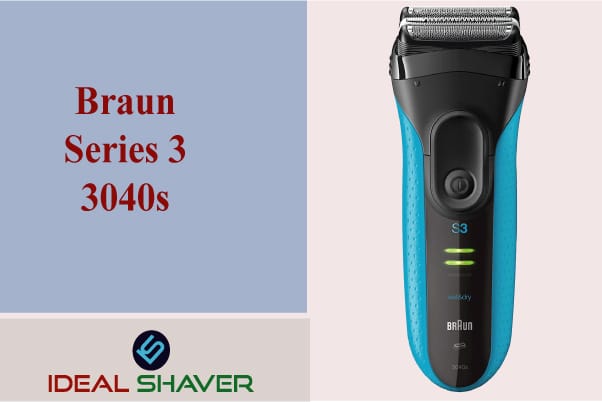 Braun series 3 proskin 3040s review
we all know how vital a shaving face can be for a man. Usually, from a teenager, he starts shaving. And till old age, he continues it. Without any doubt, this is more like a daily activity for him. So, it is very important to do or use any stuff which makes shaving easy, comfortable, and safe for him. If you are also wondering about your comfort and safety issues, then you are in the right place. Here we will be talking about Braun series 3 proskin 3040s. We will show you how this electric shaver has made a promising statement for shaving men.
This electric shaver is from a German brand. It is known for its top-class design and quality performance. If you use this stuff, you will feel every bit of its quality. You won't have to go to the same spot again as it gives a perfect stroke for the first time. For skin comfort, they have used senso foil in the sharp element. It has a built-in pop-up trimmer, which is quite ideal for cutting mustaches and sideburns quite accurately. It also has a specialized micro comb. This micro comb goes through all the hairs in one stroke. It is faster and smoother at the same time.
Braun Series 3 electric razor has not only risen up in terms of design and quality but also in terms of perfect service. The result of this shaver is quite overwhelming. It provides perfect smooth shaving even on 3 to 5-day-old beards. This electric shaver is tested on a 3-day beard, and the customers never felt any less young than before. It minimizes repeat strokes. Customers won't have to worry about sensitive skin also as it does not cause skin irritation.
Braun series 3 3040s key features
Braun series three has not only gained popularity in terms of design but also in terms of its performance. There are many features that have lifted up the product to its peak. Some of them are discussed below,
1) Advanced and smooth shaving: Braun Series 3 shaver has three shaving elements that get adapted to your shape. This helps you to use the electric shaver however you want to. The shaving elements also have sensor foil. So, you won't have to worry about your skin.
2) Efficient micro comb technology: There is a Braun 3 series pro skin micro-comb. It has the capability of capturing the maximum number of hairs in one stroke. This feature increases the efficiency of this electric shaver. It makes the skin smoother and gentler for shaving.
3) Protection for sensitive skin: Braun series 3 pro skin has pressure-sensitive blades. These blades automatically retract if something unusual happens. This feature helps your skin not get harmed.
4) Pop-up precision trimmer: Braun shaver series 3 has included a pop-up precision trimmer on its back. If you have any urge or you don't want to shave your beard completely, then you can use this precision trimmer to get your work done. You can reshape your mustache or sideburn by using this trimmer.
5) Tricky design: This electric shaver has a great design. It has a thin head, which helps the shaver to reach the maximum number of places, even the neck, and tricky places like under the nose.
6) Waterproof: Tested has proven that this shaver is 100% waterproof up to 5 meters. Most of the time, electric stuff doesn't survive in water. But it has gone beyond this limitation. Now you will be able to wash your shaver and maintain its hygiene.
7) Premium battery: It has a nickel-metal hydride battery or NiMH battery. One full of this battery provides the shaver to go for 45 minutes. You can check on the display when it gets fully charged. If you are in a hurry, then 5 minutes of quick charge is enough for 1 round of shave.
8) Shave wet or dry: Braun series 3 pro skin can be used both in wet skin and dry skin. In both ways, it works perfectly. You can use shaving cream or gel on your skin; also, you can shave your dry face. But it is recommended to use cream or gel for smooth gliding.
If we analyze the performance of this shaver, then we clearly identify some pros and cons. We believe that as a customer, you also deserve to know the stuff. So, here we are highlighting some of the pros and cons of this shaver
Pros
Waterproof: One of the most important pros is that this shaver is waterproof. You can use this electrical thing even in water.
Precision Trimmer: A precision trimmer is one of the most useful things. You can use this trimmer for trimming your mustache or sideburn.
Perfection: The design of the shaver and built quality gives everyone a perfect shave. It reaches the tricky that normal shavers fail to reach.
Battery life: The battery life has added something extra. It has great durability. Moreover, you can use this with a quick charge of 5 minutes for your urgent shaving.
Cons
Technical Faults: In some cases, the product can be faulty. Some customers complained that they faced the failure of the product within a year after buying.
Unfit clips: The clips of the razor can be unfit sometimes. In that case, the shaver is a total waste of money.
Inefficiency: Sometimes, the shaver fails to shave the hair properly. Few customers have complained that it doesn't even reach the skin.
But even with these cons, the product can't be ignored fully. The pros have surely outnumbered the cons.
Safety Measurement
Safety is very much important in every sphere. As it is electrical and a bit complicated stuff, it is wise to keep all the instructions in mind and act accordingly. This will help you to ensure the durability of the product. Here we have stated some of the instructions for you,
1) Do not take out the battery as it can have fire or chemical burn hazards. This can cause serious injury.
2) Do not use the shaver outside as it might not be that much convenient.
3) Do not use the appliances of this shaver with any other trimmer or shaver. This can lead to injury to your skin.
4) keep away the cord of the shaver from the heated place. This will make the cord go for a long.
5) Do not keep this electric shaver nearer to any children, or physically or mentally challenged people. They can harm themselves with this. Only allow them to use this when they are under supervision.
6) Only use this product according to the instructions provided by the company itself.
7) and lastly, do not use faulty or damaged cords, or parts ever. If you notice anything like this, then kindly inform the authority. Otherwise, it may cause a problem.
Conclusion
This electric shaver is very much useful. It has proven its capability among different sectors of people. If we categorize the people in terms of who can use this product or who should buy this, then it would include these people,
1) Teenager: As it is very much easy to use the shaver, the teenager would prefer this one. It will be much easy for you to handle this if you are a teenager. You can also use this as a teenager's electric razor
2) Job-holders: Usually, hob holders always remain in a hurry. They have urged for everything. In that case, they should buy this shaver. This will give them a quick shave.
3) Physically-mentally challenged people: people who are challenged physically or mentally can use Braun series 3 3040s under supervision. For them, it would be easy to use. So, they should buy this.
FAQs
Is Braun Series 3 good?
Yes, Braun series 3 is a good shaver. As it has many top-notch qualities with a great design.
What is the difference between Braun Series 3 and 5?
The main difference between the Braun series 3 and 5 is that Series 3 has 3 shaving elements, while Series 5 is five shaving elements. One of those elements is ActiLift.
Is Braun Series 3 a wet and dry shaver?
Yes, Braun Series 3 is a wet and dry shaver. Whether it's dry skin or wet skin, it can glide perfectly.
Does Braun Series have a trimmer?
Yes, Braun Series has a precision trimmer on its back. It helps to shape the mustache or sideburns.