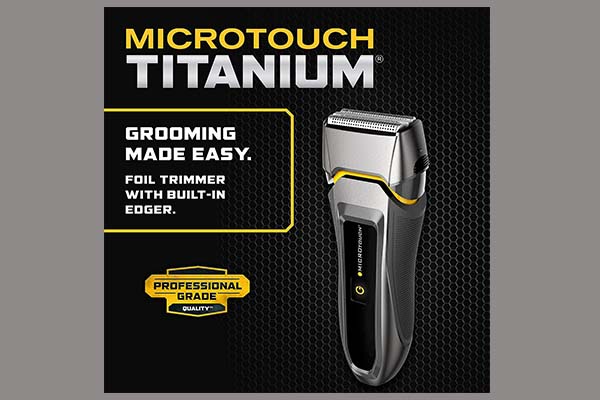 Are you tired of battling nicks and cuts while trying to achieve a close shave? Look no further than the Micro Touch Titanium Rovor, a wet-dry electric shaver designed to conquer the toughest terrains of a man's face without compromising on precision and comfort. I had the opportunity to put this revolutionary shaver to the test, and here's what I found:
Build and Durability
The Micro Touch Titanium Rovor exudes durability with its Titanium-plated stainless-steel foil and center blades. This not only adds a layer of robustness but also enhances the overall performance of the shaver. What truly sets it apart is the innovative 3-way suspension system that molds to the contours of your face and neck. This design choice ensures that every curve and angle is efficiently covered, resulting in a comfortable and irritation-free shave.
Precision and Versatility
One of the standout features of the Rovor is its built-in Titanium-plated pop-up trimmer. This gem of a tool edges sideburns and necklines with impressive precision, adding a touch of refinement to your grooming routine. The wet/dry functionality is a game-changer. Whether you're in a hurry and need a quick dry shave or prefer a more luxurious wet shave, the Rovor delivers on both fronts. No water, soaps, or creams are required – just the shaver and your preferences.
Performance
Having put the Micro Touch Titanium Rovor to the test, I was genuinely impressed by its performance. Not only does it prevent nicks and cuts, but it also provides an exceptionally close shave. Even coarse hair stands no chance against its Titanium-plated blades. The shaver effortlessly adapts to different hair lengths, making it suitable for various grooming needs.
User-Friendly Features
The Intelligent LED Status Panel is a thoughtful addition, indicating the remaining charge time with precision. This eliminates any guesswork about when you need to recharge, ensuring you're never caught off guard with a low battery. The shaver's rechargeable nature and the included USB charging cord make it incredibly convenient for both home use and travel.
Design and Portability
In terms of design, the Micro Touch Titanium Rovor strikes the right balance between functionality and aesthetics. Its sleek black finish gives it a modern and sophisticated look. Additionally, the shaver's portability makes it an ideal companion for travelers. It's compact, lightweight, and designed to fit snugly in your travel kit.
Pros
Durable Titanium-plated construction for enhanced longevity and performance.
Versatile pop-up trimmer for precise detailing.
Wet/dry functionality for personalized grooming experiences.
Intelligent LED Status Panel for easy battery management.
Rechargeable with included USB charging cord.
The travel-friendly design ensures it's ready for action on the go.
Cons
The shaver might feel a bit pricey initially, but its performance justifies the investment.
Conclusion
The Micro Touch Titanium Rovor truly lives up to its promise of a smooth, comfortable, and precise shaving experience. Its durable construction, intelligent features, and versatile functionality make it a worthy addition to any grooming routine. If you're seeking a shaver that can tackle any terrain and deliver exceptional results, the Micro Touch Titanium Rovor is undoubtedly a top contender. Say goodbye to shaving woes and hello to grooming excellence.