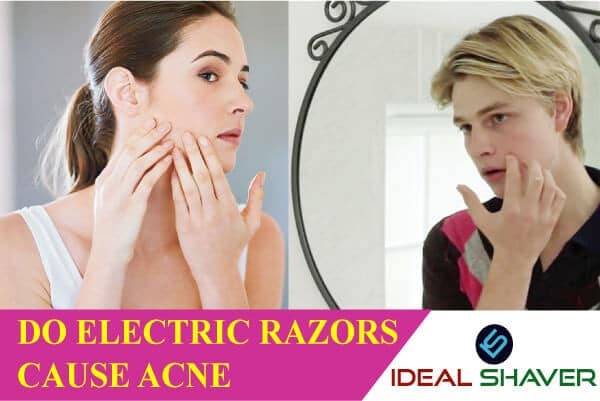 DO ELECTRIC RAZORS CAUSE ACNE
Acne occurs when dead skin cells, oil, and other microorganisms get trapped in the pores of your skin. It does not always occur due to shaving, but people consider acne as one of the side effects of shaving. Acne or pimples after shaving is the last thing you want. Both women and men find this thing as a real barrier to beauty. You can use sensitive skin razors to reduce the chances of causing acne.
But an electric razor is not always the solution. Acne may occur because your skin type, especially sensitive skin, is more vulnerable to it. So you need to take some special care depending on your skin to get rid of them, and it is not an easy task. There can be many reasons for acne to develop; among them, some can occur due to wrong shaving techniques.
You drag a razor upon your skin, but all the time, the results are not right. Sometimes dragging a razor can cause disaster; the risk of irritations and razor bumps can increase. This irritation consequently can turn into pimples or acne. When you follow an improper shaving technique, you may experience these things. Shaving in the wrong direction, shaving dry and without proper lubrication, using old or blunt razors, or using unsuitable blades may cause acne.
Now the question is about the electric razors; protect acne or not. Continue reading to note the causes and preventions.
Is an electric razor causing acne?
The leading cause of acne is the blocking of the pores. The clouds of dust you come across can be a threat regarding acne. Excessive oil secretion, hormonal changes, and microorganisms can also be some issues. Simply we can say, that the pore blocks and gradually enlarges, causing breakouts.
When you opt for a poor shaving technique, it can irritate you at any time. It can lead to ingrown hairs, and you can predict some pimples on your skin. Razor burns are also a common issue after shaving.
Can shaving cause acne in men & women?
You cannot say confidently that electric shavers do not cause acne. The answer to the question changes depending on the situation. So the answer is yes and sometimes no.
Sometimes it depends on the skin type, again it can change for the kind of razor you are using. For women, this is very important. Because generally, they have softer skins, and chances of irritations are more likely. So regarding choosing women's electric shaver, keep this in mind.
Benefits of using Women's razor:
Provide comforts and fewer irritations
Specially made for them considering their skin types
The chances of acne will be nearly zero
We have said earlier that acne develops due to irritations, so if your razor's blade is highly protective of irritations, then there are no chances of acne.
The double and triple-edged blades of your electric shaver can lift your hair out of the follicles and cut the hair forcefully. It can damage your skin too. Eventually, the hair finds it hard to come out of the follicle and sometimes can get trapped by the epidermis. Inflammation can cause, and by continuous irritations, you can see an outbreak of acne. So multi-blade electric razors and ingrown hairs can be a threat regarding acne.
And now you consider a single-blade electric razor. The razor does not go too deep, and it cuts your hair smoothly on your skin's surface. The causes of acne decrease because of this minimum irritation. Take care of your skin and do not opt for a close shave to avoid these things. Use a sensitive skin razor, and do not take chances on your sensitive skin to avoid complications.
You can also try a teenager's skin electric razor if you are a teenager. To keep your skin free of ingrown hairs, acne, and razor bumps, be wise while choosing electric razors, go for beard trimmers for good results.
Breaking out after shaving with electric razor
You can avoid acne by taking some preventive measures. If you can follow all the healthy routines entirely, you have nothing to be tense about. Follow some steps, and you can surely avoid acne.
Prepare your skin for the shave. Take a shower and warm the area with hot water or a heated towel. This trick will benefit you and make your skin soft and supple. It will be easier to glide, and the chances of irritation will decrease. So the first trick is warming your target areas. Use shaving cream, and the sliding of the razor will be excellent and just top-class. It will also minimize irritations, especially for sensitive skin.
Now coming back to the electric shaver, choose wisely. Do not use an elderly electric razor, if you are not old enough. The elderly electric razors have an excellent and perfect construction for dense hairs; if your hairs are not thick enough, they can harm your skin and the hair follicles, causing an outbreak of acne. So you should not be using every shaver without having a closer look.
In addition to that, always consider using a shaver that has self-sharpening technology. It will give you more opportunities for cutting more hairs at every stroke. Do not shave an area many times; it can irritate. On top of all that, cleaning and drying the shaved area, is more important. Apply aftershave and prevent bacterial infection, including inflammation. Avoid a closer shave for sensitive skin.
Do electric shavers damage your skin?
I have used electric shavers for over 10 years now, but the question is still often popping up when talking to people who are interested in getting started. The simple answer is 'No', an electric shaver does not damage your skin. But why might you start using an electric shaver?
What are the benefits of using an electric shaver?
No damage to your skin Quality of shave (close and smooth) Can be used every day (some people like to shave twice a day) Convenience: can use it while traveling Time-saving: only need a few minutes in the morning. And if you're in a hurry, you can also get away with only making one pass
So, how does an electric shaver work?
An electric shaver is equipped with a sharp (or bladed) rotating cutting system that moves back and forth at high speed. This blade will move under your hair during each stroke so that it can cut the hair as short as possible before lifting it up and cutting it again. The hairs will be cut so short that you won't feel them touching your skin while shaving with an electric shaver.
Conclusion
Acne is one of the irritating things, which breaks out anytime. Maybe you have a party next week, and out of nowhere an acne outbreak, which can be a disaster sometimes.
Acnes are very natural. The pimples, acnes all are the results of irritation. The outbreak of acne depends on the type of your skin, the electric shavers you are using, and, more importantly, the routine you are following. The chances of acne are less using the ideal shavers. For women, be sure of your skin type and use the pubic hair shaver. Follow the tricks and prevent acne after shaving, quickly at your home.