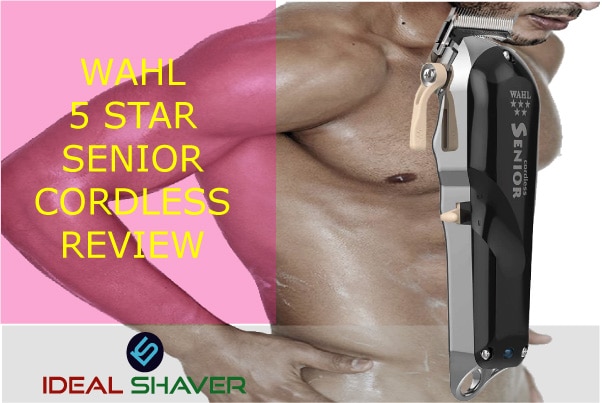 WAHL 5 STAR SENIOR CORDLESS REVIEW
In the ever-evolving landscape of grooming tools, the WAHL 5 Star Senior Cordless stands as a beacon of innovation and excellence. This versatile clipper, a masterpiece by the renowned brand WAHL, has garnered attention and praise from both professional barbers and at-home enthusiasts alike.
With its impeccable blend of cutting-edge technology, ergonomic design, and exceptional performance, the WAHL 5 Star Senior Cordless has taken the art of hair cutting to new heights.
In this comprehensive review, we delve into the features, benefits, and user experience of this remarkable grooming tool, shedding light on why it has become a staple in the realm of modern hair care.
Build Quality and Design
We tested this particular hair clipper in our labs, and boy it is strong! We employed this hair clipper in multiple barbershops to find out the real-world performance of this machine. The build quality of this machine and its hefty design continued to amaze us.
The WAHL 5 STAR SENIOR CORDLESS is built with a beast motor protected by aluminum encasing. The design has rough textures on its bodies so the user can steadily hold it while clipping with it.
Another noticeable thing about the build structure of this device is that the taper lever in this model is proficiently adjustable. You can press it fully or partially to experience different modes of performance. So, working with it becomes smooth as butter.
Moreover, the two-component stainless steel blade has two sets of efficiently arranged teeth. Even the positioning of the two plates of the blade is perfectly accurate. So, you can rest assured it can work without making noise.
In terms of appearance, the two-color design is also something that deserves applause. Having this sleek machine on the cabinet of the toilet, not only enhances the beauty of the toilet environment but also makes you want to clip your hair regularly.
Last but not least, the Wahl Senior 5 Star also has a nice harness at its tail so you can hang it on your wall. Placing it on your wall makes it easy for you to just extend your hand and grab it whenever you need it
What Are Included in the Package?
Wahl Professional provides all the necessary components for professional hair clipping with this clipper. Accessories include the following:
The Wahl 5 Star Cordless Senior itself.
10 Fancy attachment comb : 0.5, 1.5, 1 -8 (size in mm) .
Conveniently sized flat top comb.
Blade oil for future maintenance.
A brush for precision cleaning.
A charger that smoothly recharges the battery within 70 minutes.
An instruction booklet so the user knows how to use the product correctly.
Quality, Performance, and Noise:
Well, you'll find quality clipping with the Wahl Senior 5 Star Cordless because of its ultra-sharp blades that can cut through all types of hair.
You can conduct bulk hair removal for up to 1 hour with its battery being able to retain constant performance for up to 70 minutes. The fade effects along with skin fading are some of the styles that can easily be done with it, thanks to its precise blade arrangement.
As the manufacturer promises, the large battery has an amazing record of lasting for more than one year. Daily usage of the hair clipper gets your clipping skills enhanced so you stay on top of the fashion chain.
If you use the blade oil every day after hair clipping, you will not notice any intrusive noise even if you use the clipper for months. Wahl Professional has recommended at least 3 to 4 times weekly oiling for this model.
This device has been tested in the hands of professional barbers for several months. We got the report that it was amazingly noiseless and disturbance-free in its duty time. The performance runtime length was constant for up to 10 months.
For constant performance throughout your fashion days, recharge the device regularly, so the battery retains enough strength to get you through your hair clipping journey for months.
Notable Product Features At A Glance:
The hair clipper offers blades that are effective and well-finished for the most optimum fade-cutting effect.
Heavy-Duty motor can cut through even the roughest hair types.
An aluminum metal casing makes sure extended protection.
The hair clipper is mainly popular because of its sleek cordless design that provides extra comfort.
The taper lever is highly adjustable to meet the needs of those users who just want to have more variation in their hair-cutting designs.
The blade that comes with this clipper is really impressive because of its stainless steel structure and ultra-narrow edge design.
Pros:
Convenient body texture for better handling.
Modern and sleek design.
Perfect body weight and length contribute to extra comfort.
Steady and comfortable combs.
Cordless design to increase your comfort.
Durable metal casing for preventing accidental damage.
Effective blade guard for more protection.
Ultra-precision blades for precision fade effects.
Heavy-duty and high-torque motor.
Jumbo size battery for long usage.
High efficiency as a hair clipper.
Can perform multiple design hair-cutting.
Includes necessary oils for maintenance.
Cons:
Device construction is not Water-proof
Heating occurs after 40 minutes of usage
The device heats up while charging
The device body is a bit heavy
How To Use The WAHL 5 STAR SENIOR CORDLESS?
You can follow the basic steps below to put the hair clipper to best use :
Get a sound idea of the numbering system of the combs that comes with the clipper. Select the comb numbers that suit the user's style the best.
Start by giving a gentle water wash on the hair, thus, wetting the head completely. Now, partially wipe the head with a towel to get rid of the extra water.
Cover the shoulder area with a neck cover or a piece of fabric so the shoulder does not get all hairy during the clipping job.
Install the longest comb on the clipper and pull the start button. Now, apply the clipper throughout the hair to cut the top heads of the hair.
Now, gradually install your selected combs on the clipper one by one and increasingly cover the whole head area.
Finally, run through the side areas of the head to give a finishing touch to the trimming.
At last, follow the device cleaning and maintenance routine so you can get the same trimming performance when you clip your hair next time.
Here's a video showing how to use the WAHL SENIOR 5 STAR CORDLESS:
How to Clean The WAHL SENIOR 5 STAR CORDLESS?
To get the best value and performance out of your device, you need to clean the machine parts regularly. Also, the manufacturer has recommended a few additional tasks that you must do, to retain the maximum life out of this wonderful machine:
Oil the blades regularly after using them every time.
Be sure to clean the whole body of the machine every time after clipping the hair so unwanted hair accumulation does not occur.
Use the Hygienic Spray manufactured by Wahl Professional to clean up the machine once in a week or two.
Keep both the trimmer and clipper moisture-free so they don't get rusty over the days of usage.
Use air blowers to remove extra hair that accumulates over the days.
Follow the official guide on Blade Maintenance.
FAQs
How powerful is the WAHL 5-STAR SENIOR CORDLESS?
In terms of power, the WAHL 5 STAR SENIOR CORDLESS is a violent player. It has amazing records of cutting through all types of hair, be it thin or thick.
This device consumes 11 WATTS of power and runs on a 110V AC 60HZ power grid.
We suggest you go through our WAHL 5-STAR SENIOR CORDLESS review above and visit the Amazon page of this product to find more info on this.
How proficient is it for cutting ultra-thick hairs?
You can easily cut through all types of hair with the WAHL 5 STAR SENIOR CORDLESS. In case of facing difficulty clipping thick hairs, opening the lever might help the process.
Also, the blades of this device are well finished for professional accuracy in cutting all types of hairs.
Is there any risk of electrical spark or short circuit while using this hair clipper?
To measure the security of usage, professional testers and examiners have conducted experiments with this hair clipper on various types of simulated environments and evaluated it with multiple categories of test simulations. The results suggest that it is completely safe to use if you are following the common guidelines that come with the product.
To avoid any accidental incidents such as sparks or electric surges, It is better to keep the clipper away from moisture or water while charging.
Does Wahl Professional sell ceramic blades for this model?
This particular model comes with stainless steel blades that are manufactured with cast iron mix with carbon alloy. At this moment, Wahl Professional is not selling ceramic blades for this model.
Please read through our WAHL 5 STAR SENIOR CORDLESS review to find out more information on this hair clipper. Navigate to the Amazon page of the product to check the current price.
Are chargers sold separately with the WAHL 5 STAR SENIOR CORDLESS?
Yes, Wahl Professional has made separately sold chargers available for all of their hair clipper models. Navigate to this Amazon page if you need an extra charger for your Wahl hair clipper.
Question: Are combs separately sold for WAHL 5 STAR CORDLESS SENIOR?
Till now, Wahl Professional has not manufactured separately-sold combs.
Final Thoughts: Should you go for this hair clipper?
Alright, it's time for us to impart our decision on the product. According to our total analysis, it's a very good value for money at this price point. If you are expecting a good performance along with well-oriented design features, this is the product to quench your thirst.
We also looked through real-world user reviews for this product. Furthermore, we threw questionnaires to old users and new ones to find out how they feel about it after using it for months.
Well, most of the reviews came out positive. The majority of the users were satisfied with the performance of this hair clipper. Even the professional barbers applauded its construction and design.
So, we wholeheartedly think buying it will be a valuable investment of your money and time. go for it!