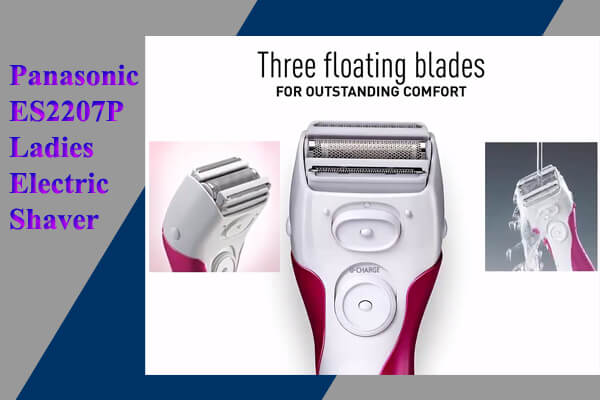 Panasonic es2207p reviews: Ladies electric shaver
Shaving is a part of beauty tasks among females, which needs careful handling of shaving devices, reliable and safe shaving, smoother shaving effects, and more. Apart from waxing and using cosmetic hair removal products, the use of shavers is quite a popular trend these days to get rid of unwanted body hair. Now share the best product with us Panasonic electric shaver for women.
Scientific laser hair removal treatments are somehow not everyone's cup of tea, and using other chemical-based cosmetic products in everyday life over the skin can cause other severe skin problems. Then what is so very significant, of course, the use of ladies' electric shaver?
And when we talk about shavers, then many brands already launched a variety of quality shavers in the market, and some are rapidly picked by most women. Select the right kind of shaver from the top female shavers can be challenging
A little bit of research on the internet can help you best to choose the better one according to your need. You can scroll up for more in-depth reviewing, and this enables you to select the right one from the best female shavers
When you are, wondering among many types of shavers, thoughtfully designed for females only, then our little push in reviewing will definitely help you to get over to women shaving devices.
Panasonic es2207p depth preview
When there are countless razors and shavers available in the market with unique features, and price ranges, picking the perfect shaver is not easy. To rank which is most useful than others is often more challenging, as all are better with their own specifications. Panasonic obviously is not a new brand known for advanced home appliances to comfort our life in many ways. Apart from the everyday use of home equipment. The firm is popular for its beauty care devices. Such as hair dryers, hair stylers, ball trimmers, hair clippers, pubic hair shavers, and more. We are below reviewing about Panasonic ES2207p electric razor.
Shavers for females are ideal, especially for those who hate Traditional Razor applying over the skin. However, we can simply say, that Panasonic ES2207p lies in the category of advanced Electric Razors, that are safe to use, and give smoother skin.
In fact, the usage of the Panasonic Shaver ES2207p makes it one of the new kinds of nice razor because it is suitable for All-Around Razor functions. If you are the one who hates the timely change of batteries of the shaver, then opt for this shaver.
What makes this Women's Shaver stand out from the other shavers in the market are its advanced features. What are those unique features, let us brief you about them.
At a glance:
Ultra-Sharp Blades
Flexible Shaving Head
Shaver & Trimmer
Wet & Dry
Hypoallergenic Blades
Easy Cleaning
Rechargeable Battery [ 20 Minutes Power Backup ]
Key Features of Panasonic es2207p
1. Batteries are rechargeable
It comes with an easy, and reliable rechargeable battery feature that adds more luxury effects when in use. However, when in full battery gives more easy and quick spinning of blades as when in moderate or low battery. The best is to recharge its full battery after every shaving session for uniform usage.
The Panasonic Ladies Electric Shaver comprises a lithium-ion battery, and other charging kits required are available while in the purchase. As the shaver comes with rechargeable features, it simply means it is a Cordless Shaver by Panasonic. Panasonic ES2207p cordless use makes it more convenient, and comfortable for women anywhere anytime when charged with the full battery. Its uniqueness is unstoppable, and what is more, advanced is that it is suitable for wet/dry shaving so is also a versatile Wet/Dry Shaver by the brand.
Panasonic ES2207p's smoother shaving effects, water-resistant quality, rechargeable feature, and cordless convenience, make it one of the Best Female Shaver worldwide. Its accessible water running quality saves time & energy in addition to gentle shaving on the skin.
2. Easy & quick cleaning
Cleaning of the shaver is mandatory for next easy accessibility and this you can:
Rinse: You can simply clean the shaver with liquid soap and running water.
Foil Cleaning: Using soap and turning it on for a few seconds in running water will blow off the hairs in the foil.
Blades Cleaning: Foil can be removed to clean the blades, within the running flow of water.
Drying: when the shaver is thoroughly washed, it needs a completely dry procedure, for this, you need to wipe the blades. Even regular checkups of the shaver's condition will also help you know its condition. Such as the span of edges, and its accessibility.
Protective Cap: To avoid so-called serious damage to the device, always place it with the protective cap.
3. Easy & simple shaver settings
Panasonic ES2207p Ladies Electric Shaver comprises plenty of setting options because it comes with many unique features. As it is a Wet/Dry Shaver, so when using it in the shower needs to dampen the skin first, to avoid uneven shaving effects. And if opting for dry skin shaving, then must take care of the skin is completely dry to Avoid Razor Bumps. Sweating over the skin can also lead to sudden skipping action. So always take care of clean and dry skin for a perfectly smooth shave.
Furthermore, the available clipper setting in this Panasonic Shaver ES2207p enables you to trim down uneven hairs. And should be done before going for the Foil Shaver Setting option. If your body hairs are 0.125 inches in length. The clipper option is ideal for getting sound trimming effects to get hair length which is easy to shave later.
As it is a quality Foil Shaver, so gives the closest shave to the skin line, but no promises of a smoother shave like a Manual Razor Shave. However, a quite significant advanced tool but somehow lacks in Traditional Razor smoother skin charm.
You know Ladies Electric Shavers rarely provide a smoother skin feel that you can easily get from Manual Razor Shave on the skin layer. If your skin types lie insensitive, then Panasonic Cordless Shaver is the right choice, to Avoid Razor Bumps, uneven skin irritations, sudden shaving cuts, and more.
Additional features
The shaving appliance is all inherited with a quality floating blade system, that spins and turns according to the curves of the body. In simple terms known as Curve Shaver enables you for quick, uniform, and smooth shaving.
Panasonic ES2207p is the predominant choice for legs, underarms, hands, and even for facial hairs of the face. Every time it offers, hassle-free and non-irritation shaving options as per your needs. So to call Panasonic ES2207p All-Around Shaver will be a true justice to the device.
It is all made up of stainless blades, which are rust and nickel free so is also a useful shaving device for sensitive skin people. In particular, if we talk about its foil and clippers, then they are easily replaceable in the market.
How to use Panasonic wet dry shaver
It is very obvious, that every device holds its set of instructions, guidelines, and cautions, and so is with this Panasonic Shaver. When striking with its usability, the mentioned precautions need amendment:
A. Before using Panasonic electric razor
1. Charge & charging
As it is a Cordless Shaver, so is handy, but prior to its use, needs a full-battery charge for 12 hours. It Full battery will enable for fast, reliable, and convenient usage. The time taken for its full battery charge is just 25-30 minutes, before starting with shaving. Before the use of the shaver, make sure it is off with a firm battery.
 2. Suitable to use
Dry Use:

You need to hold the shaver at a 90° angle to the surface of the skin. For dry skin shaving, you can baby talc to avoid any kind of pinching irritations. Keep skin sweat-free as well for subtle shaving effects.

Wet Use:

For this, you need to have damp skin with enough lather of the shaving cream, or shaving foam and use it similarly like used in dry shaving.

Glide:

While shaving you can gently glide the shaver for smoother shaving in the direction of back/forth respectively.

Trimmer:

You can use this

Panasonic Shaver

as a trimmer as well. It features a sliding switch that enables for trimming of long hairs before shaving.
B. Useful for Panasonic electric shaver
Legs:

you can move the shaver upwards from ankle to knees with no exerting pressure on the skin.

Underarms:

Stretch underarm skin and use it easily in the up and down direction.

Arms:

Convenient for arms shaving from all sides.

Bikini Line:

You can switch on a pop-up trimmer for shaving bikini/other private parts.
Conclusion
Panasonic Electric Shaver is one of the Top Female Shavers not only because of its features but also of its time-energy-saving accessibility. In addition to its user-friendly specifications, pocket-friendly pricing also lists it as Nice Razor today.
When there are many types of Electric Shavers, Traditional Razors available in the market then choosing this Panasonic Ladies Electric Shaver is quite a significant option.
Relevance Post: